Mined the heat – Rio Tinto's plan to cut GHG emissions
As the earth's 1.5C average warming limit rapidly approaches, Andrew Tunnicliffe looks at how Rio Tinto, Australia's second-largest miner, will fare as the climate turns up the heat.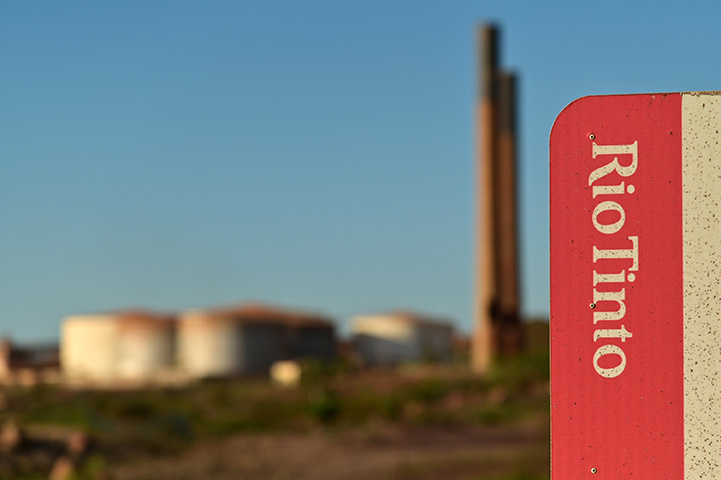 Caption: A Rio Tinto facility. Credit: ChameleonsEye via Shutterstock
"From evolving our culture, to operational improvements, a different approach on cultural heritage, and technology breakthroughs to address climate change and a changing customer environment, we are seeing early results that give us conviction we have the right objectives, the right team and the right strategy," proclaimed Jakob Stausholm, Rio Tinto's CEO, last November. "We are working hard to decarbonise our assets and products, as we invest to grow production in materials needed for the energy transition."
Decarbonisation has been a goal of the company since 2021 when it announced it was "at the heart of its business strategy". To do so, Rio believes it needs to invest around $7.5bn – chiefly between 2025 and 2030 – to halve its Scope 1 and 2 emissions by the end of the decade.
Scope 1 refers to direct greenhouse gas (GHG) emissions from operated assets – fuel use, industrial processes and other minor sources. Scope 2, or indirect GHG emissions, are the result of purchased or acquired assets, where the emissions are indirectly funded by the purchase. With an earlier target of cutting them by 15% ahead of 2025, the goal is to reach net zero by the middle of the century.
But cutting these emissions is not a simple task. GlobalData includes Rio, along with China Shenhua, Vedanta, Glencore and BHP, among what it calls the "major contributors" to Scope 1 greenhouse gas (GHG) emissions in the metals and mining industry, based on 2021 figures. It should be noted that, placing third in the list of leading global Scope 1 emitters, the company produced significantly less carbon dioxide-equivalent than the company in top spot. While China Shenhua produced 167.8 million metric tonnes of CO2 equivalent, Rio Tinto produced 2.7 million tonnes.
Finding "natural solutions"
As part of its efforts to reduce GHG emissions output, in November 2022 Rio said it had six large emissions abatement programmes underway. These focus on renewable power, process heat, diesel and the Elysis zero-carbon aluminium smelting technology, supported by what it called "nature-based solutions".
Those nature-based solutions will, it hopes, result from work undertaken by a Nature Solutions team that Rio announced the formation of in April 2022. Its remit is to look for opportunities to use the "extensive global landholding" the company has to support its climate targets, while generating co-benefits for local communities, biodiversity and nature. "While Rio Tinto is taking urgent and immediate action to abate and decarbonise our operations, we know this action alone won't be enough to meet our climate commitments," said Theresia Ott, co-lead of the team, speaking at the news of her appointment.

If we do this well, we can build the resilience and socio-economic independence of host communities.
The company describes nature-based solutions as a range of approaches to develop and maintain healthy, well-managed ecosystems. Ott says these are about more than just carbon credits: "Done well, they can build the resilience and socio-economic independence of host communities while also building our own climate resilience and futureproofing our operations."
She believes having access to the diverse range of ecosystems that Rio operates in, from deserts in Mongolia to grass and shrubland across the Pilbara, offers huge opportunity. "Many people focus on trees as a carbon mechanism, but grasslands, peatlands, mangroves and wetlands can also absorb and store a lot of carbon and form diverse habitats for flora and fauna," she says.
But despite these efforts, ahead of its global annual general meetings earlier this year Rio acknowledged that its efforts in 2022 "did not advance the implementation" of its abatement projects as fast as it had hoped. It cited the late delivery of equipment, resourcing constraints that impacted study progress, construction, and commissioning and project readiness. "We still have much work to do to progress our abatement projects and we continue to aim for our 2025 target to maintain focus within the organisation and drive action across our portfolio," it went on.
There was, though, success too: Rio cut its Scope 1 and 2 emissions by 7% below 2018 levels, and it planned a $600 million investment in 230 MW of solar power facilities and 200 MWh of storage at its Pilbara iron ore operations. The company purchased renewable electricity certificates at Kennecott in the US, and fully transitioned at Chile's Escondida mine to renewable electricity contracts. The mine is the world's largest producer of copper cathodes and concentrates, jointly owned with BHP and JECO. Elsewhere, it partnered with Scania, Caterpillar, Volvo and Komatsu to deploy more-efficient autonomous haulage solutions and battery-powered trucks.
Scaling up iron ore has meant scaling up Scope 3 emissions
However, despite these efforts and future plans, Rio faces what one analyst called an "enormous" challenge if it is decarbonise anything close to its stated goal. The company's iron ore operations pose the greatest test, since the facilities have led to a rise in Scope 3 emissions as their production increased in recent months.
Scope 3 emissions come from assets not owned by mining companies themselves, including those from products sold by the company. For Rio, addressing them is a challenge given the "limited control" it exerts over them. Iron ore accounts for almost two-thirds of its emissions, according to data in the company's Climate Change Report 2022, the latest available. The emissions primarily come from customers' processing activities in Asia, turning iron ore into steel, and bauxite into aluminium. "The best way we can tackle Scope 3 emissions is to work through partnerships – with customers, governments, universities and others – to develop the technologies needed to produce low-carbon metals and minerals," it says.
It acknowledges, though, that action is needed. "We fully appreciate that to thrive in the long-term, we need to be part of net zero value chains."
Green steel could be considered the 'holy grail' of our industry's commitment to decarbonise.
Speaking in an article on its website, the company's chief executive of iron ore Simon Trott said: "Addressing the broader carbon footprint of the commodities we produce will be one of the biggest challenges of the next decade. This is especially the case when we consider the steel value chain. Green steel could be considered the 'holy grail' of our industry's commitment to decarbonise. There's no doubt we face significant technological challenges."
Rio Tinto's unique position in decarbonisation
Despite the iron ore conundrum, Rio says of its total global GHG emissions that it is in a unique position. Just 20% of emissions directly relate to its mining operations, in contrast to its sector peers. The remainder are the result of its high temperature, hard-to-abate metals and minerals production activities. "The four most significant sources of our operational emissions are electricity at 41% (purchased and generated), carbon anodes in aluminium and reductants in titanium dioxide furnaces, at 21%, fossil fuels for heat at our processing plants and alumina refineries at 20%, and diesel consumption in our mining equipment and rail fleet at 13%," its 2022 climate report said.
So if Rio Tinto knows what it needs to do, the question is: can it achieve it? "Meeting the incremental demand of the energy transition and ensuring local supplies of critical minerals globally deepens our relevance in the world and provides new opportunities," said Stausholm. "The quality of our assets, the resilience of our cashflows and the strength of our balance sheet ensure we are well positioned to continue to invest with discipline for the long term."
However, speaking at its 2023 AGM in Perth, company chair Dominic Barton said the big question was how Rio Tinto fulfils its role in energy transition in a way that is socially and environmentally responsible, yet sufficiently commercial to attract investment required. "So, the industry is at an inflection point – we can be a catalyst of the green economy and potentially of transformative social impacts as we get to the unexplored corners of the world through mining, processing and recycling," he said. "Without a doubt, there is considerable work ahead for us. But I believe that we are up for the challenge."
The coming months and years will no doubt be pivotal for Rio and the global mining community. As the planet continues to heat up – more quickly now than ever – the race to truly be able to call yourself a sustainable mining company is also gathering pace. Rio, for its part, is in no doubt of the importance of getting sooner rather than later – but awareness and accomplishment are two very different things.