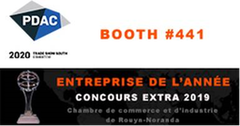 For a quarter century, Manufacture Adria has earned its place in the design and production of electrical products for the industrial sectors and mining industry.
We have developed expertise to meet the highest standards of robustness, reliability and increased safety while using the latest development technologies.
Our design and constant communication with our clients have made Adria, since its creation, a premium supplier of safe, durable and high quality equipment.
Our objective is clear and simple: To do our work at its best. In this matter, our installations, our equipment and our expertise enable us to deal with the most demanding requests.
We have developed an intelligent battery charger for electric vehicles in the mining industry. Its design to charge scooptrams (LHD), haul trucks, utility vehicles and many other Lithium-Ion battery powered equipment's on a mine site. Our charging system has been in operation since 2012 in a deep underground mine and 80% of its production comes from battery electric vehicles. The use of advanced technologies ensures its performance. These chargers have been tried and proven as a reliable mine duty equipment. We collaborate with major manufacturers of mining trucks and equipment's that are used in open pit or underground mines..
Features
Charging time between one and two hours
Robust construction
Can charge any LithiumIon battery and many more chemistry
Can easily be integrated to a mine power center
Bidirectional feature for applications such as backup power and peak shaving
POWER: 300kW &UP
OUTPUT: 250-900VDC
OUTPUT: 0-200 AMP
AC INPUT: UNIVERSAL UP TO 690V AND 1000V MODEL AVAILABLE 50/60 HZ
Portable switches are available with multiple mounting options and can be delivered in a modular way, if necessary, and easily re-assembled on site. The switches are built safe, they come with a safety mesh barrier and the door is equipped with an interlock. Optional metering available.
Features
Custom made available, as per the required number of switches
Robust construction
Vertically transportable
Skid mounted
"Low profile" switch
Recessed handle
Safety lock between door and lever
Standard safety mesh barrier in all cabinets
Designed to facilitate the connection of medium voltage cables, the junction box is built with a set of removable gland plates for connectors which allows the quantity of cable inputs to be changed. In option, Adria offers the installation of thermographic windows.

Features
All power capabilities available
Robust construction
Dimensions as per client's application
Wall mount design
Epoxy paint or stainless steel finish
"Teck" connector threaded hub already installed
Copper ground bar with external grounding lugs
To increase the efficiency in work area, this portable equipment allows you to connect from 2 to 4 equipment, all powered from the same source, close to the critical mining areas. By moving the power supply control closer to workers, the JXD panel is certainly useful, but is also very secure. This product can be highly customized based on client's application.
Features
Portable distribution with more than one power outlet for "Jumbo" type drills or other machinery
Distribution panel for service
Electric diagram included (schematic)
Danger signs, ArcFlash signs, etc.
CSA certified
CAN CSA M421 compliant (mines and quarries)
NEMA 4 steel enclosure
This equipment has been designed to move, in a more efficient way, the substation itself. The idea behind the trailer concept is to perform, in an easiest way, all the frequent moves. 7.5kV PTO output for open pit mining shovel.
Features
65' trailer' built by professional who design and manufacture trailers of all kind, for over a quarter of a century
Punctureresistant tires
Unpainted galvanized steel grating for grounding
30' dismountable tower, to ease the road transportation
7500kVA transformer
Substations are designed to supply power to electrical equipment used in underground development. Robust and compact, those are two words to describe this equipment built to be portable underground. A good knowledge of the mine working methods has guided the design of substations, from the enclosure to the smallest details. Recessed handles, skids design, lifting lugs and visual indicators are just some of a complete sets feature. For handling as well as for operations, every single detail has been carefully designed. Leaving nothing to chance, we acquired this philosophy by placing working in cooperation with our clients, thus guaranteeing a capable and safe product.
Features
Rugged construction
Standard or segregated
Vertically transportable
Skid mounted
Switch 5KV or 15KV with or without fuses
Custom manufactured
"Low Profile" switch
Recessed handles
Performances
All power capabilities available
All input voltage available
All output voltage available
Designed to accommodate a mobile electrical room, these "sea-can" type modules are ideal for a timely start of a project.
Features
Available in 10, 20 and 40 feet, regular height or Hicube
Plug and play
Rugged construction
Custom manufactured
Recessed handles
All power capabilities available
All input voltage available
All output voltage available
Are you looking for solutions for flexible connection, temporary or for unforeseen circumstances? This portable distribution center offers the possibility to have many starters, of different power range, regrouped in a single equipment. This product can be highly customized based on client's application.
Performance
All power capabilities available
All input voltages available
All output voltages available
ADRIA's Arc Resistant Metal Clad Switchgear, is tailored for the needs of the industrial and mining customers by providing a cost effective quality solution, in a short time
Features
Reduced foot print
Front Access Capable: Operation, cable connections are done through the front.
Arc Resistant type 2B
Inspection window
Mechanical position indicator
Bottom cable entry/exit
Thermal imaging windows in options
We are specialists in design and manufacturing of high-medium voltage electrical equipment. The engineering team is particularly qualified to meet your highest demands. The design and manufacture of unconventional equipment is part of our daily challenge.

Our technical service team is able to help you with the commissioning of your electrical equipment. We go on site to do the maintenance and repair the defective equipment. We are also able to assist you during your shutdowns to make your electrical installations more reliable.