- ECONOMIC IMPACT -
Latest update: 16 September 2022
Since Russia launched a full-scale military invasion of Ukraine on 24 February, data from the United Nations' Refugee Agency indicated that a total of 7.2 million refugees from the Ukraine had been recorded across Europe.
There have been a total of 12.3 million movements out of Ukraine, alongside a further 7 million people who have been internally displaced within the country.
Since entering its second half-year in late August, the war in Ukraine has picked up pace relative to the previous two months of relatively static combat in the southeastern Donbas region. The recent Ukrainian offensive in the northeastern Kharkiv region saw rapid success, which Ukrainian forces may now seek to extend into the Russian-controlled Donbas – towards Luhansk and Mariupol.
Recent developments have heightened expectations, as expressed in widespread media commentary, that a turning point may have been reached in the conflict, heading for a Ukrainian victory. In our view, however, the only safe prediction about the interlinked military conflict and economic conflict is that both will continue for the foreseeable future.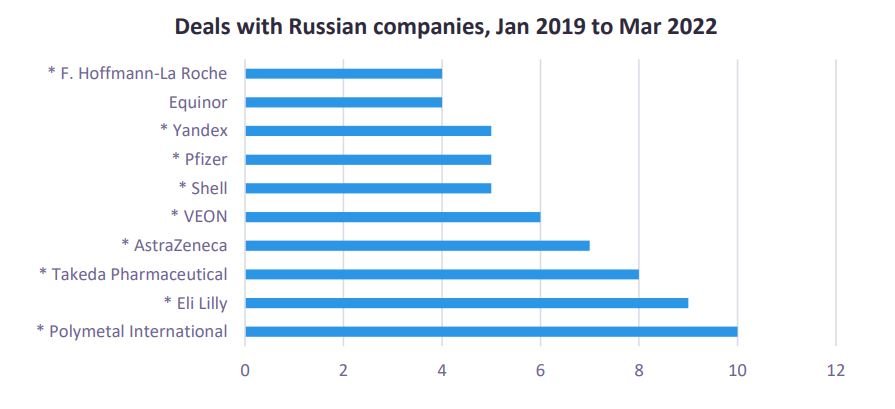 // Asterisk (*) denotes the company HQ is in a country imposing economic sanctions on Russia. Companies with HQ in Russia are not included in these charts.
- SECTOR IMPACT: MINING -
Latest update: 16 September 2022
DOMESTIC SALES
In July, it was reported that Polymetal was considering the sale of its Russian assets to avert the impact of sanctions imposed by Western nations against Russia in the wake of Moscow's invasion of Ukraine. Having closed the transaction, Polymetal would focus primarily on its operations in Kazakhstan.
RUSSIAN CONSEQUENCES
Of the leading miners, Nornickel initially stated that operations were continuing and in May confirmed supply of palladium and nickel sales were unaffected with no change to its 2022 guidance. However, while not directly affected by sanctions, it is adjusting its supply routes. 
ONGOING SANCTIONS
In April, the EU announced further sanctions against Russia which banned the importing of all forms of Russian coal from midnight on 10 August. This affects one-quarter of all Russian coal exports. While this will impact Russian coal miners in terms of volumes, a steep rise in coal prices this year will help recoup much of the lost profits.
IMPACTS IN CANADA
In March, Canadian miner Kinross announced that it was suspending all activities in Russia, including its Udinsk development project in Khabarovsk Krai, and operations at its Kupol gold mine. Furthermore, in June 2022 it sold its operations to Highland Gold Mining, one of the larger gold producers in Russia, for $340m.