PRIXMAX HEAVY DUTY COOLANTS.
FOR THE HARDEST
WORKING ENGINES.
FOR THE TOUGHEST
TASKS.
FROM THE LAB TO THE FIELD.
FOR PROTECTION OVER THE LONG HAUL,
CHOO SE THE TECHNOLOGY YOU CAN TRUST.
When nearly half of all heavy duty engine repair costs relate to the cooling system, it pays to go with the experts.
PrixMax specialises in supplying heavy duty engine coolants to the mining industry.
For decades we have had a single focus: to develop and create advanced engine coolants that maximise equipment performance and stand up to the demands of any engine, even under the harshest operating conditions.
The PrixMax range of engine coolants includes products that have been factory-approved by major heavy duty OEMs. We have engineered our line-up of heavy duty coolants to meet the specific chemistry and performance requirements of major OEMs, offering the most advanced coolant technology for any heavy duty engine.
The advanced corrosion inhibitor packages employed in PrixMax engine coolants provide long term protection all metals and components found in heavy duty cooling systems. This includes protecting wet sleeve cylinder liners against the damaging effects of pitting and cavitation, with numerous PrixMax formulations exceeding the cavitation protection performance requirements set out in ASTM D6210 (including ASTM D7583), making them safe for use in all heavy duty applications.
PrixMax's heavy duty engine coolants utilise advanced inhibitors and functional additives to offer significantly extended drain intervals with fewer ongoing maintenance requirements, lowering overall cost of ownership.
PrixMax's Organic Additive Technology (OAT) engine coolants have been proven in the field to lower operating temperatures and eliminate overheating problems.
At PrixMax, we believe in "sustainable solutions". As an ISO 14001:2015 and "LowCO2" certified organisation, protecting the environment drives our approach to product development. Our heavy duty coolant range includes the world's only certified Carbon Neutral coolants, and products that have been independently certified as "Readily Biodegradable". Our glycol-free coolants are used extensively in underground mining operations due to their non-flammability and low toxicity.
With PrixMax, you're not just supplied with the product; you're supplied with industry-leading aftersales support and service. You'll receive on-site support from our heavy duty experts, and ongoing condition monitoring services from our specialised coolant testing laboratories. We can even help to install water treatment and specialised batching facilities on remote sites to further save you time and money.
©PrixMax Australia Pty Ltd
Ultra Long Life Protection. Superior Heat Transfer. Environmentally Friendly.
Whether you're operating above or below the ground, PrixMax RCP Platinum is engineered to deliver exceptional corrosion protection and heat transfer performance where protection against freezing is not required. Extensively field-proven across most major OEMs, RCP Platinum is capable of eliminating overheating issues and offers an environmentally friendly option that is considerably more cost-effective than other coolants in the market.
Learn more in the PrixMax mining industry brochure.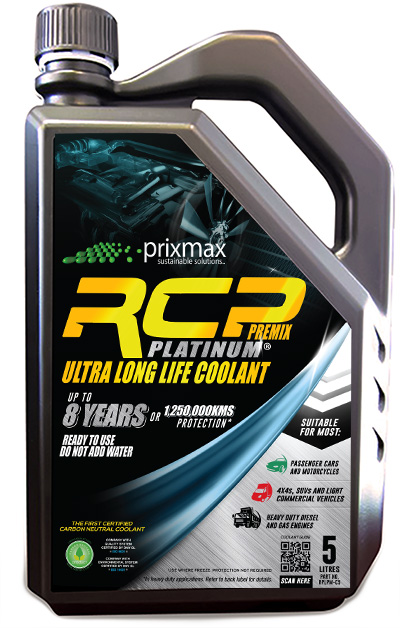 OEM Approved. Proven in the field.
PrixMax RCP is well known to the Australian mining industry. Formally approved for use by certain OEMs such as Daimler and MTU, RCP meets a wide range of OEM specifications an d is suitable where temperatures do not drop below 0°C.
Learn more in the PrixMax mining industry brochure.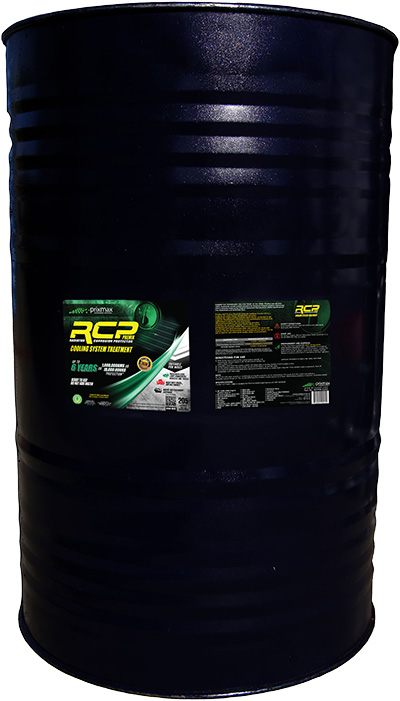 OEM Approved. Universal coolant for mixed fleets. Superior aluminium protection.
PrixMax MEG95 is engineered with industry-leading OAT inhibitor technology that is designed to provide exceptional corrosion protection for all heavy duty engines, especially where high temperature aluminium protection is required. Meeting an exceptionally wide range of OEM specifications and industry standards (including ASTM D6210, Cummins, Komatsu and MTU), MEG95 is an industry benchmark antifreeze coolant.
Learn more in the PrixMax mining industry brochure.
Heavy duty formulation. Cat EC-1 compatible.
PrixMax MEG95-N and the ready to use Premix 50-N antifreeze coolants are formulated with extended life nitrited-OAT (NOAT) technology to provide extended service performance for heavy duty diesel applications and exceptional wet sleeve liner protection. Particularly recommended where a nitrite-inhibited coolant is required (eg Cat EC-1), this antifreeze coolant is suitable for on-road and off-road heavy duty applications.
Learn more in the PrixMax mining industry brochure.
Heavy duty hybrid formulation. Engineered for older model HD engines.
PrixMax Heavy Duty Plus is a fully formulated low silicate, nitrite based hybrid technology antifreeze coolant suitable for trucks, construction equipment and stationary engines. Providing excellent wet sleeve liner protection, this coolant is designed for use in older model heavy duty engines requiring long life corrosion protection.
Learn more in the PrixMax mining industry brochure.
OTR tyre fluid. Environmentally safe.
PrixMax Rim & Tyre Protector is a premium, new technology, environmentally safe fluid formulation that is added to the tyre air chamber to protect rims and wheels from rust, corrosion and scale, reducing tyre failures and allowing for easier tyre demounting while ensuring tyres run significantly cooler during operation.
Learn more in the PrixMax mining industry brochure.
Over 40% of all engine downtime in heavy duty diesel engines can be attributed to poor cooling system maintenance. Put simply, regular monitoring and maintenance of engine cooling systems is crucial in order to prevent equipment failure and unscheduled downtime. With PrixMax's Coolcheck coolant testing program, you can detect problems before they cause system failure, and increase the performance and longevity of your fleet.
Learn more in the PrixMax mining industry brochure.