- ECONOMIC IMPACT -
Saudi Arabia is forecast to see the greatest increase in GDP growth rate between 2021 and 2022, predicted to increase from around 2% to around 7%.
Turkey is expected to see the greatest decline in GDP growth rate between 2021 and 2022, forecast to fall from around 11% to around 3%.
Russia saw among the world's lowest GDP growth rates in 2021, alongside what could be a world-leading rate of inflation of 23% for 2022.
Ireland could lead top economies' two-year average GDP growth rate, with growth of over 8% predicted between 2021 and 2022.
Economic growth forecasts around the world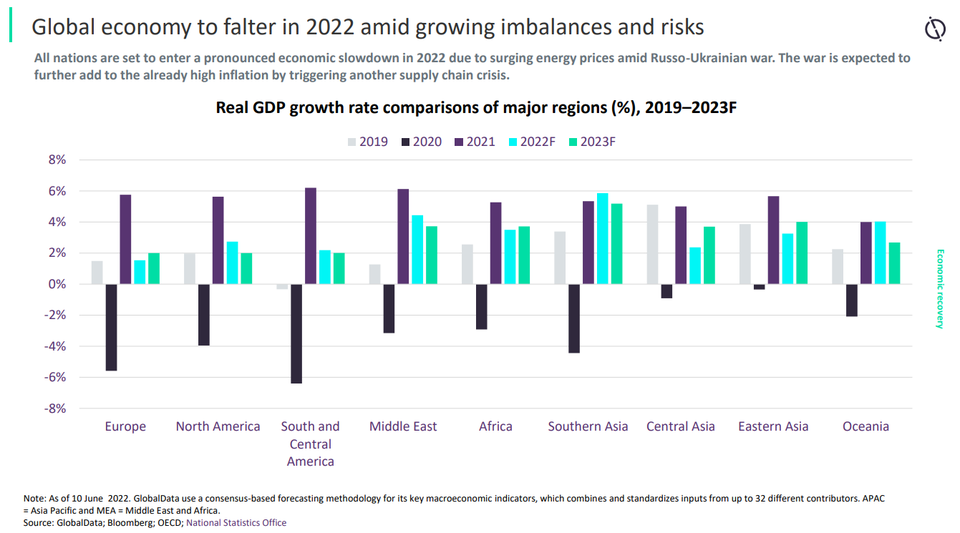 - SECTOR IMPACT: MINING -
COMMODITY PRICES
The mining sector has broadly weathered the impact of Covid-19. Prices of all key commodities grew strongly in 2021, helped by rising demand as well as supply constraints in many cases.
PRODUCTION IN CHINA
There were declines in the latter part of the year in gold, platinum, and particularly iron ore, in the case of the latter, due to continued steel production curbs in China as the country looked to reduce pollution and power use.