What will the next US administration mean for mining?
America's new president-elect raises several questions for the US's mining industry. Will more environmental protections enter the firing line? Will the next administration double down on critical minerals? Should we plan for more trade war inspired fluctuations in commodity prices? Yoana Cholteeva spoke to experts to get their take on what the future holds.
Following gruelling debates and days of vote counting, Joe Biden was pronounced the new president-elect of the US. He has so far promised that his team will recognise the need to boost domestic production of minerals used to make electric vehicles, solar panels, and other energy products as part of the administration's climate plan.

Biden has also proposed several investments and policy pledges to clean up energy and build the US "back better". In the meantime, ramping up production of electric vehicles and renewable energy systems will require massive new supplies of metals and minerals.
American National Mining Association senior vice president for communications Ashley Burke says: "2021 brings an opportunity for the White House to address the grave vulnerabilities that exist in our energy, national security, manufacturing, and medical supply chains, given our reliance on geopolitical rivals for minerals we could be sourcing here at home.
"When you look at the advanced technologies that are essential for the future of our country, their production and deployment simply cannot be accomplished without more support for our domestic mining industry."
Taking a green approach to American mining
There is a consensus among existing prognoses that since the incoming administration places more emphasis on green technology and the Paris Agreement, a slightly faster transition to all things electric should be expected.
When it comes to the green approach promised by Biden during his presidential campaign, the founder of international oil company GPB Global Resources, Boris Ivanov, predicts that producers of battery and base metals could get a boost in the next four years on the back of Biden's green stimulus and focus on infrastructure.
"This will have a very positive impact on commodities used in electric vehicles such as lithium, copper, nickel, and cobalt, as well as those important for solar panels and renewable energy infrastructure," he says.
Biden's plan to impose tighter fuel economy standards is also expected to help sales of electric cars; Ivanov states: "By 2030, there could be four million EVs on US roads because of those standards. To facilitate such a transition, the US will need a growing supply of batteries, which means more cobalt will be needed."
The majority of Americans reported being unwilling to pay a dime more to support a move away from fossil fuels.
Moreover, a shift towards sustainable production and more environmentally friendly technologies could lead to an increased demand for rare earth elements along with more lithium and cobalt, which in turn "disrupts traditional mining businesses that may have concentrated on base metals or coal mining, and creates opportunity and increased competition in these new areas, which, of course, also means [explorations in] new geographic areas of the world", Ivanov says.
President-elect Biden has also noted that the energy transition he is supporting will still need fossil fuels for quite some time, but the support of Americans during this transition will be essential. In relation to this, a 2020 poll conducted by market research company Morning Consult found that 85% of Americans are concerned about rising electricity rates.
"The majority of Americans reported being unwilling to pay a dime more to support a move away from fossil fuels to achieve emissions-free power. So the Biden administration has to be realistic about the costs associated with this transition, as well as how to ensure reliability when relying on so much variable power," Burke says.
For this reason, accepting the role that coal generation continues to play in underpinning affordability and reliability in many states might need to remain part of a well-reasoned energy policy.
Trade war inspired fluctuations in commodity prices
When it comes to the sensitivity of the US-China minerals conflict, with China controlling more than 90% of the world's rare earth production, experts are undecided on how the new administration will influence commodity prices and mineral relations with other countries.
Burke says: "I think most observers expect more predictability in trade relationships under a Biden administration, but the president-elect has talked about the need to get tough on China, so much remains to be seen with how those relationships will impact commodity prices."
Ivanov, in turn, believes that since trade wars are as old as international trade itself, there is no reason to believe something will change under Biden's or any other administration.
The US is repositioning itself domestically and internationally from a leadership perspective.
"States will take political stances in trade and markets will fluctuate accordingly. This will naturally be a prominent feature in the already complex US-China relationship regarding rare earth minerals and China's export policies in that regard.
"The US is repositioning itself domestically and internationally from a leadership perspective and with China playing a bigger role on the geopolitical stage and Europe consolidating its own power bloc, tensions may emerge," he says.
With the Covid-19 pandemic forcing countries to realise the full extent of their reliance on metal and mineral imports, this has altered the way that some of them look at mining and metals projects. For this reason, a further focus might be the strengthening of the local industry.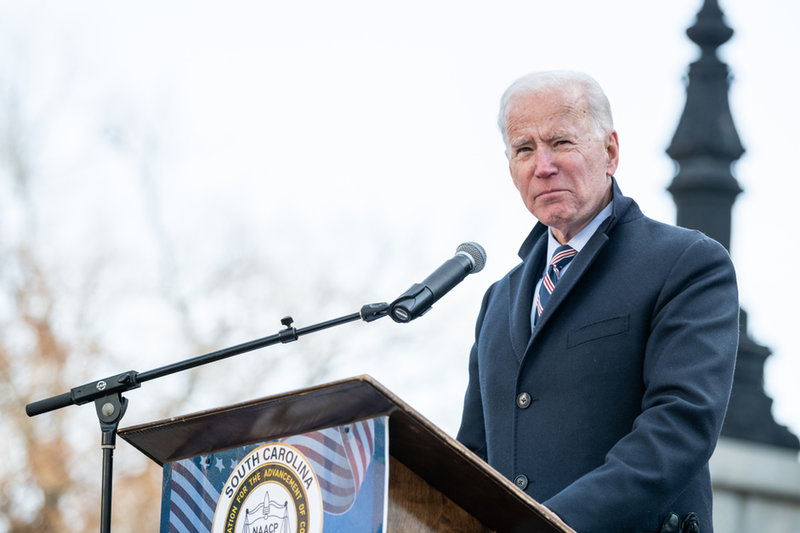 Presidential hopeful Joe Biden (D) speaks to attendees of the the 20th annual "King Day At The Dome" rally held at the S.C. Statehouse. Credit: Crush Rush / Shutterstock.com
Curbing mineral dependence on China
Provoked by this, Ivanov believes that the US mining industry will be looking to highlight the value of closer supply chains and curb dependence on China, the world's largest producer and consumer of lithium, rare earths, copper, iron ore, and other metals.
However, this might also cause some issues.
"Trade wars and increasing protectionism to favour domestic producers are likely to dampen global commodity demand and disrupt the value chain of mining and metals companies. This is further hampered with producers of 'critical mineral' players that serve the high-tech industry and monopolise the market," Ivanov says.
Trade wars and increasing protectionism to favour domestic producers are likely to dampen global commodity demand.
While the mining of lithium has been crucial for the transition, if rather costly, a stronger focus on and implementation of technologies such as carbon capture and storage is also projected to play a big role in extracting these materials as responsibly as possible, to result in new price levels in the markets.
In order for Biden's administration to help ease this conflict, a possible step that Ivanov proposes is to "stimulate recycling, although extracting needed materials from old electronics at a reasonable cost is not always easy".
The other avenue is to search for substitutes. "America and the Biden administration can harness serious capabilities in innovation, engineering, and fast-track to market implementation", he says.
// Main image: 3D System Model and Completed Installation. Credit: Deimos
Concerns over the future of the US mining industry
While such effects are usually produced on a macro-economic or regulatory level, it is hard to determine whether the new administration will bring more positives or negatives. Ivanov explains that, for example, Covid-19 forced the US government, as well as many others, to resort to massive injections of cash into stalling economies and there is ongoing discussion about additional financial stimulus.
"Some economists see that as ultimately inflationary, which is detrimental to the industrial economy and obviously bad for the mining industry, which supplies raw materials for industrial production. On the other hand, emphasis on green policies and re-joining the Paris climate accord does not bode well for the coal and, to a lesser extent, the uranium industry," he says.
They may also see diminished markets and faster falling prices, especially if the government supports accelerated substitution of energy generation with greener options.
The situation in California is the case study in why lofty rhetoric can't replace reliable power.
While the green generation ambition brings many positives along, Burke says that grid stability should become an absolute priority: "It's clear that the administration's desire to move away from fossil fuels will have an impact on the coal sector. But what you're seeing around the country from some states that have been more aggressive in their energy transition shows a reason for caution.
"Grids are being pushed to their limits. The situation in California is the case study in why lofty rhetoric can't replace reliable power. The state's grid operator called twice for emergency outages last summer due to inadequate power supplies."
While the Biden administration has headed towards increasing regulation of mining projects, Scot Anderson, energy and natural resources partner at American-British law firm Hogan Lovells, points out that it remains to be seen whether those increases are sensible or excessive.
"There will be an administration official and staff who will think that mining is bad and should be limited or ended. The hope is that the Biden administration will be pragmatic and understand that mining can be conducted in an environmentally sensitive manner and it is crucial to the development of a strong economy," he says.
Main image: Credit: Nuno21 / Shutterstock.com