Australia continues to lead the way in mining technology adoption
A survey of 138 mine sites, conducted by GlobalData in late 2021 and early 2022, has revealed that mines in Australia continue to have the highest penetration of technologies.
In total, 13 technologies were investigated, with respondents asked to score the degree to which they had invested in these technologies from one to five, with one being no investment and five being fully implemented. Australian mines ranked highest in eight of these, and showed a particular interest in drones, autonomous and remote control vehicles and mine management software.
In addition to these technologies, they also ranked highest for collision avoidance, mine planning software, predictive maintenance for mobile equipment and wearable technology.
Australia also ranked highest in previous surveys, which would be expected given the presence of companies such as Rio Tinto, BHP and Fortescue, that have been early adopters of technology and major users of technologies such as autonomous vehicles.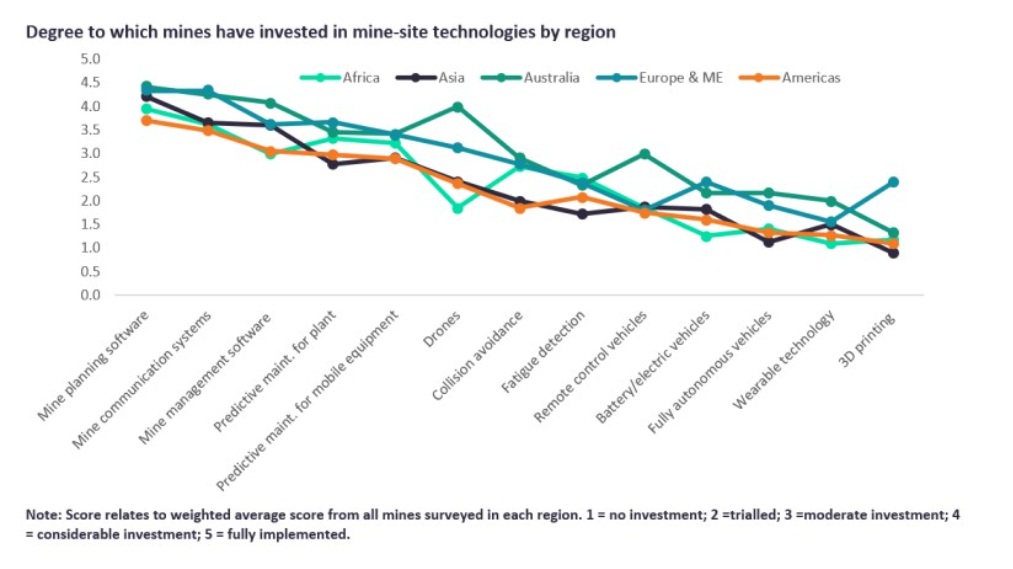 Together with Africa, mines in Australia also had the highest expectations overall in terms of investment across all technologies, suggesting it is likely to retain its leading position in years to come.
When asked, "In which of the following do you expect to invest in [or] invest further in, over the next two years?", Australian mines had, on average, the second-highest share of respondents expecting to invest in the various technologies after those in Africa.
A particularly high share of mines in South Africa expected investment in collision avoidance, fatigue detection, predictive maintenance and communication systems. In Australia, the highest share was for mine planning software, while in the US it was for battery/electric vehicles.
// Main image: Sculpture of Paddy Hannan at dusk. Credit: ChameleonsEye / Shutterstock.com