Production from new projects to more than double Canada's gold output by 2026
Canada accounted for 6% of global gold production in 2021, ranking the country fifth after China, Russia, Australia and the US.
After registering a 6.3% decline in 2020, Canadian gold mine production rebounded with 16.7% growth in 2021 to reach 7 million ounces (Moz).
Production growth was mainly due to increases in output at the Detour Lake, Canadian Malartic, Meadowbank Complex, Meliadine, Eagle Gold and Young-Davidson mines, among others. In addition, Canada's newest gold mine, the Pure Gold Red Lake Mine in Ontario, started commercial operations on 2 August 2021 and will add 87.8koz of gold annually.
The Detour Lake project is estimated to have been the country's largest contributor to overall production growth in 2021, having produced 712.8koz of gold in 2021 – a 37.9% increase over 2020. Growth has been due to an increase in tonnes processed, as well as an improvement in average grade.
Meanwhile, higher gold grades and tonnage at the Meadowbank Complex, Meliadine, Canadian Malartic, LaRonde Complex and the Kittila mines further supported the country's production.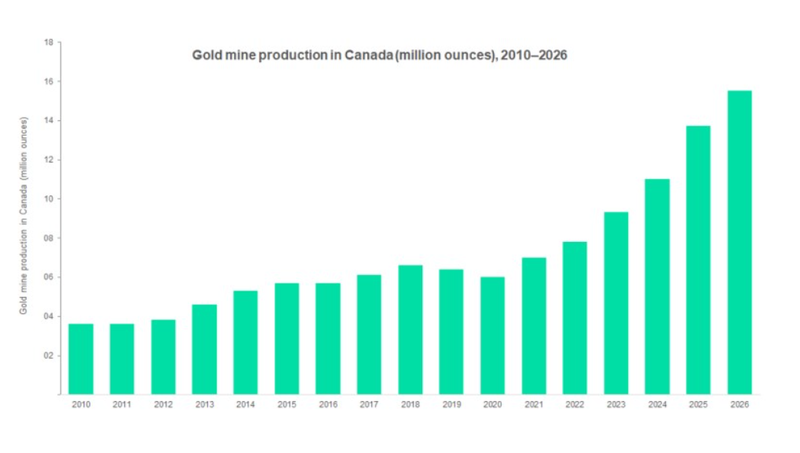 Looking ahead, production is expected to increase by 11.4% in 2022 to reach 7.8Moz. Growth will be largely supported by increased output from the Macassa mine, which is expected to produce up to 325koz of gold in 2022, according to the company, owing to the commissioning of the #4 Shaft in 2022.
In addition, the ramp-up of projects, such as Eagle Gold and Meliadine that commenced operations in 2020 and 2019, respectively, will support production growth.
The former mine, which is owned by Victoria Gold, is currently undergoing ramp-up and is expected to increase the average annual gold production to 250koz of gold by 2023.
Over the forecast period, 2022-2026, Canadian gold mine production is expected to grow at a combined annual growth rate of 18.7% to reach 15.5Moz. This growth will be helped by the commencement of new projects, including Greenstone, Blackwater and Cote Gold projects.
// Main image: Horne Foundry at dusk. Credit: LarryDallaire / Shutterstock.com