Technology and tools making space for keyhole mining
"Keyhole mining" allows drillers to chase narrow seams without full-scale excavation. Nnamdi Anyadike gives an overview of the machines looking to bring new technology to the rockface.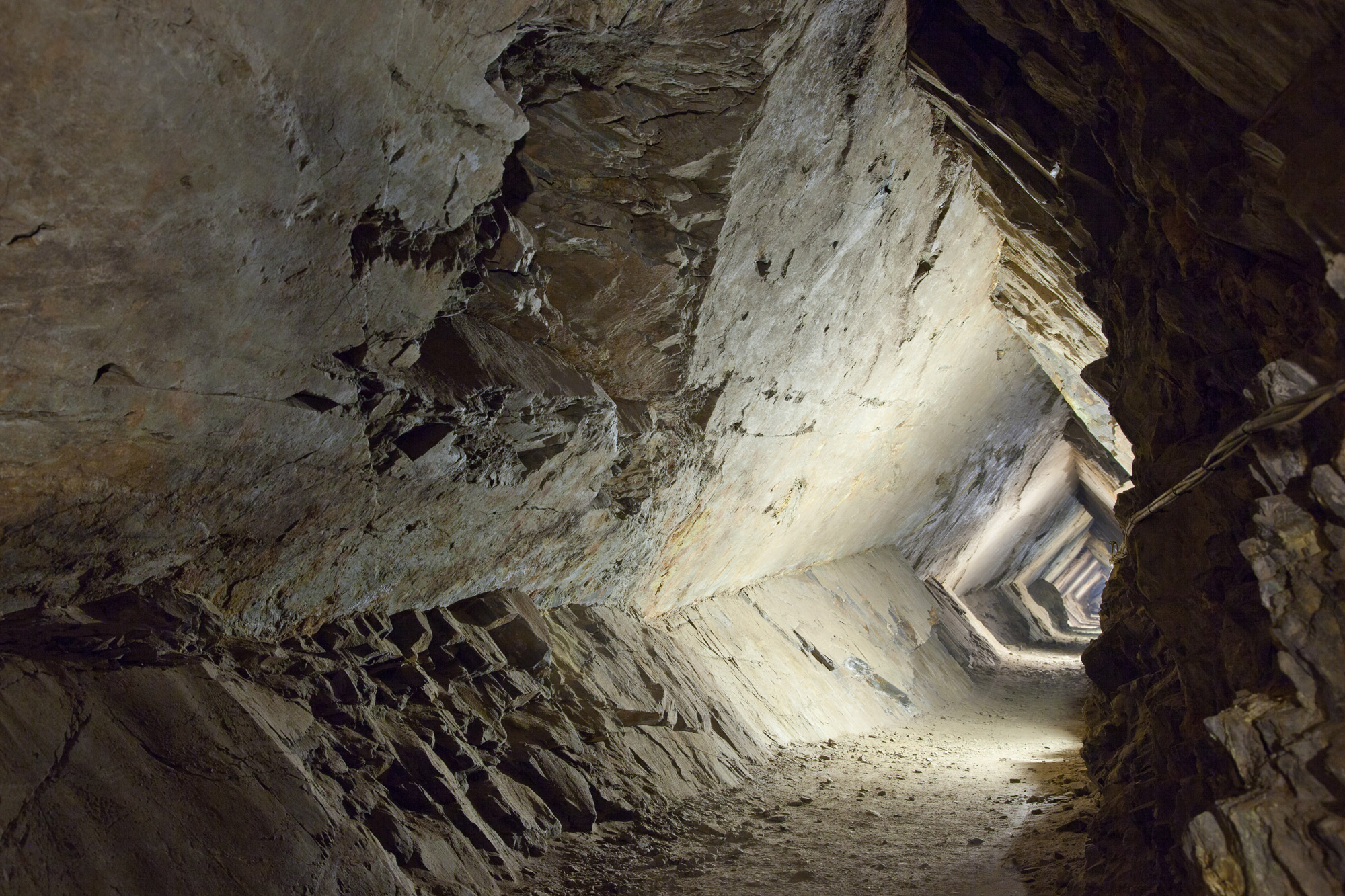 Ore veins, particularly gold, can be narrow and make regular extraction unviable. Credit: Jarous via Shutterstock
The mining of narrow vein seams has been a niche feature within the mining industry for well over a century. Overwhelmingly though, it has been used in the mining of gold, platinum and other precious metals, where substantial profits can be accrued by the mining of every ounce of metal.
Attempts to broaden the practice to other ores have, until recently, proved to be more challenging. Now "keyhole mining", also dubbed "surgical mining", could allow mining to be conducted more effectively in a narrow-vein mining space. It also avoids some of the challenges, such as geological complexity of seams, that have hitherto made narrow-vein mining so technically challenging. Narrow-vein seams have also been costly and labour-intensive to exploit, relying on the willingness and ability of mine workers to work in confined spaces.
Mechanisation and automation is the key
The move towards mechanisation and automated mining systems has enabled mine operators to increase productivity while reducing costs. Seismic systems to monitor rock mass and predict rock burst conditions are now widely used and have become more affordable, while improvements in backfilling have led to an increase in recovery. Blasting technology too has improved, and electronic detonators are now standard underground.
Meanwhile, keyhole mining technologies such as Canadian gold producer Anaconda Mining's two-stage drilling method have enabled the economic mining of new deposits.
Novamera Inc, a spin off Anaconda Mining, has developed a technique called Sustainable Mining by Drilling (SMD). This system was originally conceived to exploit Anaconda's Romeo and Juliet narrow-vein deposit in Newfoundland but, Novamera plans to apply it to other operations. The company also recently unveiled a proprietary guidance tool for narrow-vein mining, after its final in-field demonstration in late 2022 in Baie Verte, Newfoundland.
Oz Minerals, Vale and an unnamed global gold producer have sponsored the technology. Novamera claims that its proprietary hardware and software can combine with conventional drilling equipment and minimise dilution. Real-time data, machine learning and production analytics maximise extraction "make the extraction of complex, narrow-vein deposits not only viable but highly profitable," a company description says. "The solution generates circa-95% less waste and less than half the greenhouse gas emissions of selective mining methods."
Research into new keyhole mining methods
A study from a team that included the University of Western Australia, the Commonwealth Scientific and Industrial Research Organisation (CSIRO), the Technical University of Denmark and the University of Exeter has demonstrated that a targeted electric field can be used to dissolve and then recover copper in situ from narrow-vein copper ore.
Called electrokinetic in situ leaching (EK-ISL), the technology involves the drilling of electrodes directly into an orebody. An electric field is then used to control the movement of an acid within a low permeability copper-bearing ore deposit, selectively dissolving and recovering the metal in situ. The team claims that it has provided a proof of concept for the technology at laboratory scale and they are confident that the idea will work at the field scale.
Co-author of the study, Rich Crane from the Camborne School of Mines, University of Exeter, said: "This new approach, analogous to 'keyhole surgery', has the potential to provide a more sustainable future for the mining industry."
Elsewhere, Japanese mine and engineering company Komatsu recently launched the Komatsu "WX03 LHD", a 3-tonne, diesel-powered, heavy-duty machine that is designed for especially small, narrow veins with limited manoeuvring space. The company is now in partnership with Toyota to jointly develop a further range of mine vehicles. Martin Cavassa, Manager, Automation Business Development for Komatsu, says that the future lies in greater interoperability, as well as automation. "Interoperability is the cornerstone of our mining automation strategy. We have an excellent opportunity to showcase our developments in automation as well as what we envision for the future of mining," he said.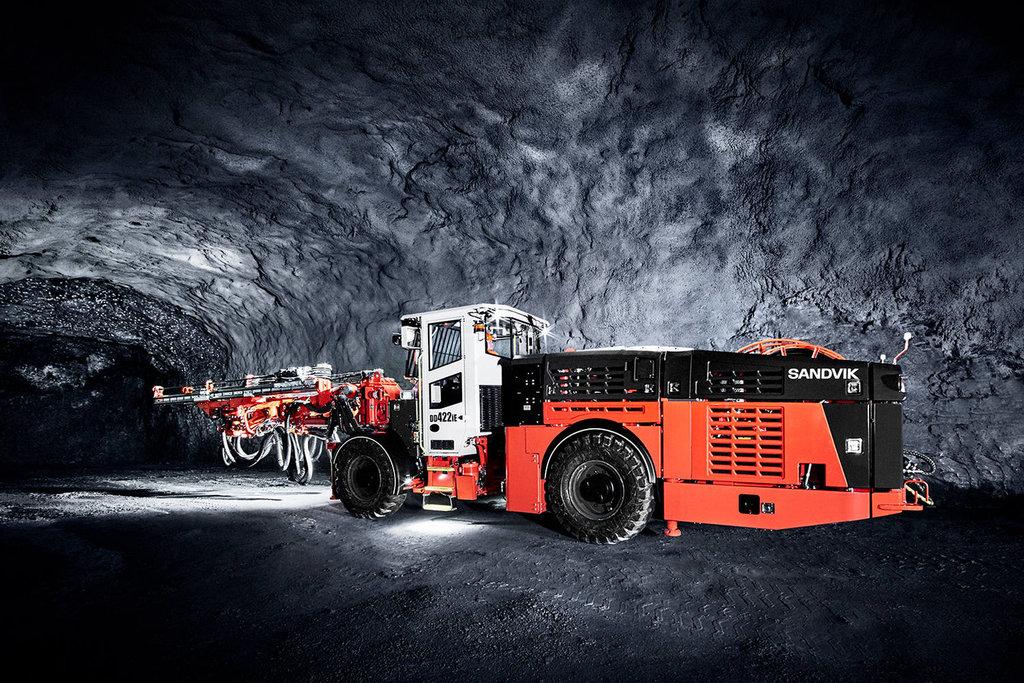 Regular equipment can struggle in tight seams. Credit: Sand
Sandvik and Anglo American develop South African equipment
Sandvik the Swedish mining engineering company, has released a compact single-boom electro-hydraulic underground drill rig designed for narrow-vein drifts. Known as the DD212, the drill is designed to enable multipurpose operations in tunnels as small as 2.5mx2.5m. It uses a telescopic feed that can retract from 6-12ft and also features a new drilling control system with torque control and reaming-hole selection. The features are claimed to help the rig achieve a 20% reduction in boom positioning time and a 15% improvement in drill penetration rate. Sandvik describes it as having a "precise electronic positioning, ergonomic operator interface, data monitoring, leading to superior pull-out ratio and reduced tool consumption."

The company is also working with Anglo American on technology at Anglo's Twickenham platinum mine in South Africa. There, it is developing a remote-controlled continuous haulage system, as well as another remotely operated rig, the MN 220 Reef Miner. "This incorporates cutting and roof bolting and is designed for mining narrow mineral reefs in hard rock," Anglo American says. The machine is up to three times faster than conventional drill and blast methods for narrow seams. Also in South Africa, Anglo American is developing a Slot Borer drill with Atlas Copco. This proof-of-concept machine is designed to drill narrow vein hard rock ore bodies of just 1m-1.5m.
Keyhole mining not excluded from environmental oversight
But despite what many in the industry see as its advantages, there has been a backlash from a number of communities against what some see as the risk of environmental degradation from narrow-vein mining. In the UK, the Canadian gold and precious metals company Dalradian Gold hopes to launch a project to extract precious metals from a property in County Tyrone using narrow-vein mining.
Dalradian aims to extract up to £3bn ($3.8bn) of precious metals in the Sperrin Mountains in County Tyrone over a 25-year period. However, since lodging its planning application in 2017, it has received almost 37,000 objections. This led Northern Ireland's then-Infrastructure Minister, Nichola Mallon, to announce a public inquiry on the proposals. High on the list of local community concerns are water and air pollution. Earlier proposals for the use of cyanide at the site have been withdrawn by the firm. It is currently unclear whether, or even if, the project will come to fruition.

As with all mining activity, particularly using new technologies, the concerns of local communities must be appropriately taken into account to keep licensing and rollout on track. Melbourne-based AMC Consultants has conducted numerous studies on narrow vein mining methods in operating mines, and concludes that while the method undoubtedly has many benefits, there are also challenges.
"Mining this narrow style of mineralization can be considered as relatively high risk," it says. "Estimation of the mineral resources and their location can be difficult. Underground development is generally required to confirm the continuity of mineralization," and therefore determine the profitability of a seam before any machine becomes involved.