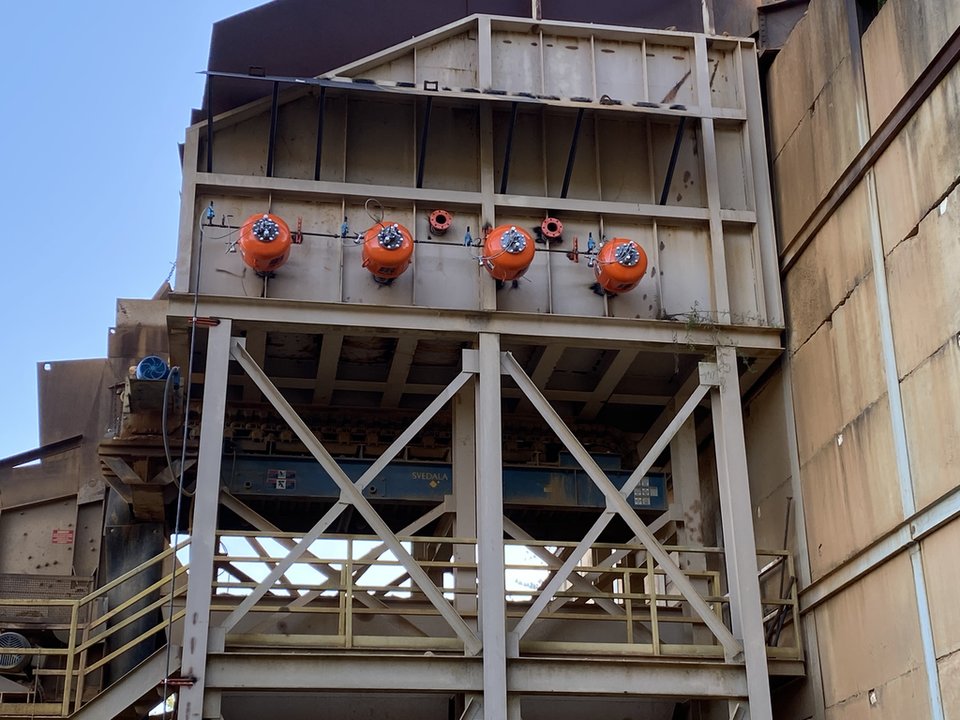 Sponsored by Martin Engineering
Let it flow!
The fluidity of your system flow goes far beyond vanity.
I
t is crucial to the reliability and availability of the conveyor system. Proper flow promotes performance, durability and, above all, safety.
However, contrary to what many believe, flow aid depends on an entire integrated system that allows the functionality of all equipment in a continuous manner.

After more than 75 years of experience in the bulk material handling market around the world, Martin Engineering understands that efficient flow can increase profitability, reduce material loss and energy costs, create a safer work environment and control clogging problems. That's exactly why we work with complete solutions! We want to offer the best option to solve your problems and avoid future headaches.
The biggest asset of our flow aid solutions is the Martin® Hurricane Air Cannon. It improves the flow of bulk materials by discharging air to prevent blockages, buildups and ratholes. The new valve concept provides more force using less air and simplifies installation and maintenance, since the complete valve assembly can be removed in one easy step, working from one side of the tank – being replaced within minutes.
Air cannons are highly effective with materials like coal, cement and aggregate, especially if they retain even small amounts of moisture and become sticky. Applications vary widely, from clearing transfer chutes to emptying stagnant bulk material storage silos to purging boiler ash and even cleaning high-temperature gas ducts.
One of our main concerns at Martin is the safety of employees. Many plants use manual techniques to remove build-up, which is very dangerous, given that employees can get hurt when performing it. With our product, this is no longer an issue! Our air cannons release timed bursts of compressed air that break up accumulations and bottlenecks in process vessels without damaging your equipment and can be complemented by our innovative nozzles that can be removed easily from the outside for cleaning or replacement without having to remove the entire air cannon, as well as high-quality valve assemblies and electronic controls.

And no need to worry about maintenance! Our intuitive technology allows you to remotely monitor the performance of your cannon(s). With continuous monitoring, you are immediately notified in the event of a failure so you can quickly react. The system will indicate what type of investigation/repair is needed.

We provide a variety of cannon sizes, models, and configurations that can be customized to meet your exact needs. We take any parameters your operation might have into consideration and work with those to give you the flexibility to set up air cannons where and how you need them.

Whether the simplicity of a single cannon or the complexity of a multi-cannon system, we will work with you to achieve desired results. Get in touch with us today!

Contact information
Martin Engineering Australia
20 Ern Harley Drive
Burleigh Heads, QLD 422
Email: mea@martin-eng.com
Tel: +61 7 5522 0841