- ECONOMIC IMPACT -
Latest update: 21 October
While current consensus forecast for global GDP remains negative, many countries are seeing their own GDP level off after weeks of decline.
Polls show that employment prospects have consistently improved since July, with most employees favouring working remotely full-time.
IMF has revised its 2020 global GDP forecast to -4.4% from an estimate of -4.9% made in June.
India's growth forecast for fiscal year ending March 2021 has been downgraded by 5.8 percentage points to -10.3% by the IMF in its October forecast.
Impact of Covid-19 on equity indices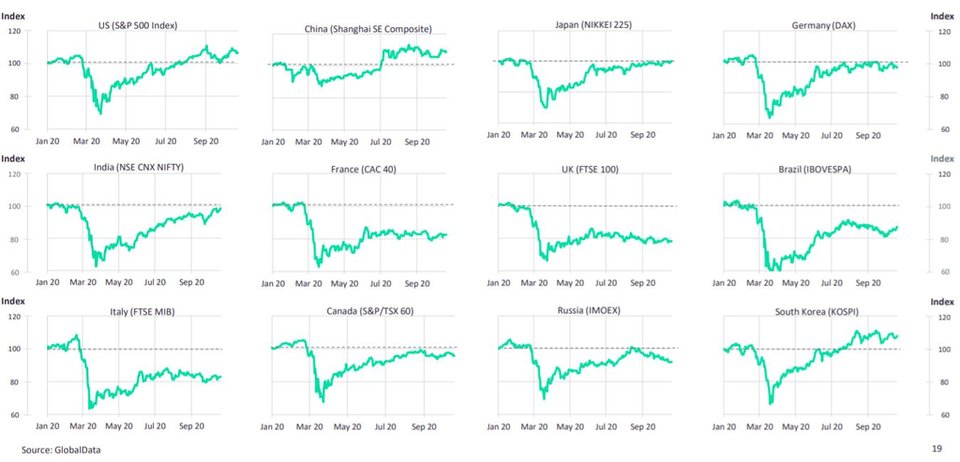 - SECTOR IMPACT: MINING -
Latest update: 9 November
The current forecast for global construction output growth is a decline of 3.1%, versus initial expectations of growth of 3.1% for 2020. Excluding China the decline would be 5.3%.
The slowdown in construction is forecast to result in copper and iron ore demand to fall by 3% in 2020. Whilst lower automotive manufacturing will also impact demand for steel, aluminium, platinum, and palladium. Platinum demand is forecast to decline by 7% in 2020, with light vehicle sales estimated to have fallen by 31.3% in Q2.
On 16 March, Rio Tinto announced regarding its Oyu Tolgoi mine in Mongolia that, for the underground development, "progress is being slowed…There is restricted access for teams from Rio Tinto, Oyu Tolgoi and our construction partners to oversee development and provide specialist technical services".

In an interview with Reuters, Clive Johnson, chief executive of B2Gold Corp, was asked about miners stockpiling fuel, hydrofluoric acid, lime, and other industry staples, including cyanide, which is used to extract gold from rock. "I'm sure every mine is trying to do the same thing".
B2Gold has temporarily suspended mining activities at its Masbate mine in the Philippines due to a disruption to its fuel supplies. The Philippine Government has moved to minimise the spread of Covid-19 by ensuring that all supplies, including fuel, are not contaminated.
Key mining market developments