India's coal output to grow by 6.6% in 2022 backed by output from Coal India
The Indian Government has adopted several measures to boost the domestic supply of coal.
After a 6.8% increase in 2021, India's coal production is expected to grow by 6.6% to 864.8 million tonnes (Mt) in 2022. Of the total, 93.9%, or 811.9Mt, is expected to be thermal coal and the remainder metallurgical coal. Overall, during H1 2022, India produced 460.4Mt of coal, up by 15.1% year-on-year.
This was primarily due to increased output from the country's largest producers, Coal India and Singareni Collieries, which typically account for around 85%-90% of the country's total production.
In the past few years, the Indian Government has adopted several measures to boost the domestic supply of coal and reduce dependency on imports, such as approval of 100% foreign direct investment in August 2019, followed by the amendment of Mines and Minerals (Development and Regulation) Amendment Act 2021 in March 2021, prioritising mineral safety.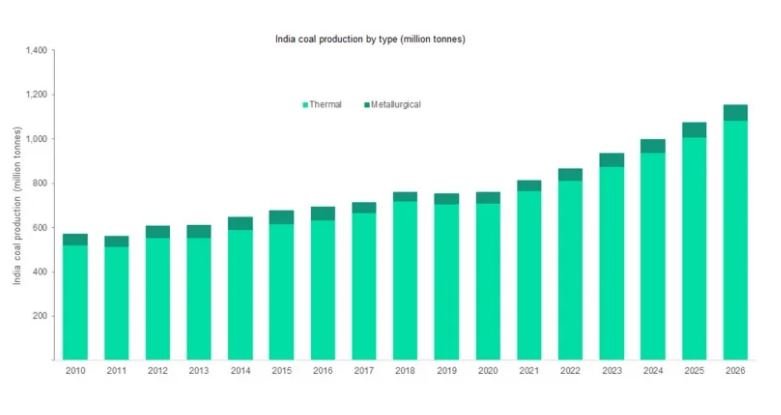 The amendment allows 50% of coal and lignite from captive mines to be sold once their own requirements are met, and additional royalties are paid to state governments. Furthermore, the new bill allows a prospecting licence-cum-mining lease, increasing the coal and lignite inventories for allocation. The bill also provides eligibility to participate in coal mine auctions to players with or without any prior coal mining experience.
Meanwhile, the government has also been comprehensively auctioning coal blocks while encouraging rapid advancement towards bringing these to operations by incentivising through a reduction in the government share. As of June 2022, the Indian Government had auctioned 47 coal mines to private investors. Another 122 coal mines were placed for commercial auction in March 2022, and by the end of the second quarter, 38 bids had been received from 31 companies.
Looking ahead, the Indian Government has made plans to reduce dependency on imports by boosting domestic production. Over the period of 2022-26 India's coal production is expected to post a combined annual growth rate of 7.5%, to reach 1,153.3Mt by 2026, owing to the commencement of various upcoming projects, along with supportive regulatory reforms.
// Main image: Coal mine in India. Credit: Rajdeep Ray via Shutterstock