Sponsored by: ANDRITZ Separation
Improved water recovery in tailings treatment by dewatering with ANDRITZ decanter centrifuges
Appreciation of the effect of changing regulations enables mine operators to proactively assess and respond to their relative exposure. A proactive response enables the operator to retain control of change processes in advance of a regulatory direction enforcing the change, the resource demand and the timeframe.
By way of example, Aspect Environmental looks at the requirements of the NSW Mining Amendment (Standard Conditions of Mining Leases – Rehabilitation) Regulation 2020 and how operators can respond and retain process control.
T
ailings treament is one of the most common safety, environmental & operational challenges in mining business. Dewatering as a method of treatment has been gaining popularity as it not only enables dry stacking, but also recovers process water and one of the most efficient technologies is the ANDRITZ decanter A10-4.
Designed to meet all tailings treatment needs
Eliminating the need for a tailings dam. Improving process water recovery to decrease reliance on external water sources. Handling of abrasive material, high throughputs or slurries with high density. Based on the unique conditions at your site, ANDRITZ recommends and fine-tunes a solution that provides not only the highest possible process efficiency, but also state-of-the-art dewatering and recovery of process water. With an installed base of over 20,000 machines and over 70 years of experience with red mud, ANDRITZ is not only one of the leading suppliers of decanter centrifuges, but also well experienced when it comes to tailings treatment.
All of which has cumulated in one solution customized to handle all requirements for tailings– the ANDRITZ decanter centrifuge A10-4. Operating with high-speed design capabilities for dewatering of tailings and fine solids, the ANDRITZ decanter centrifuge A10-4 enables you to handle high volumes and increase recovery rates, also due to its large diameter-to-length ratio.
In addition, it is designed for maximum flexibility, with multiple construction material options and unique features such as operating speeds of up to 2,200 G (ideally suited to achieving high recovery rates for fine particles as well as high throughput) and a dual VFD drive system to react automatically to varying process parameters during operation in torque control mode. The deep pond configuration enabling reduced power consumption and a cleaning-in-place (CIP) feature for highest hygienic standards and minimized downtimes complete this innovative piece of equipment. But there is even more to this specific centrifuge.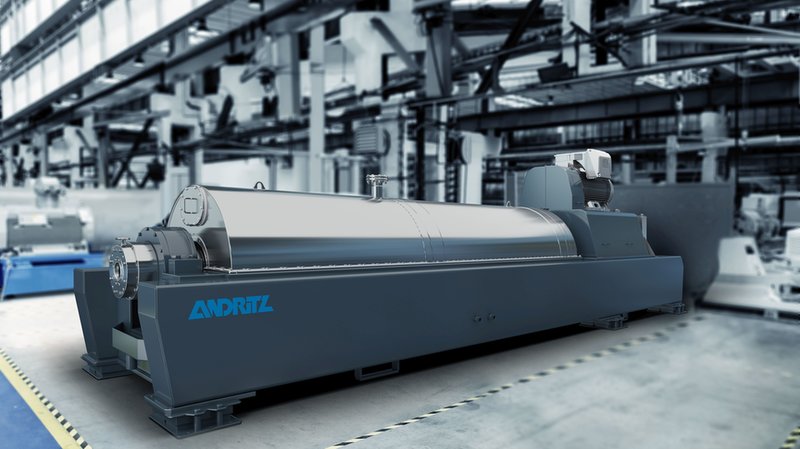 //High-speed ANDRITZ decanter centrifuge A10-4 customized for tailings dewatering
Improved decanter operation with higher capture rate
When dewatering tailing slurries, highest separation efficiency not only results in easier dry stacking of the dewatered tailings, but also in more process water being recovered with less fines entrained. This is why ANDRITZ has improved the feed ports of their decanter centrifuges with the GentleFeederTM feeding system. The system ensures that there is less turbulence in the feed zone in order to decrease shearing forces. This prevents potential particle breakage, improves flocculant efficiency, and reduces the fines content in the centrate.
The GentleFeederTM feeding system can be tailored to any application and product for which the decanter centrifuge A series is used, and it has been specially customized for tailings treatment on the ANDRITZ decanter centrifuge A10-4. The CFD-optimized design of the GentleFeederTM feeding system to reduce shear forces and smooth the injection impact has been shown to increase revenue due to the product quality achieved, containing up to only half the amount of solids previously entrained in the centrate.
//The GentleFeederTM feeding system –for easy upgrade of existing decanters
Saving water, space, and energy
With improved process water recovery during tailings dewatering, no need for a tailings dam, and the machine's smaller footprint compared to filter presses, a decanter centrifuge is already a real economizer. In the specific case of the ANDRITZ A10-4 decanter centrifuge, these features are combined with a power recovery system called the TurboJet® weir plate in order to minimize energy consumption as well. As a result of the highly efficient hydraulic design of the rotating unit, the discharge radius of the clarified liquid – the centrate – is kept to a minimum.
The TurboJet recovers the kinetic energy in the liquid and reduces overall energy consumption. Power savings thanks to TurboJet® will vary with feed flow rate, pond depth and bowl speed, usually reaching 20 to 30% (depending on operating conditions) compared to standard weir plates. An additional benefit is the lower capital cost because the size of the main motor, VFD and belt drive can be reduced when a TurboJet® weir plate is included in a new decanter.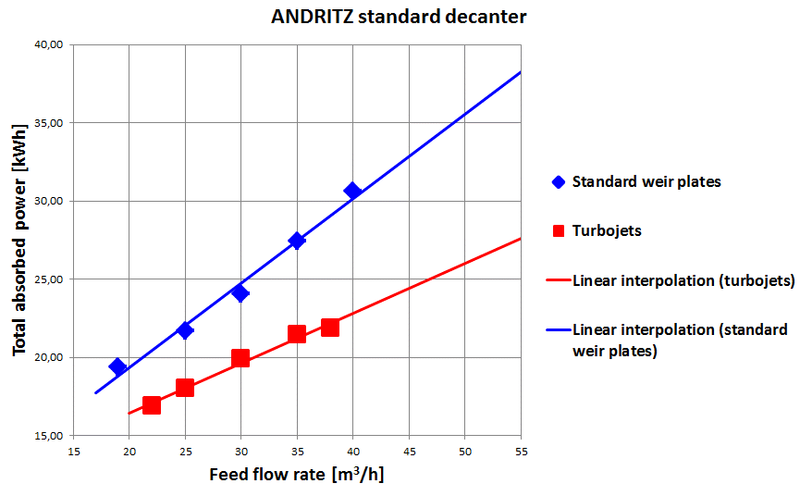 Ready for the future of industry 4.0
One of the latest innovations by ANDRITZ, and one which is also available as an option for the ANDRITZ decanter centrifuge A10-4, is the Metris addIQ control system for decanter centrifuges – a well-proven, intelligent control solution for industrial processes and machines. The heart of the addIQ system is a modular, PLC-based control system that helps you obtain optimum benefit from your ANDRITZ decanter centrifuge.
Depending on the package chosen – ranging from replacement of existing installations with addIQ PURE to the ECO, DYNAMIC and PRIME packages and the customizable FLEX – you can chose the degree of decanter automation that will best fit your needs. The range extends from machine control alone, to line control, 24/7 monitoring options and remote support, to our analysis tool Metris addIQ Optimizing, which seeks out ways for you to save money while also stabilizing and increasing production on your equipment.
//Metris addIQ Monitoring helps you to monitor your machine 24/7. It is displayed here on the ANDRITZ app for machine monitoring.
These flexible monitoring and optimizing options enable you to improve such KPIs as dryness, energy efficiency and water recovery on a continuous basis. With the Metris addIQ control systems, our ANDRITZ decanter centrifuge A10-4 is not only one of the most efficient options for tailings treatment available on the market but is also ready for the future of industry 4.0 and IIoT.
Contact information