Sponsored by Schneider Electric
Optimise your value chain with Integrated Operations Centre from Schneider Electric and AVEVA
Take advantage of digitisation benefits by gaining full visibility over mining operations
A
ccording to a recent report by the World Economic Forum, digitalisation in the mining, minerals, and metals industries has the potential to deliver over $425 billion in shareholder, customer, and environmental value by 2025.
Much of this value will come in the form of operational effectiveness, increased productivity, faster decision-making, and enhanced safety. However, with mining operations often broken down by information silos, getting full visibility to realise this digitalisation opportunity can be a challenge.
To address this issue of value chain optimisation, Schneider Electric recommends an integrated operations management approach, made possible by Integrated Operations Centre (IOC) from AVEVA and Schneider Electric.
What is an IOC?
You may have heard of a Remote Operating Centre (ROC), an Integrated Remote Operating Centre (IROC), a Unified Operating Centre (UOC) or even a Processing Excellence Centre (PEC). An IOC could be any of these "flavours", but in essence, it delivers a new way of working that looks at the whole operation rather than focusing on separate (often siloed) functional areas. It is a consolidated, centralised service, bringing together information from multiple sites and stages of the value chain. It offers:
Collaboration across multiple operating teams
Identification and standardisation of best operating practices
Better planning and decision making
With IOC you can effectively integrate diverse sources of information to support operational decisions and business objectives. By bringing all key stakeholders (such as maintenance, operations, energy management, sustainability and integrated planning) into one platform, silos are eliminated. This reduces instances of conflict and miscommunication, which is especially beneficial for crisis management. All of the information and controls are available from one place, so issues that arise can be dealt with as they occur.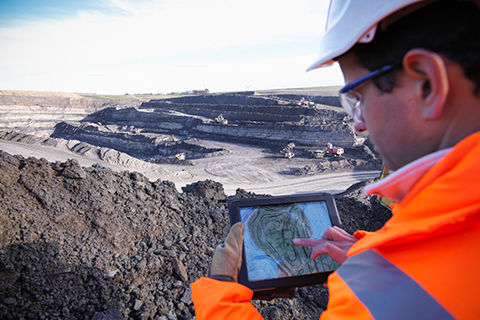 How does it work?
Your IOC brings together all your data including 2D process diagrams and alarm management. At any point, your employees can select these diagrams and display them in a more realistic 3D view - illustrating any sub process or piece of equipment they want to take a closer

look at.
All these objects are also dynamic elements, meaning side screens and pop-up windows relating to these objects are available to provide real-time data, as well as reference documentation or maintenance manuals.
In addition to this exact representation of the plant, IOC supports your workforce with Artificial Intelligence advice and recommendations to make the right decision at the

right time.
An example of this is where IOC has been deployed at a large global mining and metals corporation. It is being used to centrally manage 13 mines, three ports and one of the world's largest privately-owned rail networks. Operations managers can now use cameras, radios, and microphones from their desks thousands of kilometres away to communicate directly with on-site staff. The vision for the operations centre is to ensure all employees are multiskilled and embrace collaboration to drive productivity. By equipping their people with the proper tools for optimising a complex integrated network, senior management at the firm are realising a quantum leap in mining efficiency and cost savings.
Empower your workforce to drive a cultural shift
As illustrated above, digitalisation is a cultural issue as much as it is a technology issue, and it is also equally important to empower your workforce through data. Prominently displaying information from the IOC enables enhanced decision-making - affording operators the opportunity to address challenges proactively rather than reactively.
The information can also be extracted, so, for example, as Corporate Social Responsibility becoming a growing initiative, IOC can help you improve your sustainability credentials. Beyond simple compliance to regulatory standards, pro-sustainability actions can be documented and communicated to communities and groups that monitor corporate social behaviours. The industry's investment in innovation, collaboration, safety, sustainability, genuine rehabilitation, renewable technologies and diversity can now be published with data to promote these initiatives.
Optimising your value chain with digitisation
Enabling digitisation in Mining, Minerals and Metals can bring greater benefits to your plant and assets. From increasing field to enterprise transparency to enhancing value chain visibility, you can increase efficiency all along the asset life-cycle.
With Integrated Operations Centre (IOC) from Schneider Electric and AVEVA you can:
Optimise operations throughout your value chain
Reduce cost per ton
Improve interoperability and resilience with integrated power and process
Build business resiliency and sustainability
Create integrated digital environments for collaborative innovations
Increase process visibility
Decrease maintenance costs
Reduce project risk
To find out how Schneider Electric and AVEVA can enable you to maximise value from industrial, data centre and infrastructure assets, download our
Schneider Electric acts as the official distributor of all AVEVA Software in AU and NZ. We directly supply the entire AVEVA portfolio.
1. World Economic Forum, "Mining and Metals: digital transformation and the industry's 'new normal'", January 2017
Contact information