Arctic automation: inside Amaroq and ABD's arctic mining vehicles
Dedicated to building a full-cycle gold operation in Greenland's remote and inhospitable arctic environment, it's small wonder that Amaroq Minerals has teamed up with ABD Solutions to develop autonomous vehicles. Dominic Hale investigates.
T
The memorandum of understanding between Amaroq and ABD Solutions, a division of AB Dynamics, one of the world's leading automotive test systems firms, will see the pair unite to establish the potential of what they describe as "vehicle autonomy systems". This is ultimately with a view to rolling out bespoke machinery on a grand scale at the Nalunaq mine South Greenland, which shows significant potential.
The mine is one of six licences held in Greenland by Amaroq, and is among the most ready for large-scale production to begin. With gold reserves of around 250,000 ounces, and a range of industrial infrastructure left over from when the mine was closed in 2013 after nine years of production, this is one of the more attractive projects within the company's portfolio.
Amaroq aims to overcome one of the key challenges that impeded the mine's initial production, however, through the use of automotive technology. High operational costs contributed to the mine's initial closure, and it is hoped that, by partnering with ABD Solutions, the miner can deliver machinery that requires fewer human operators, and less human maintenance, over the long-term.
While this project is designed to produce a driverless fleet that can cope with Greenland's harsh climate, and could be the first step in establishing a full-cycle gold operation in such an environment, elsewhere in the world, similarly specialised fleets for other extreme work conditions are being developed and rolled out.
Transformative potential
Far from much supporting infrastructure, and not suited to a human workforce, it is essential that autonomous vehicles in Greenland are best-in-class when it comes to robustness and reliability.
The roadmap to Amaroq's long-term objective at the Nalunaq site, to operate a range of equipment and retrofittable vehicles, sees ABD drawing on its significant experience in the field to provide support, software and hardware solutions for an autonomous portfolio of machinery on site that would be remotely overseen from a central control room.
Cumulatively, the scope for efficiency enhancement, safety improvements, increased sustainability, new transferable skill sets for the local workforce and cost mitigation afforded by this approach is profound.
The application of the technology encompasses all manner of vehicles from personnel transport to loaders and crushers, the now realisable goal being the complete autonomation of the mining cycle including offsite processes. This means blasting and drilling on the one hand, but also the likes of engineering and scheduling.
Liberate the worker, optimise the mine
With harsh terrains and climates presenting major safety risks, the push into ever more remote areas has created a disconnect between these environmental realities and the quest within mining to minimise the scope for injury or death amongst the ranks of the workforce.

This is to say nothing of the long-term future of mining, where companies are likely to be pushed to ever-more remote locations and ever-poorer deposits to satisfy the world's endless appetite for mineral wealth.
Unmanned operations are the logical response to this quandary. Machinery can be in use for longer periods than human workers, translating to enhanced productivity and the freeing up of mine staff for higher complexity tasks.
Moreover, inevitable maintenance can be scheduled in for machines, bringing predictability, while performance can be assessed through the interpretation of data with pinpoint accuracy to deliver the required remedy when required, whether that relates to optimising fuel consumption or minimising downtime of the assets in the fleet.
Inevitable maintenance can be scheduled in for machines, bringing predictability, while performance can be assessed through the interpretation of data with pinpoint accuracy.
Meanwhile, an industry-wide shortage of labour and paucity of skilled workers in the remote, harsh environments in which mining companies increasingly operate, equates to ever-rising costs. It is hoped that the introduction of autonomous vehicles, while constituting a not insignificant research and development outlay, will pay back dividends across the life of the mine through reducing operating costs and increasing competitiveness.
And, with an expectation that autonomous mining machinery will be electric and fuelled by on-site renewable energy generation, the health of those workers that do remain on site will benefit, given the absence of toxic exhaust gases, which also means less ventilation is required, further lowering costs.

Meanwhile, building at scale to service whole facilities, or for that matter, entire portfolios of mining assets, serves to further increase the cost-effectiveness of autonomous machinery compared to diesel alternatives.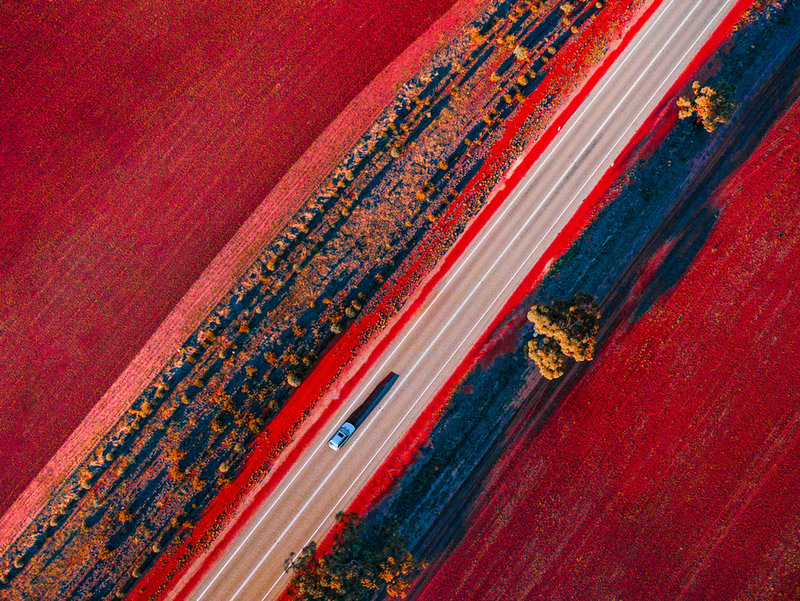 // 3D System Model and Completed Installation. Credit: Deimos
Delivering dependable networks
One of the principal challenges in making autonomous fleets deliver on their potential in the mining space is reliable network connectivity. While rollout could be fairly straightforward in an open-pit landscape, by definition, the labyrinthine underground mining environment poses problems in securing sufficiently strong and sustained communication signals to relay the necessary constant streams of data.
For real-time connectivity with systems and assets, it is paramount that the supporting network is built and deployed correctly, thereby allowing for an architecture that underpins multiple autonomous operations. Otherwise, the fleet is essentially redundant, for dropped connections mean machinery downtime, undermining the very purpose of implementing autonomous technology in the first place.
Rio Tinto is a big mining name that sees an autonomous mining future and to this end is investing substantial sums into the development of such machinery. One such location where it is pursuing safety and productivity gains is the Oyu Tolgoi copper-gold mine in the Mongolian desert, set to be the fourth largest copper producer in the world by 2030.
Here, autonomous loaders powered by Sandvik's Automine system technology are able to continue to work clearing the collapsed ore body, where previously workers would have had to wait until dust and fumes were no longer a threat to health.
// Main image: 3D System Model and Completed Installation. Credit: Deimos
An autonomous future
LIDAR (light detection and ranging) technology for autonomous vehicles is a remote sensing method which determines variable distances to the Earth through the use of light in the form of a pulsed laser. It affords the opportunity to 3D map the mine landscape and so reduce operating challenges in extreme operating environments, such as those prevailing in South Greenland or Inner Mongolia's Gobi Desert.
The capacity to identify and avoid or remove obstacles greatly limits the scope for damage, which is an ever-present risk in the inhospitable terrain where mines are usually located, while resilience in the face of extreme temperatures, uneven ground and weather events, means sensors and components can continue to reliably operate at optimum levels, and the life expectancy of critical machinery can be extended.
// Main image: 3D System Model and Completed Installation. Credit: Deimos
With software, GPS and connectivity now sufficiently advanced it can be successfully integrated with the necessary robotic components.
When hardware is packed full of technological innovation, such as LIDAR sensors, the established wisdom has been that this comes at the expense of reliability.

Yet, with software, GPS and connectivity now sufficiently advanced it can be successfully integrated with the necessary robotic components, and sensors able to withstand severe shocks and vibrations and still perform in temperatures ranging from -40 to +85 degrees Celsius, autonomous vehicles are now theoretically an option for almost any mining environment, regardless of the sand, dust, rain, snow, heat or cold visited upon them.
A survey of 150 mining industry leaders conducted earlier this year by Axora reported that 99% of respondents thought technological innovation would ensure their company's survival. With its closed system and relatively uncomplex patterns of movement, autonomous vehicles stand to be a cornerstone of this future.
// Main image: Excavator in snow. Credit: Sergey Muhlynin via Shutterstock