Sponsored by: ANDRITZ Separation
Enhancing full life cycle sustainability for batteries
ANDRITZ Separation offers optimal solutions for the complete battery lifecycle. From dewatering, purifying, and drying of battery minerals for production, right through to shredding and dewatering for recovery of valuable components at the end of the operational life, ANDRITZ has the answer.
C
hanging to a cleaner, more sustainable world will need lots of high-quality green batteries in all sorts of applications. From full debrining and drying solutions for the world's biggest lithium producers, through aluminum battery casing manufacturing lines and on to solutions for battery recycling, ANDRITZ is proud to be there every step of the way.
Smartphones, computers and many more everyday consumer electronics already rely on lithium-ion batteries. With global demand for electric vehicles soaring, the need for Li-ion batteries is higher than ever and it is expected to grow still further. At the same time, the evolution of battery chemistries indicates future increases in demand for other important elements like cobalt, aluminum, magnesium, nickel, and others.
With battery use spiraling, society is also increasingly demanding greener and more sustainable technologies. It is therefore essential to ensure that batteries are both manufactured in as green a fashion as possible, and that they are not disposed of in landfill when they reach the end of their usable life. Recognizing this important challenge, international technology group ANDRITZ has made it their goal to support the trend to build greener batteries throughout the whole lifecycle, from processes like full debrining and drying solutions for battery-grade lithium production and aluminum battery casing manufacturing lines, through to separation solutions for battery recycling and black mass recovery.
Alongside the requirements for superior purity and the right moisture content, a focus on energy efficiency is also a key element in the delivery of sustainable battery technology.
Subheader
Sustainability in production: Durability and energy efficiency
Many everyday items contain Li-ion batteries, our smartphones and laptops for instance. They are frequently the subject of much criticism due to their short lifetime and the need for regular replacements. This is in sharp contrast with the production of batteries, however, where it is actually quite the opposite. Centrifuges used for lithium dewatering are renowned for their longevity. The first pusher centrifuge used for lithium carbonate, for example, was installed in the 1960s and is still in operation today. Nowadays, pusher centrifuges are the preferred choice for processing lithium hydroxide while Si (Siphon) peeler centrifuges are the more common choice for lithium carbonate. Again, models still running today are crossing the 30-years-in-operation mark.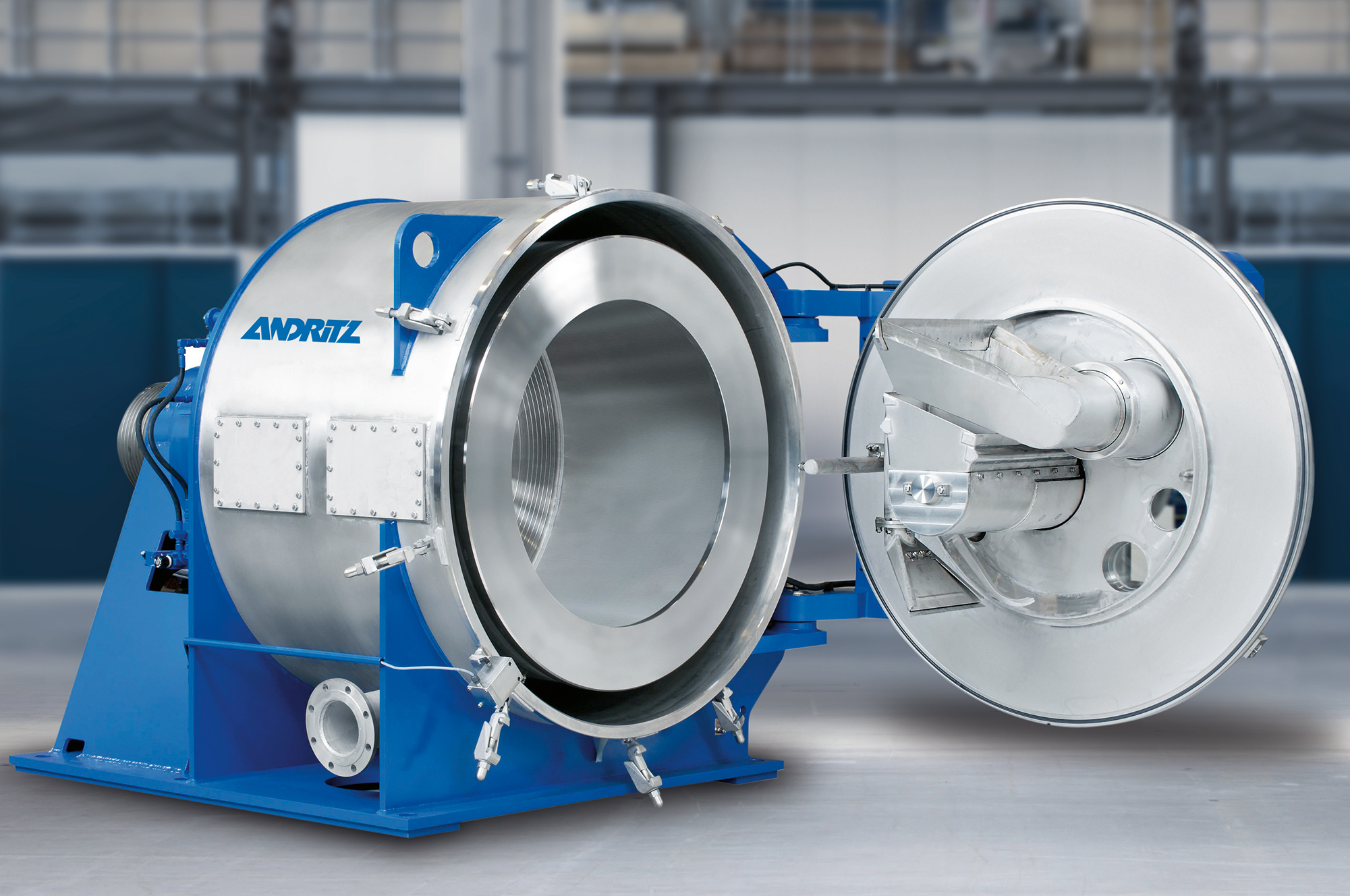 A modern HZ Si peeler centrifuge for lithium carbonate – one of its predecessors installed decades ago is still operating. (© ANDRITZ, Itaminas)
Subheader
The longevity of lithium production equipment is not the only way to achieve better sustainability in battery production though. Energy efficiency can also play a big part. This is particularly relevant in the case of lithium hydroxide as a low-temperature, low-energy drying solution is often required in order to avoid decomposition of the product. With a complete range of drying equipment based on closed gas loop operation, ANDRITZ systems are better suited to preserve product quality while also conserving energy. Our high-capacity filter presses and thickeners ensure low operating costs and reduced energy use for some of the highest volume operations found worldwide. And, by offering a wide range of technologies covering the entire process from dewatering to purification and drying, individual machines can be ideally coordinated across the process and synergies can be exploited to make the overall process even more energy efficient. For example, by using centrifuge technology as opposed to vacuum filtration for the dewatering process, lower moisture levels can be achieved and as a result, the dryers found in the next process step can be smaller and work in a more energy efficient way.
Making use of synergies in lithium-ion battery production lines
An example of an efficient drying process in lithium production is found in the use of the ANDRITZ Gouda paddle dryer. This piece of equipment is used to prepare the product for calcination and it is crucial that the product contains no water during this process. The ANDRITZ Gouda paddle dryer receives the filter cake from a filter press with a moisture content of 7% and dries it to 0.1%, the maximum moisture content allowed. The dryer throughput time also has an effect on the required product characteristics for the next stage of processing. Because the product moves in a plug-flow pattern through the dryer, every particle receives an identical residence time and at exactly the same temperature. This results in a very consistent product from a remarkably energy-efficient machine.
Another example comes from one of the world's largest lithium producers, which expanded its production using four sidebar filter presses, six peeler centrifuges, and three vacuum drum filters, as well as thickeners, a vacuum belt filter, and a pusher centrifuge. This product combination doesn't just make good use of any synergies, but also ensures the expanded production line benefits from low moisture and natrium chloride concentrations, together with the highest washing efficiency.
The ANDRITZ Separation product portfolio goes far beyond lithium production though. It also covers high-capacity filter presses and thickeners for graphite and cobalt processing and aluminum battery casing manufacturing lines. Again, these graphite and cobalt processing machines are well known for their low operating costs and energy efficiency – especially in relation to their volume. However, the story of sustainability in battery production is more than the use of long-lasting and energy-efficient machines. They are only two of the building blocks. A core foundation of sustainability is waste management. This includes the treatment of battery mineral mining tailings such as thickening and dewatering of tailings and spodumene ore at the mine site, but also within the battery recycling process too.
A profitable second life: Recovery of black mass with hydrometallurgical recycling
As our society continues to move towards green and more sustainable technologies, it is essential to ensure that the lithium-ion batteries found in electric vehicles, smartphones, computers and more are not simply disposed of in landfill. Even when batteries reach the end of their usable life, valuable base metals such as lithium and cobalt and useful materials like graphite can be found. Recycling old batteries can therefore be highly profitable when the process is optimized. The most commonly known route for battery recycling is the hydrometallurgical recycling process illustrated below. Shredders break down the battery cases after pre-treatment to separate the so-called black mass. Further filtering, washing, dewatering and drying steps then allow the raw materials to be recovered for reuse.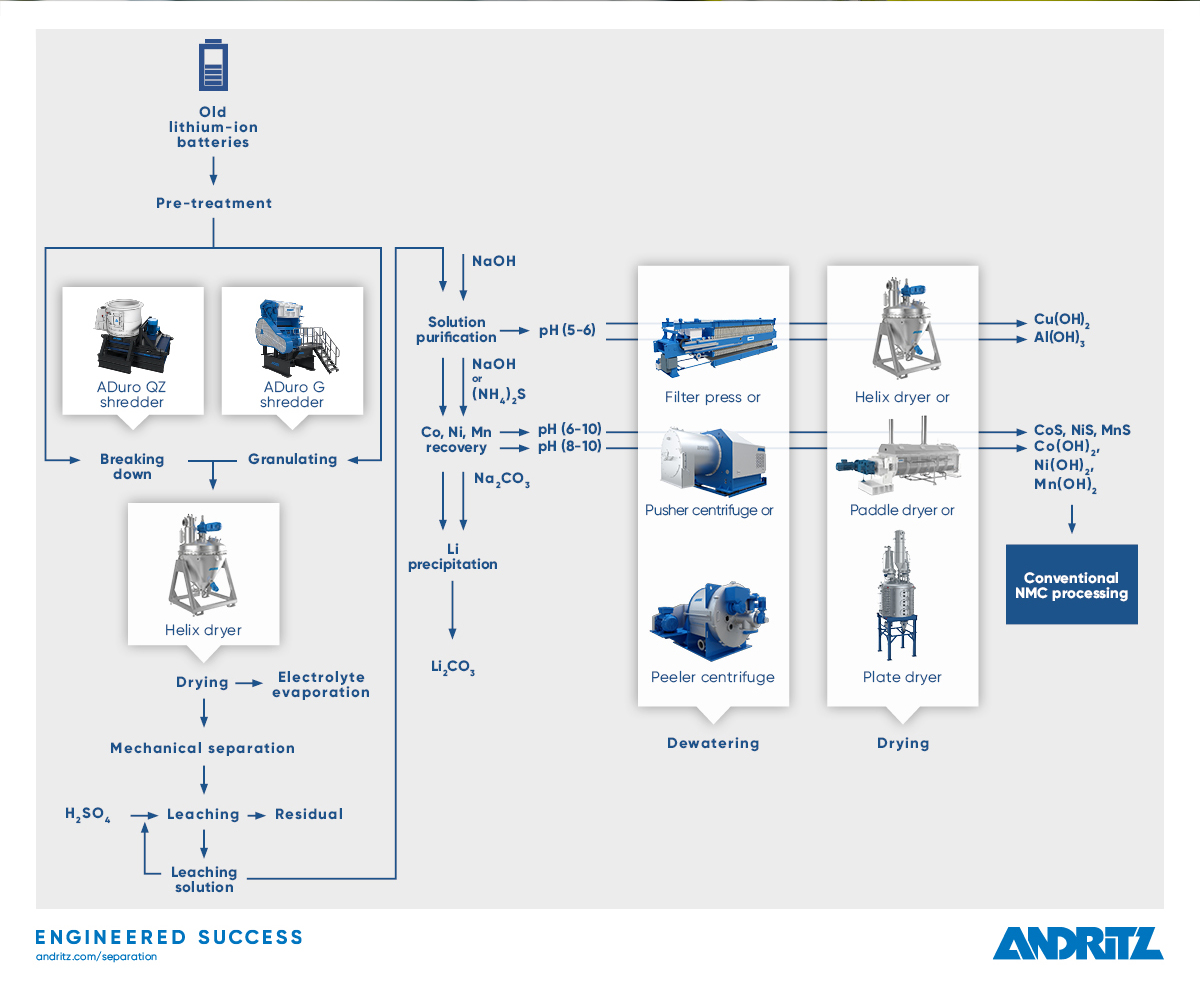 Where ANDRITZ fits into the battery recycling process – here illustrated with the example of hydrometallurgical recycling of Li-ion batteries
How intelligent equipment is cutting down costs and energy-consumption
At each step of the production process, during tailings treatment or battery recycling, intelligently interconnected machines that recognize and make use of any potential synergies can reduce energy costs and maximize profits. ANDRITZ achieves this with its Metris addIQ control system. This is a modular, PLC-based control system for industrial processes and machines. It opens up the possibility of connecting everything from individual machines to all the equipment showcased in the hydrometallurgical recycling process chart. It also allows the process as a whole to be connected to the ANDRITZ environment via Metris addIQ Connect and precisely monitored with the Metris addIQ Monitoring platform. This provides a view of the health and status of the process 24/7 and enables remote support. Another tool which builds on both Metris addIQ Connect and Metris addIQ Monitoring is Metris addIQ Optimizing, an analysis tool that helps to boost overall plant performance based on actual collected data in combination with human expertise. Metris addIQ Optimizing identifies opportunities to improve performance, increase production or reduce energy consumption, making all the plant equipment still more efficient.
In addition to Metris addIQ Connect, Monitoring and Optimizing, the Metris addIQ control system also allows the user to make use of special IIoT solutions tailored to individual machines. Examples include the use of stroke monitoring for pusher centrifuges, which observes the frequency of the pusher stroke to increase machine reliability and easily detect any blockages. Similarly, the thermal feed controller (TFKR) for peeler centrifuges increases throughput with intelligent control of the centrifuge cycle. TFKR optimizes the machine feed by periodically scanning the product or liquid level, and also detects a liquid or solid surface by means of a temperature-oriented signal that is used to detect the liquid immersion point.
For other machines, like the filter press, Metris addIQ Connect enables the use of a special machine app for Windows, Android, and iOS smartphones, tablets, and PCs, to enable the operator to directly access real-time process data, as well as machine-related documentation. Furthermore, the control system collects and stores the performance data of the filter press for further analysis, be this to increase performance or to enable predictive maintenance. Different KPIs are shown in one step on the filter press radar screen, giving a quick overview when any intervention is needed. Combined with an automatic e-mail notifier for the most critical process alarms, the operator can take action immediately if values differ from the baseline. Additionally, automatic reports are generated for every shift, every day, or every month as required. The reports, which can also be forwarded to an e-mail recipient, include process values and the corresponding trend curves.
Small features like this are what enables modern dewatering and drying equipment to bring process efficiency to a new level and take a huge leap towards potentially autonomous machine operation in the future.
The ANDRITZ Separation product portfolio covers the whole battery life cycle from mineral processing with high-capacity filter presses and thickeners for lithium, graphite and cobalt processing, through to aluminum battery casing during manufacturing lines and through to equipment for the treatment and recovery of valuable materials from battery mineral mining tailings and black mass during recycling. At each stage of the battery life cycle it's a story of longevity, efficiency and optimization, it's the story of ANDRITZ.
Why LaseTVM-Line
EXPERIENCE
30 years of experience in laser measurement technology for volumetric measurements in mining, steel, bulk material logistics, ports etc.
RELIABILITY
Reproducible, non-manipulable measurements, exclusion of the human error factor.
ACCURACY
Exact determination of volume, excludes inaccuracies due to material moisture.
Contact information