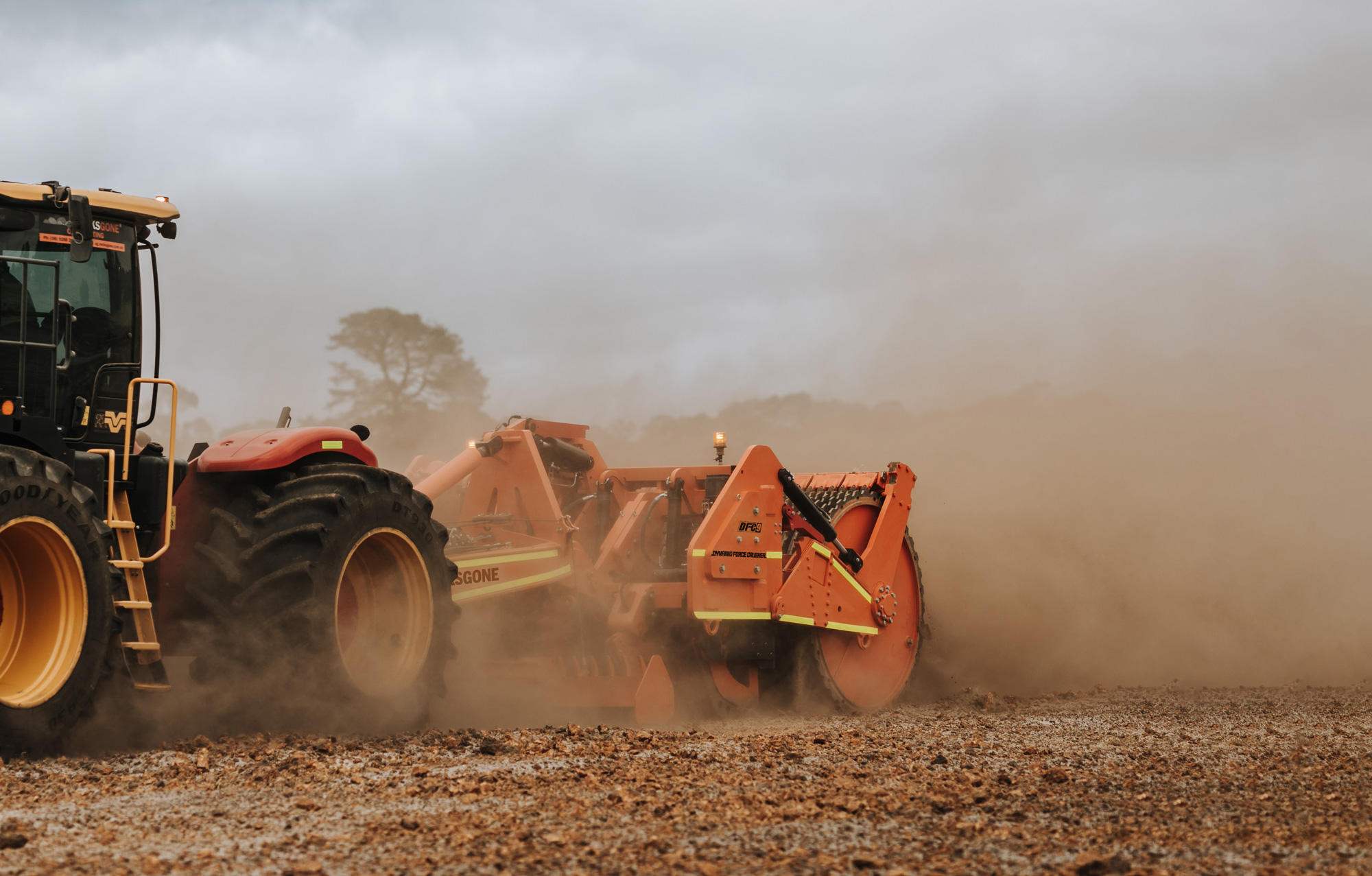 Design, manufacture and service, industry-leading machinery that increases the sustainability and growth of our customers.
The fluidity of your system flow goes far beyond vanity.
R
ocks Gone is a family-owned Western Australian business providing unique on-site crushing solutions to the agricultural, mining and civil industry. Formed in 2015 to formalise the engineering design and manufacturer of an internationally patented machine tested in the field since 2009. All machinery is designed, manufactured and serviced by our highly experienced staff in house.
A Unique Challenge
Unsealed roads are the economic backbone of Australia's economy that depends on mining, farming, and forestry. Of Australia's over 900,000 kilometres of roads, 65 per cent are unsealed; maintaining this vast network costs above $10 billion annually.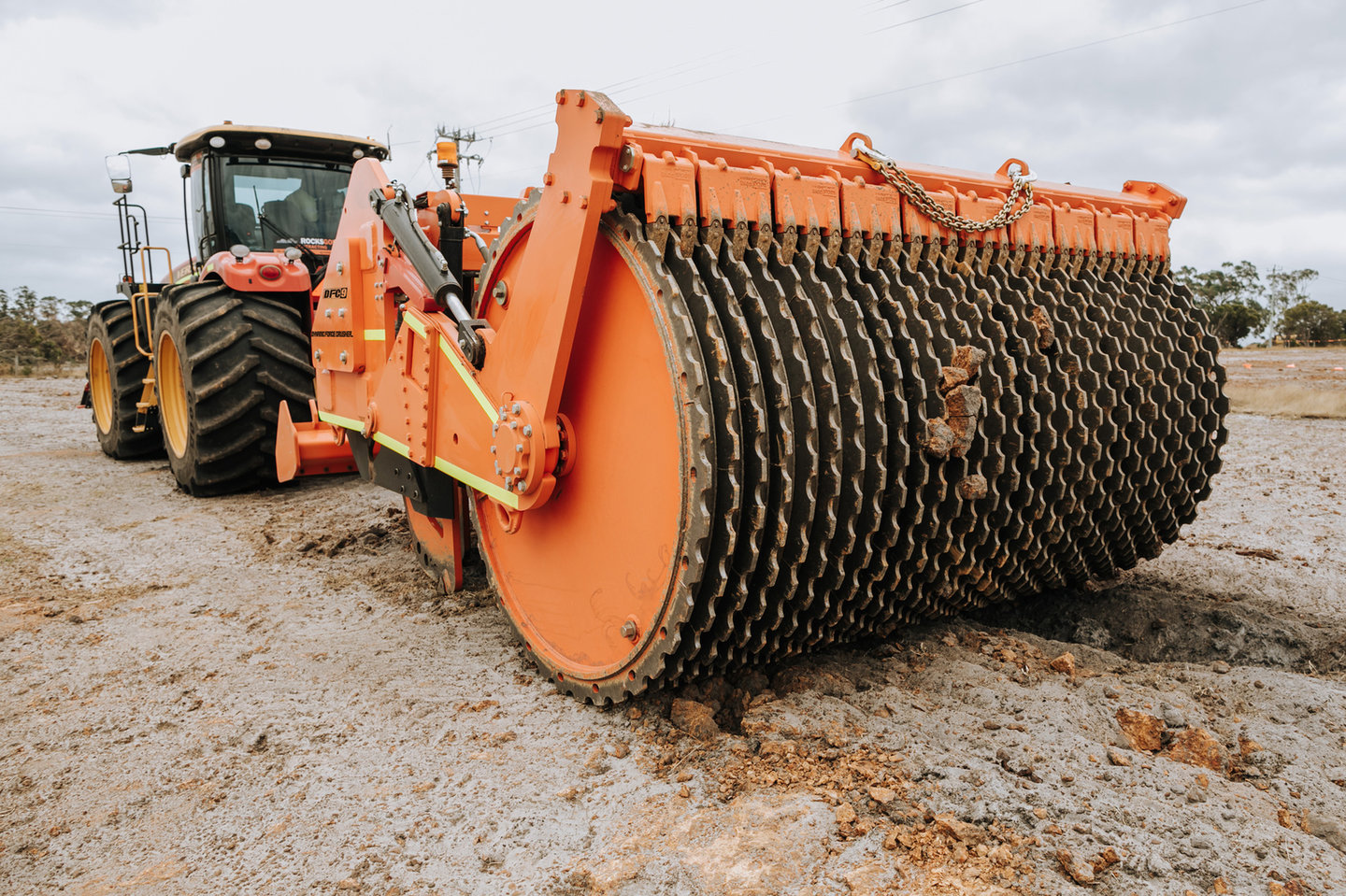 Our Purpose
Failing to find an economical solution to improve the production potential by crushing sedimentary rock, Tim Pannell, founder of Rocks Gone, began designing and developing a machine that would perform in Australia's harsh conditions without compromising on function or durability.
Through many evolutions and thousands of hours of testing, Rocks Gone internationally patented the engineering design and manufacturer of the "Reefinator". The Reefinator proved
to be a sophisticated heavy-duty machine, adept at crushing rocks and pulverizing subsurface bedrock in situ.
Following on from this success, the team at Rocks Gone took on the challenge of designing, testing and manufacturing an on-site crushing solution tailored to the unique challenges faced by Australia's transport, civil and mining industries.
After over 3,500 hours of infield testing, the Rocks Gone team is proud to unveil the Dynamic Force Crusher 9, patented, trademarked and built to international standards.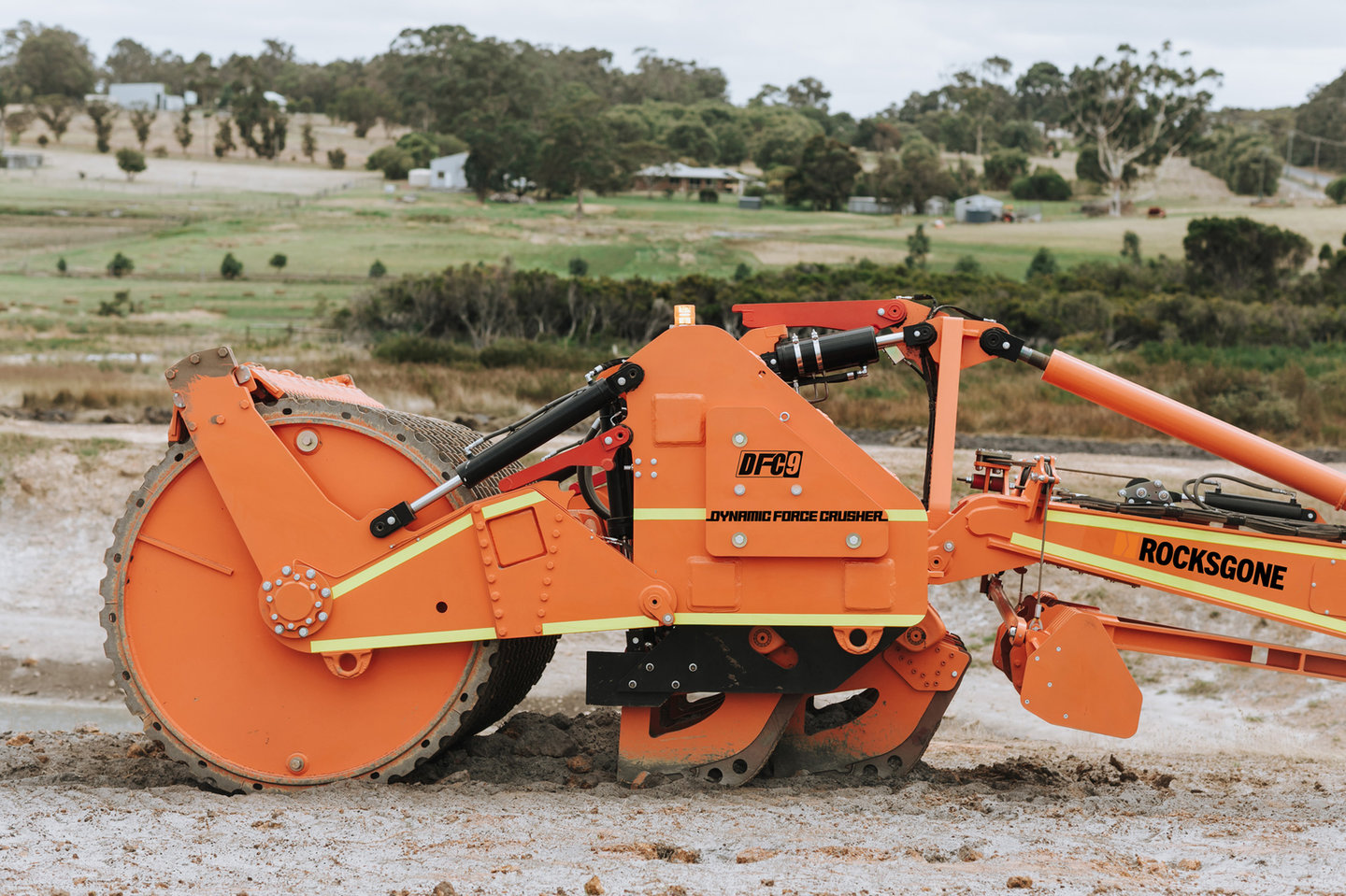 Dynamic Force Crusher
DYNAMIC BY NAME, DYNAMIC BY NATURE
The DFC9 is a hydraulic tyne machine designed to crush, rip, mix and level composite sheetrock
exposed or submerged.
This 32-tonne machine can crush the rock one layer at a time to a depth of 600 millimetres, leaving trafficable, level ground in its wake.
This machine essentially acts like a giant cheese grater, peeling away and crushing rock one layer at a time up to 600 millimetres.
Jaw and Cone crushers are used for bulk reduction of large rocks, their static nature and inability to handle contaminated aggregate mean additional equipment is required. Impact Crushers can provide a compliant product with less waste generated; however, the ongoing maintenance costs are excessive.
"Manufactured to international standards and patented worldwide, every component has been made specifically to outlast even the toughest conditions".
Benefits
Adopting the DFC9 into road construction reduces the need to cart in additional crushed material or remove waste rock generally associated with traditional dozer ripping methods.
The DFC9 reduces the need for supplemental materials and the additional costs for transporting these materials to sites- reduction in logistics, in turn, lower fuel costs.
Designed to be as robust and straightforward as possible, ground edging tools have been designed to minimise downtime and replacement costs.
Many production units are sited in quarries and sand/gravel pits where the DFC9 can be moved easily to avoid being too far from the feed material. Processing the rock in-situ, meaning the carbon footprint of the entire project is substantially reduced.
The DFC-9 has been engineered to work consistently at optimum performance levels expected of all heavy-duty machinery in harsh Australian conditions. Precision engineered to tackle Australia's challenging and often remote andscapes and sedimentary rock types.
DFC9
D | Dynamic -Energetic by nature, characterised by a consistent change in activity or process
F | Force - powerful or persuasive effect (7-28 newton meters of force applied to each tyne)
C | Crusher - A device for grinding soil and rock
9 | Nine Hydraulic Tynes - In two separate rows, that can be used independently of each other
This one-of-a-kind patented technology has dedicated support services. Upon receiving your new DCF9, our expertly trained staff will support the commissioning of the DCF9 and provide training to your operators.
Production of hardwearing replacement parts keeping you operational for longer. Patented wear parts have been designed with the operator in mind with a simple four step replacement operation.
The innovative design of the DFC9 patented tyne system, allows for easy interchangeable wear parts significantly reducing downtime, logistical costs, direct delivery, expert mechanical, technological support and dedicated servicing.
INDUSTRIES WE SERVE
CIVIL APPLICATIONS
Shire gravel road maintenance & construction
MINING APPLICATIONS
Private haul and service roads maintenance and strip mining
Check our Truck Vibration Selection here.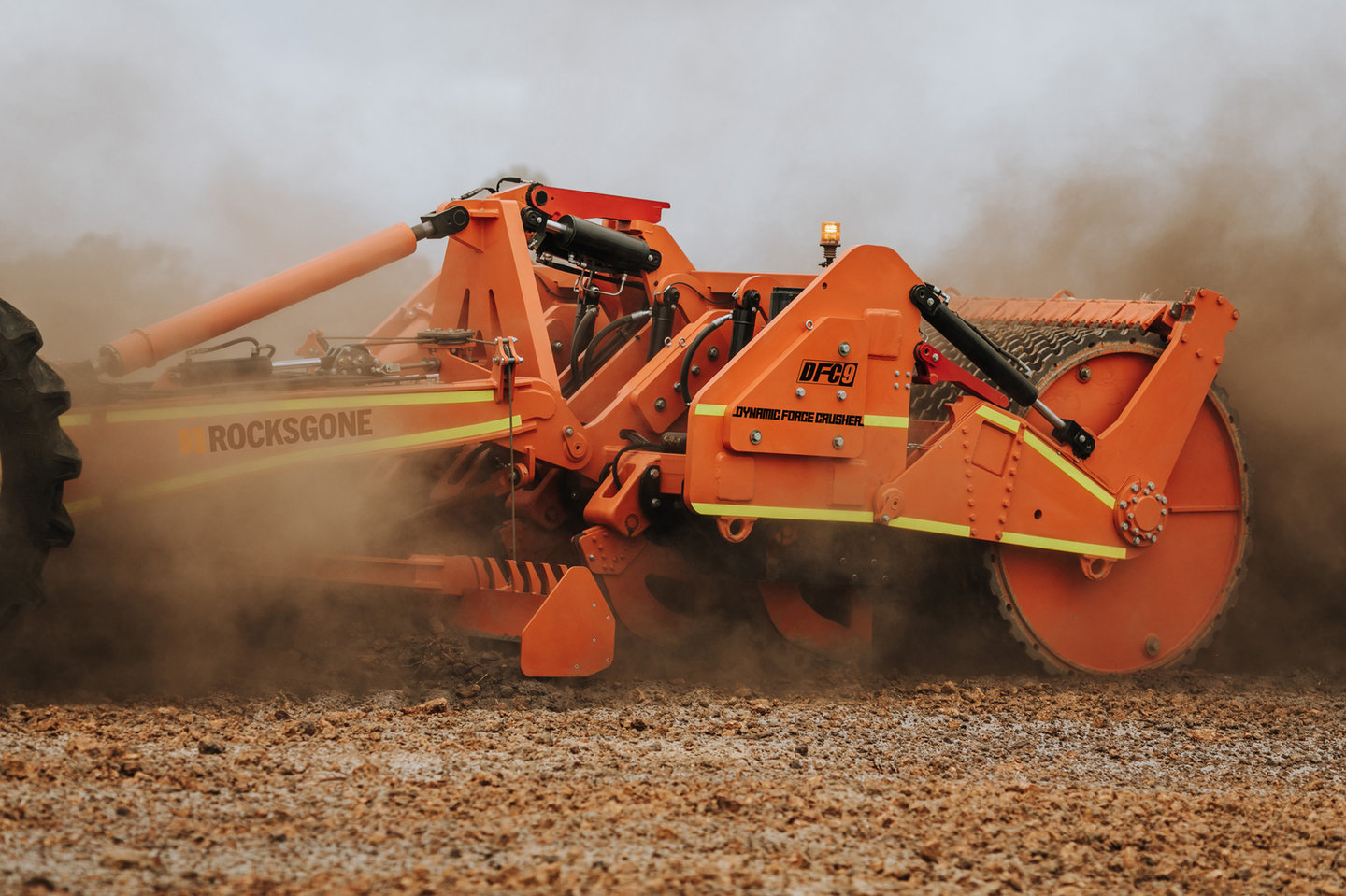 Automated Depth and Slip Control
The Rocks Gone Depth Master is an auto control system designed in conjunction with industry leaders in automation software
The Rocks Gone Depth Master software automates the depth of hydraulic tynes. Working in tandem with the tractor's wheel slip differentials up to 50 times/second, reducing human error, fuel, tire and servicing costs while maintaining optimal machine output. In addition, the Depth Master controls the blade, ensuring the site is left level.
Depth Master combines GPS data with speed and wheel slip to produce a depth permeation map. Adding this data and visual information enhances ongoing and post-job productivity assessments.
Depth Master is a Rocks Gone development that controls the DFC9 and H4. Depth, Slip and Blade are controlled. This increases operational efficacy and efficiency by taking the need for the operator to manually control the machine.
Also the Depth Master can create a detailed GPS depth map as the work is done.
We have spent the last decade genuinely living and breathing our vision and values. Even now, the Team at Rocks Gone is adapting new and emerging technology to enhance and simplify all aspects of the business. I'm excited to see where this collaboration and innovation take us over the next decade.
Contact Us