- ECONOMIC IMPACT -
Latest update: 16 November 2022
Since the Russian invasion of Ukraine last February, our view has been that the war and the associated sanctions shock will be protracted. Since September, developments on both the military and diplomatic fronts might suggest a more rapid resolution, possibly within months rather than years.
Alongside the military strains visible on the Russian side is the prospective intensification this winter of Ukraine's financial and energy crisis, aggravated by Russian military strikes on electricity and other civil infrastructure. However severe they may prove; such strains do not signify collapse.
Concerns over the supply of key commodities such as nickel led to sharp price increases in March, with nickel prices on the LME briefly topping $100,000 per tonne on 8 March 2022.
Canadian miner Kinross has suspended all activities in Russia, then in June 2022 completed the sale of its Russian mine to Highland Gold Mining for $340m in cash.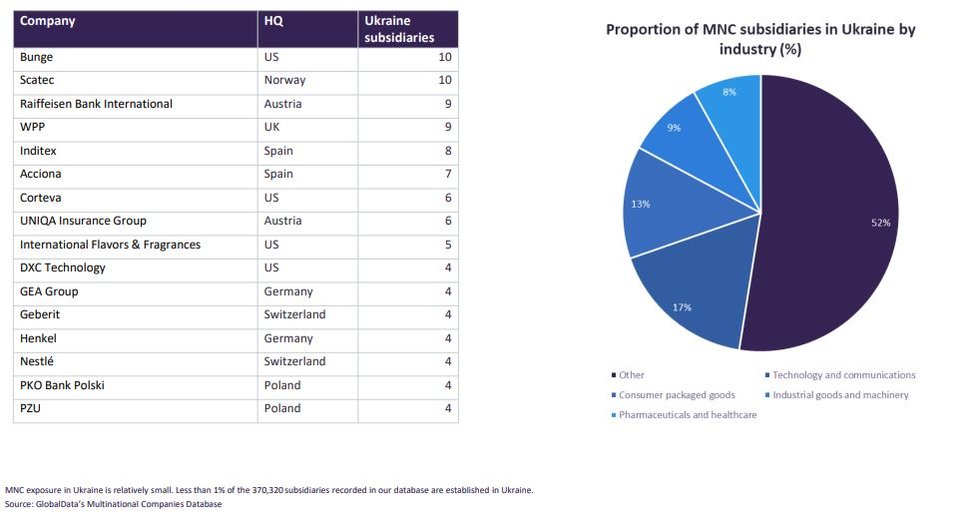 // Asterisk (*) denotes the company HQ is in a country imposing economic sanctions on Russia. Companies with HQ in Russia are not included in these charts.
- SECTOR IMPACT: MINING -
Latest update: 16 November 2022
ONGOING SANCTIONS
In April, the EU announced further sanctions against Russia which banned the importing of all forms of Russian coal from midnight on 10 August. This affects one-quarter of all Russian coal exports. While this will impact Russian coal miners in terms of volumes, a steep rise in coal prices this year will help recoup much of the lost profits.
NORNICKEL CONSEQUENCES
Of the leading miners, Nornickel initially stated that operations were continuing and in May confirmed supply of palladium and nickel sales were unaffected with no change to its 2022 guidance. However, while not directly affected by sanctions, it is adjusting its supply routes.
POLYMETAL RESPONSE
In July, it was reported that Polymetal was considering the sale of its Russian assets to avert the impact of sanctions imposed by Western nations against Russia in the wake of Moscow's invasion of Ukraine. Having closed the transaction, Polymetal would focus primarily on its operations in Kazakhstan.
AUSTRALIAN IMPACTS
Linked to Australia's response to the war, Rio Tinto severed ties with Russian businesses and took sole control over Queensland Alumina, which operate an alumina refinery in Australia, in which Rio owns 80% and Rusal 20%.