Sponsored by Blundstone Australia
RotoFlex® by Blundstone—World-Leading, Biomechanically Designed Safety Footwear
Blundstone step ahead with consumer-led insights
B
lundstone has always been a consumer-led business, researching and identifying those products its customers need and want and understanding the role Blundstone products play in their lives. Over the past three years the business has invested in a massive, multi-layered research project which has created an even greater depth of understanding of today's worker and the footwear they want to be wearing tomorrow.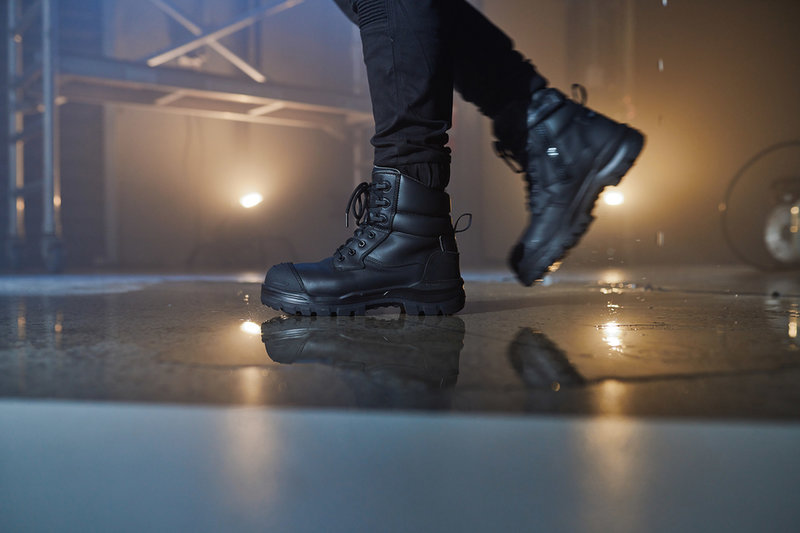 // RotoFlex® by Blundstone
These consumer insights have led to the development of Blundstone's most technologically advanced safety footwear range, RotoFlex®, designed utilising biomechanical principles to provide an outstanding level of comfort and safety for wearers. The evolution of new materials and world-leading technologies has been a game changer in the development of these safety boots, which Blundstone are confident will increase consumer expectations of the Australian safety footwear market.
"The research has shown without doubt that wearers want better performing work boots," says Adrian Blandford, Blundstone's Global Work & Safety Range Manager. "They want them to be strong, lightweight, offer good grip and manoeuvrability as well as high protection for the user. The most common injuries occurring on work sites include musculoskeletal injuries and ankle and knee injuries caused in falls and slips."
Other concerns and priorities for wearers included durability and quality of componentry and materials; pain-free, all-day comfort with ankle flexibility and movement; thermal regulation with ventilation to increase airflow and a sole that provides ergonomics, longevity, stability, and traction.
As an outcome of the research, Blundstone embarked on a journey to 'build' safety boots that would address all the above concerns. "We have built them new from the ground up. This is something the safety footwear market in Australia has been demanding for many years," says Blandford.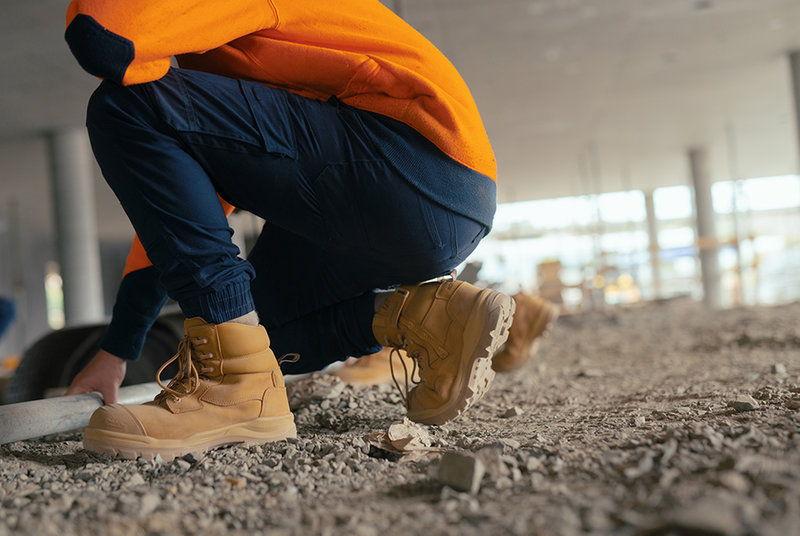 // Featuring a metatarsal guard and Kevlar stitching, the Blundstone #994 is the ultimate choice for above ground miners
A collaboration with the University of Tasmania's School of Health Science's Biomechanics experts, resulted in the RotoFlex range of six new styles—four unisex and two designed specifically for women. These are truly new 'whole-of-boot' designs, based on biomechanical research and evidence to create a boot system that is safer, more comfortable, better performing and more durable. RotoFlex is a range of boots where stability meets the freedom to move, allowing the wearer's foot to rotate and the ankle to flex to avoid injury.
"Every single component used in the construction of the RotoFlex range has been researched, tested and trialled to ensure we deliver truly innovative, better performing safety footwear. Our design team and technicians looked at multiple options for each element and selected the best performing, most appropriate product, and if they couldn't find the perfect piece, they went and created it so we could deliver best-in-market safety footwear," says Blandford.
The biomechanical systems central to the RotoFlex design comprises four unique elements—GripTek® HD—a strong foundation from the ground up; Fortalite®—compression-resistant composite toe cap; AirCell—ventilating, zoned airflow footbed, and
SoftCell®—an all-encompassing comfort design, along with a host of componentry and materials critical to the performance of the product.
SoftCell utilises a combination of specialist materials and a unique biomechanical foot-cradling design to increase stability, balance, comfort and manoeuvrability, while reducing ankle slip risk and fatigue.
SoftCell creates more room to move within a stable foothold. This is achieved through expert understanding of the connection between a moving foot and the inside of a boot, providing room for the foot to move more freely whilst still maintaining stability with the ground. It also incorporates Infinergy E-TPU, a super elastic energy foam which is used in top brand sports shoes. This soft and resilient compound provides enhanced cushioning and reduces the impact of every step taken.
The RotoFlex range has been developed with all the principles of Blundstone's Every Step Better (ESB) program front and centre of their decision-making process. ESB encapsulates an ongoing commitment to three key pillars: People, Planet, Product, and with the mission 'to make every step we take better than our last'. In line with Blundstone's commitment to minimise impact on the environment, the boot's lining and laces are made with 100% recycled materials, and the heel grip, insole, and counter stiffener utilise sustainable raw materials.
Throughout this process, Blundstone has developed a greater understanding of what safety boot wearers want, need, and expect in their footwear. "We utilised our consumer research insights to design safety boots with the features workers have been looking for—RotoFlex is the result. We are very proud to launch our RotoFlex range".
"RotoFlex will be the benchmark for boots in the safety footwear market," says Blandford. The product can back up best-in-class claims: trial results, comfort ratings, durability and componentry testing are all rating at never-seen-before levels. Blundstone is a safety footwear brand that Australian workers relate to, and we aim to increase this with the delivery of a premium, lightweight, super-specced product they will love."
Contact information