- ECONOMIC IMPACT -
After months of decline, GDP estimates for many countries have turned positive.
Polls show that concern over the spread of Covid-19 remains volatile, so does business optimism.
Global debt declined by $1.7tn to $289tn in Q1 2021, for the first time in the last ten quarters, according to the Institute of International Finance.
According to the Hong Kong Special Administration Region government, GDP rose by 7.9% in Q1 2021, ending the declining trend of the last six quarters.
Impact of Covid-19 on employment outlook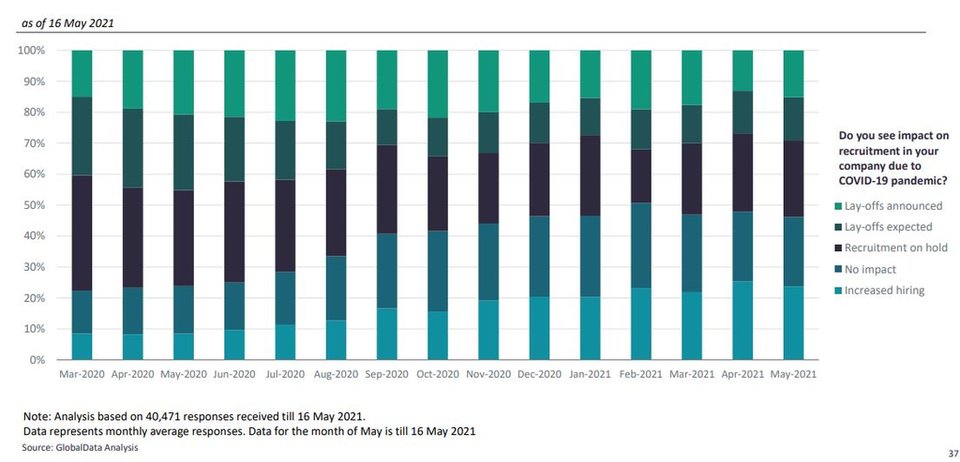 - SECTOR IMPACT: MINING -
COAL
Thermal coal prices improved over December 2020 and January 2021, helped by rising demand from China and Japan due to cold weather. However, they fell sharply in early February before improving over February, March, and April to finish at $85.57t, with an average increase for April versus March of 2.1%.
PRECIOUS METALS
After falling to a low point of $1,678 in March 2021, the gold price gradually improved, reaching $1,792.3/oz on 21 April and ending the month on $1,769/oz. An improving economic outlook is dampening prospects for a rise in the gold price, although gold prices will be supported by continued low interest rates in 2021.
Demand for gold fell significantly year-on-year in Q1 2021, down 23% according to the World Gold Council, to 815.7 tonnes due to heavy selling by investors, despite increased demand by consumers.
BASE METALS
After reaching a high of $9,614.50/t in late February off the back of increasing demand and depleting inventories across the exchanges, the price of copper fell to 8,788.5/t by 30 March. However, the copper price rose during April by over $1,000/t to reach $9,990/t on 29 April.
IRON ORE
After dropping back to $163.7/t early in April, the iron ore price rose steadily to reach $179.3/t by the end of the month. Prices have been supported by underwhelming output from the large producers in the early part of 2021.

In the March quarter, iron ore production by Rio Tinto fell by 2% YoY and BHP's production was down almost 2%, whilst Vale's output fell by 19.5% on the prior quarter. However, BHP did state that its full-year output was expected to be at the upper end of its forecast.
PALLADIUM & PLATINUM
Growth in industrial demand helped push the price of platinum prices to a six-year high of $1,325/troy ounce in February. Although it has subsequently fallen, it averaged close to $1,200/troy ounce in both March and April. In 2021, prices will be supported by improved demand from the auto and industrial sectors, although this will be balanced by significant growth in supply after the 2020 challenges.