- ECONOMIC IMPACT -
Latest update: 15 September
Positive GDP growth is forecast in all countries; 2021 consensus forecast for global GDP growth is currently 6.0%.
Most offices will return to at least 50% capacity in the next six months.
The jobless rate in the Euro area fell to 7.6% in July 2021 from 7.8% in June 2021.
GDP growth is expected to exceed 5% in nine of the G20 countries, including the UK, China and India.
Impact of Covid-19 on equity indices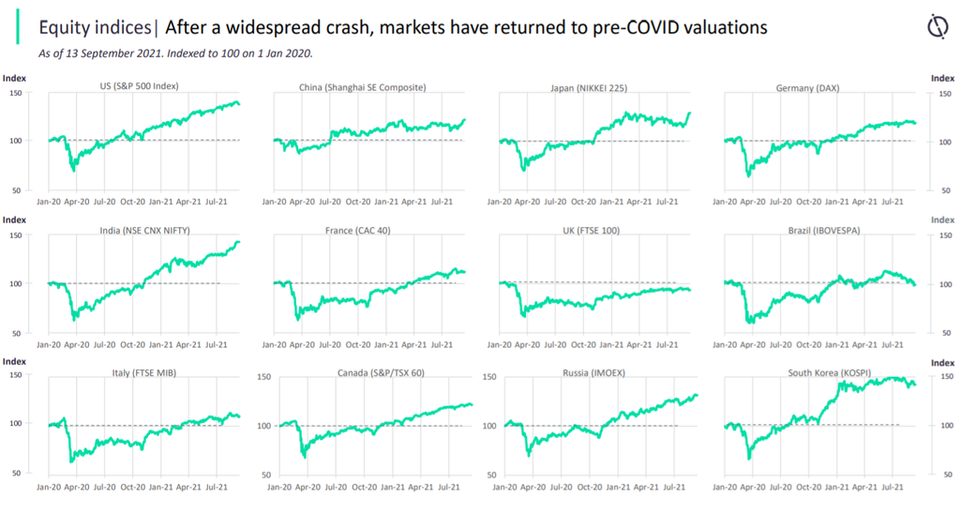 - SECTOR IMPACT: MINING -
BASE METALS
After peaking at US$10,725/t in May, the copper price has gradually declined, ending September at US$9,041/t. China is currently suffering from a power supply crisis, which is leading to factories being closed and reducing demand, while the country's state planner is also release copper from its strategic reserves in order to combat the rise in prices.
IRON ORE
The iron ore price fell steeply again in September after a sharp drop in August, down to US$120/t at the end of the month. The Chinese Government is enforcing curbs on steel production in order to reduce greenhouse gas emissions, with mills in a large number of regions to cut production based on their emissions levels as part of a winter air pollution campaign, running from October to March.
PALLADIUM & PLATINUM
The platinum price continued its decline in September, down by 3.0% after a 7.3% fall in August. Recent semiconductor shortages are being blamed for the fall in platinum group metal prices as auto makers are closing plants and reducing their output guidance.
COAL
ICE Coal Futures prices rose steeply again in September. Rising demand as the northern hemisphere enters the winter months, as well as supply constraints, saw the price of thermal coal peak at US$218/t in September. Challenges in obtaining supplies has led to the Chinese Government ordering miners to keep producing even if they have exceeded annual quotas.
PRECIOUS METALS
The price of gold fell marginally in September, down by 0.3% on August. An improving economic outlook has dampened prospects for a rise in the gold price in 2021, along with a strengthening US dollar, with the Federal Reserve indicating that it may begin withdrawing stimulus this year as the economy rebounds.