Click HERE to see a 360° view of the system
Making your sample preparation fully automated
Nucomat provides automated sample preparation, handling and testing solutions for quality control laboratories. Next to that, we want to help our customers to improve laboratory safety and efficiency. We offer a complete service: from design concept to turnkey solutions.
Our systems aim to control the sample preparation burden for 24/7 applications. These automated systems offer
unique advantages compared to manual sample preparation:
Operator safety
Traceability and repeatability
Gravimetric accuracy
Validated results
Web based remote control
Nucomat acts as a solution provider mastering a delicate balance between different skills:
Modular robotics: Reliable robotic components and micro-controllers allowing unattended use of automated systems.
Chemistry methods: Transferring manual sample preparation protocols to automated solutions in close collaboration with our clients.
Information technologies: Nucomat has developed its own powerful central supervisory system (ROBIN software).
Analytical instrumentation: Depending on the final application, a variety of different analytical tools can be linked to the automated system.
From concept to turnkey solution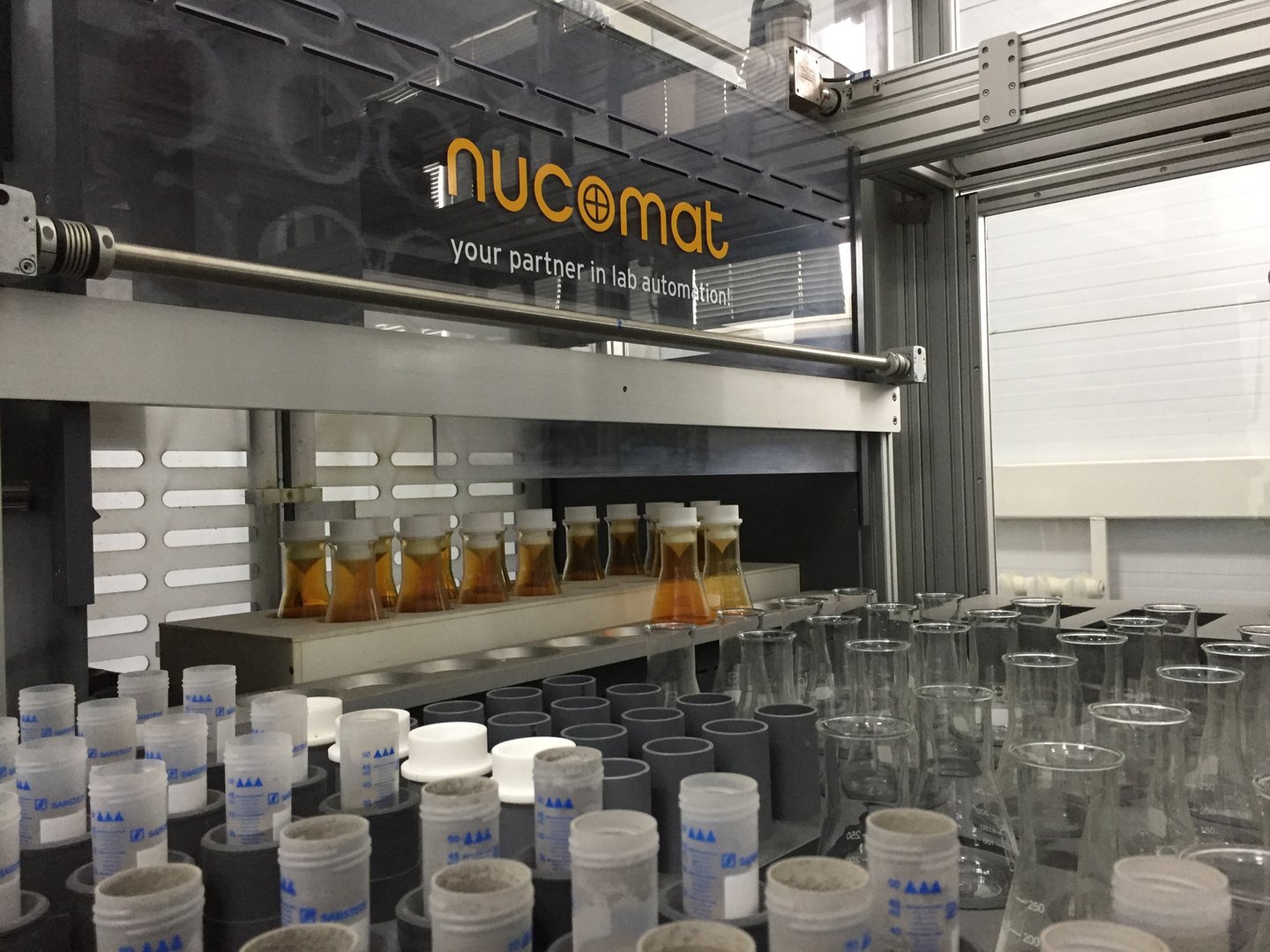 Nucomat has developed a system for determination of element concentration in concentrated ore samples, e.g. Cu, Zn or Pb. By equipping our standard wetchem technology with analysis instruments, a robust and proven solution is achieved. To perform the analysis Nucomat has developed a custom titrator device operating on color, achieving standard deviation as low as 0.13 % and system capacity of up to 250 samples per day in 24/7 regime. The result is a solution providing improved safety and accuracy at lower operational cost.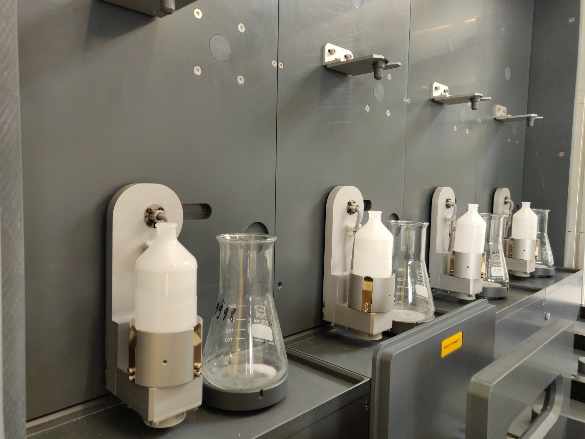 A common step in most chemical analysis processes is dosing of the sample to be analyzed in a recipient. This process is labor intensive and error prone, as registration of the sample mass is critical for further analysis. Nucomat's automated powder dosing system provides an easy solution relieving the burden on lab personnel. Accuracy is guaranteed by weighing on balances with 0.1 mg precision, and sealing samples to avoid moisture absorption. The system supports over 500 samples per day in a 24/7 regime.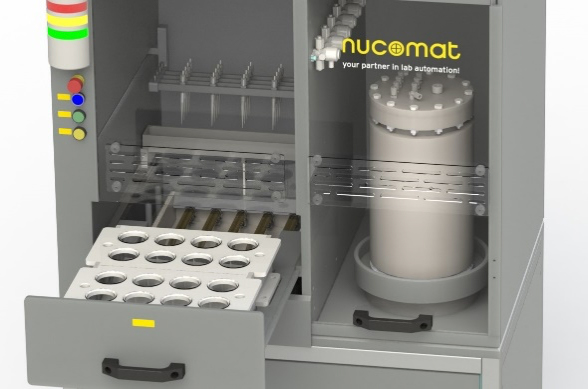 To lower the barrier to automation, Nucomat has designed a compact sample preparation unit for semi-automated operation. It features dispensing of up to 4 (corrosive) reagents and digestion using infrared technology in an automated process. The unit is rack based, supporting various recipients and rack sizes. It can process more than 800 samples per day in a 24/7 regime depending on the preparation process and rack.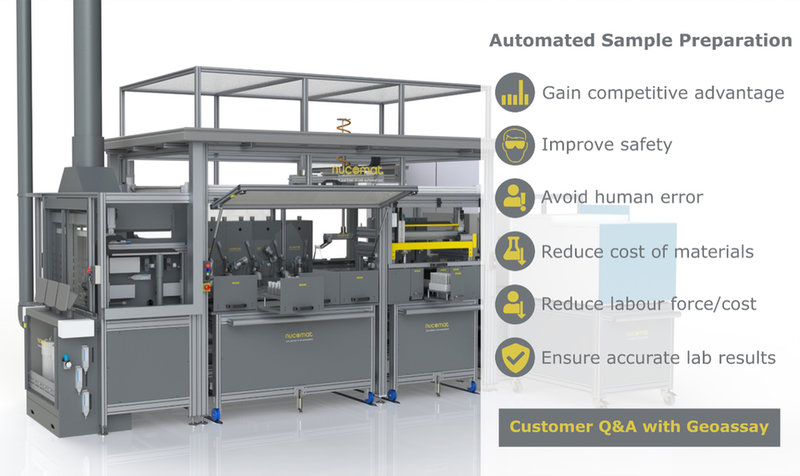 Tell us more about GeoAssay
GeoAssay is a service company for the mining sector, for this, it has three chemical laboratories located in the centre and in the north of Chile, where large mining is concentrated. Among the services, sample preparation and chemical tests such as Au – Ag – Cu – Mo (metal base) applied to mineral samples stand out.
Codelco, BHP, AngloAmerican, among others, stand out among its main clients. To demonstrate the quality of its service, GeoAssay has leading-edge automated technology, robotic technology and highly qualified personnel in its laboratories. All of its applied technical and management procedures are based on a quality management system based on the accreditation of Standard 17.025, which allows to us demonstrate our technical competence to many clients.
When and why did you choose Nucomat as an automation supplier?
Given the new economic scenario and the changes in technologies, GeoAssay incorporates new automated and robotic technologies in all its laboratories, selecting to its strategic supplier Nucomat, because this one has all the technological innovation necessary for the implementation of chemical analysis techniques that break classical paradigms, to new industrial revolution necessary nowadays to be a competitive company in the market of testing laboratories for our minerals.
How has Nucomat's automation solution affected your operations?
In a very positive way, in the first place, the occupational safety indicators were decreased, in addition, mistakes due to human non-intervention in the routine tasks of chemical analyzes were decreased, and on the other hand, costs in raw materials such as mineral acids used in the pre-treatments of the samples were also reduced. There was also a decrease in technical personnel, which turn into lower labor costs.
Have there been any notable projects that benefited from your partnership?
The main project achieved with the new automation technology was Codelco Chile for its four large mining companies located in the north of Chile, such as Chuquicamata Mine, Ministro Hales, Rodomiro Tomic, and Gabriela Mistral. On the other hand, the Codelco EMSA Exploration Area was added to the project. In addition to this, new jobs were obtained from other mining companies located in the north.
Has your automated infrastructure been an added value towards your customers?
The new Nucomat automation incorporated into GeoAssay has meant recognition of our institutions such as CORFO, Fundación Chile, etc. Linked and committed to all the mining work of seeing our GeoAssay laboratory as a world-class laboratory, this has undoubtedly been received by our clients from the mining companies in an important sum for the entire value chain in their processes, mainly from copper production, given that it received from us a robust and traceable result in the evolution of its geological mining reserves.
Has your automated infrastructure made a difference during the Covid-19 crisis?
We have advantages over our competitors during the pandemic because we can perform more analysis with fewer people. When you have problems with people getting sick or when the people got the virus and must enter lockdown, an operational shift is required. If you have wetchem systems and mini dispensers running, then you can go ahead and give the support that the mining companies need. In other words, if you have automation solutions from Nucomat implemented in your laboratories, you can be sure that you have a business continuity plan in action for your operational support.