ABRASION RESISTANT
QUARD® FOR MINING
Solid rocks, hard minerals, mining work is a journey to primary era. In order to get prepared to the toughest conditions, prefer QUARD®. The abrasion resistant steel of NLMK europe - plate has proven to have a very long service life, even in permanent use. When resistance to wear becomes the key factor – like in a mining environment - to prefer a steel, QUARD® provides the appropriate solution.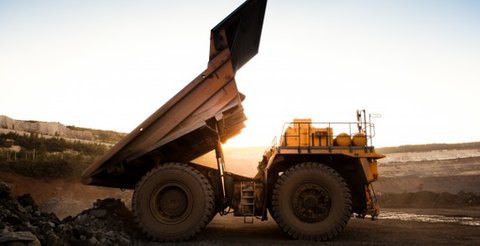 Delivered in hardness up to 550 HB, QUARD® can be used for any machine, like mining excavators, tunnel diggers, crushers, …
Moreover, demanding manufacturers will appreciate the high workability of QUARD®, induced by the purity of its steel and the unique production process of NLMK Clabecq, where it is made. With easier cutting, bending and welding, they can gain in productivity throughout all the steps where QUARD® is used.
Through the use of QUARD®, it is possible to increase the life of the product for more than three times compared with conventional structural steel marks, and reduce the weight of the structural element by 40%.
Quard® plates are treated in a state-of-the-art Quenching and Tempering unit. The slabs used are supplied by the NLMK's Lipetsk production site. Quard® abrasion resistant plates are delivered with hardness of 400 HB (Quard® 400), 450 HB (Quard® 450) and 500 HB (Quard® 500), with thicknesses ranging from 3.2 mm to 64 mm and widths from 1,500 to 3,100 mm.
They are designed for construction and mining equipments (excavators, dump trucks, bulldozers, hoppers, mixers, etc.), as well as for machinery in very demand industries (recycling, agriculture, etc). The use of Quard® may result in product lifetime being more than tripled when compared to products made from standard grades of steel.
QUARD ® Dimensions
The following Quard product mix is currently available:



Thickness

Width

Quard 400

4–50 mm

1,500–3,100 mm

Quard 450

3.2–64 mm

Quard 500

4–64 mm

Quard 550

6-30 mm
QUARD ® Technical characteristics
Brinell hardness test, HBW according to EN ISO 6506-1 is performed 1-2 mm below the plate surface once per heat and 40 tonnes
| | |
| --- | --- |
| | Hardness |
| Quard 400 | HBW = 370–430 |
| Quard 450 | HBW = 420–480 |
| Quard 500 | HBW = 470–530 |
| Quard 550 | HBW = 520-580 |
NLMK Europe – Plate
Rue de Clabecq 101
1460 Ittre, Belgium