Copper production in Peru is forecast to rise by 10.4% in 2021
In 2020, Peru witnessed the highest fall in copper production in its history, mainly due to the Covid-19 pandemic. Production is estimated to have declined by 13%, to 2,137.6kt.
Key operating mines that had to face temporary suspensions in line with the national and provincial Covid-19 restrictions included the Antamina mine. The second-largest copper mine in the country, Antamina was inactive during April and May 2020, with a 23.6% year-over-year decline in production during the first nine months of 2020.
Its largest copper mine, Freeport's Cerro Verde mine, was idle for nearly three weeks between March and April 2020 before progressing with an average production capacity of 90% during the third quarter of that year. Other key copper mines that remained suspended for more than a month included Toquepala, Antapaccay, Toromocho, Cuajone, and Constancia.
Each of these mines has an annual copper production capacity of over 100kt. Generally, most copper mining activities in Peru resumed at the end of Q2 2020, but a reduced workforce and other restrictions continued to hamper production levels in the subsequent quarters.
Prior to Covid-19's impact, copper production growth in Peru has been limited due to protests and strikes. Such events have also disrupted the development timelines of several copper projects such as the Tia Maria, Rio Blanco, and Conga.
As of February 2020, these projects were either suspended or development activity has been postponed. It is essential for the Peruvian Government to establish a more stable socio-political outlook, which is fundamental for projects with long-term operations such as mining and infrastructure.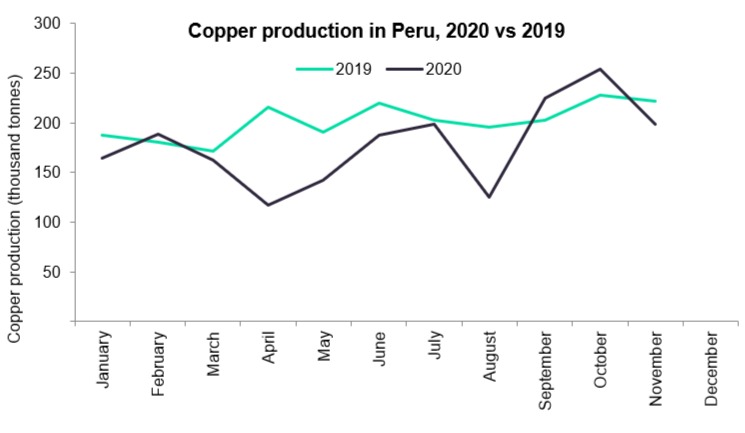 In 2021, the country's copper production is forecast to bounce back by 10.4%, to reach 2.4 million tonnes (Mt), and then 3.1Mt by 2024, equivalent to a compound annual growth rate of 9.2% from 2021 to 2024.

The growth will be largely supported by production from the existing portfolio of operating mines, including Cerro Verde, Las Bambas, Toromocho, Antapaccay, and Constancia, as output recovers to pre-Covid-19 production levels.
Furthermore, there are a total of 36 upcoming projects in Peru, of which six are currently under construction. This includes the expansion of the Toromocho project, whose completion is expected in 2021, after which daily production capacity is expected to reach 170kt versus the current daily capacity of around 117.2kt.
The most significant development is the $5.3bn-$5.5bn Quellaveco project, jointly owned by Anglo America (60%) and Mitsubishi (40%).

This was suspended for three months until July 2020, due to the Covid-19 pandemic, but is currently under construction and scheduled to begin operations in 2022. In the first ten years of full production, the project is expected to produce nearly 300kt of copper at a cash cost of around $1.05 a pound.
Image: Democratic presidential nominee Joe Biden participates in the first presidential campaign debate with US President Donald Trump in Cleveland, Ohio on 29 September 2020. Credit: Alex Gakos / Shutterstock.com