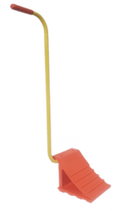 Durable & Lightweight chock with a handle for class 6 vehicles up to a 46″ (116 cm) tire diameter & gross vehicle weight of 26,000 lbs.
Click to view mining video
Visit us in the Central Hall during
MINExpo at booth # 6982
Click on the products below for more information
EU-ROLLER® are more cost effective, durable and energy efficient than traditional conveyor belt rollers. Their superior performance means reduced downtime due to failure and cost savings over the life of the conveyor. EU-ROLLER® also meet the CEMA 502-2016 standard as well!