Global Supplier of Innovative, Tough Submersible Pumps for the Underground Mining Market
PumpEng, founded in 2011, is an Australian owned and operated manufacturer and supplier specialising in tough submersible pumps for mining, construction and industrial dewatering.
F
ounder Paul Meneghel has experience in submersible pumps and mining stretching back to the 1980s. PumpEng evolved from a 2001 venture between Paul and the owners of Galvin Engineering. They set out to improve the design of mass-produced pump components for Australian operating conditions. The PumpEng team built on their own experience by consulting with Australian maintenance and mining staff to become a well-established specialist submersible pump supplier to several industry sectors, with underground mining as the prime focus.
The PumpEng vision has been to be the specialist in 'tough submersible dewatering pumps' based on:
Innovative thinking: Solutions are backed by a vigorous R&D program and commitment to improving product performance and installation practices.
Availability: Product sales, hire and aftercare accessible via a branch network.
Reliability: A tried and tested pumping range designed to last longer.
Consultation: The PumpEng Way is a step-by-step process of exploration, inspection and delivery to ensure the right pump is used correctly.
Data: Ongoing support is continuously sought and provided through repair data, site inspections and quarterly reporting to create sustainable improvement.
The PumpEng goal is to create a good day at work for staff and clients. A good day at work means a different thing for different people. However, if the right pump for the job is selected, installed and maintained correctly, the chance of pump failure is greatly reduced. Less pump failure means significantly less impact on project productivity, safety and the bottom line. Performance data from satisfied clients is testimony to the success of this approach.
PumpEng has developed a team of experienced staff whose mission is to create a good day at work for customers. This commitment extends to the design, manufacture and supply of pumps, right through to the expedient repair/rebuild and full aftermarket support of the product range. This work is all aligned with the PumpEng Core Values and Behaviours. PumpEng has also partnered with major foundries and quality engineering facilities located within Australia and abroad to facilitate the reliable supply of quality parts and pumps.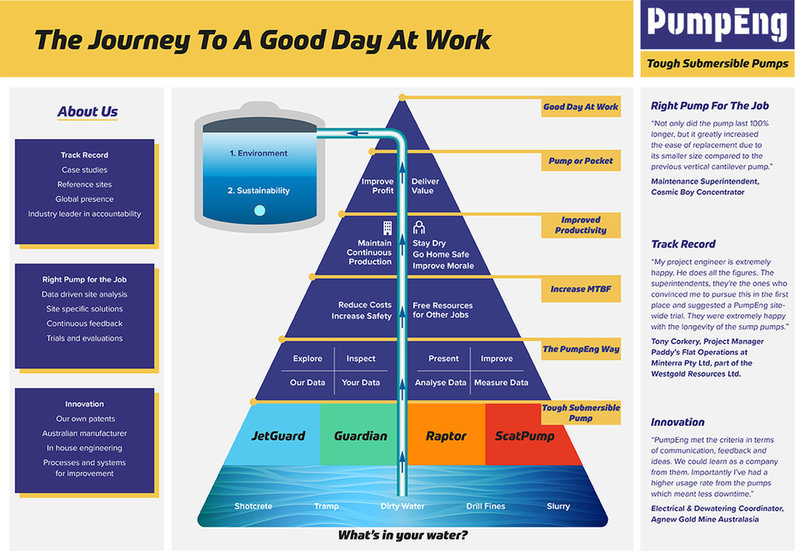 Tought Submersible Pump Range
Design • Manufacture • Sales
JetGuard
JetGuard® has an all-metal wet end with a high chrome impeller and has been designed for use in the harshest environments where polypropylene fibres for shotcrete, high amounts of aggressive sulphides or drill fines and tramp are present in the wastewater. The hydraulic water curtain guards against fibre entering the pump. JetGuard is suitable for underground mining, surface mining and general dewatering applications. It is available in 10kW and 20kW in 415V or 1,000V in 50 cycle and 480V or 600V in 60 cycle.
Guardian
No more pumps with rubber and polyurethane components! The Guardian is an upgrade to the Raptor range. It incorporates an all-metal wet end together with the high chrome impeller which extends pump life and reduces repair costs.
The Guardian is available in 8 kW to suit all markets. With the 20kW model to be available soon in the same combinations.
Raptor
For underground mining, surface mining, construction and general applications. Parts interchangeable with other OEM supplied BIBO range. Troubleshooting and issue resolution. The Raptor is available in 5kW, 8kW and 20kW to suit all markets.
ScatPump
A heavy-duty submersible slurry pump with high chrome impeller and agitator. Flows available up to 100 l/s and heads up to 32 m. ScatPump is available in 1.5 kW - 22 kW to suit all markets.
Metal Vest
The all-metal design of MetalVest™, together with the impeller constructed of Hrc provide a longer wear life which extends the life of this high head dewatering pump and reduces repair costs. The MetalVest™ are available in 37 kW - 110 kW in 415V, 600V and 1,000V. (50 or 60 Hz).
Full-Service Provider
PumpEng® offers a full range of services for submersible pumps including:
Australia Wide Hire
Genuine Parts
Improvement Focused Repairs
Ongoing Consultive Data-Based Support
Markets and Locations
PumpEng has a prime focus on supplying underground mine operators and contractors, together with other operations requiring 'tough submersible pumps'.
Our fully owned branches in Australia, currently operate in:
Perth
Kalgoorlie,
Townsville,
PumpEng also has representation in Indonesia and North America with a strong focus to support emerging markets in South America.
Meet our experts at MINExpo® 2021, September 13-15, Booth #26211
Contact information