The all-in-one drive solution
A Hägglunds Fusion drive system takes the compactness of a Hägglunds solution to an entirely new level. In fact, it places the whole hydraulic drive system on the torque arm. That makes it a space-saving and cost-efficient fit for a wide range of applications.
With the torque arm as the framework for mounting, a Hägglunds Fusion drive system is compact in the extreme. It fits into the same space as a traditional low-speed, high-torque motor and torque arm – but without the added gearbox, foundation and external equipment.

Because the drive solution is self-contained, it's quick and easy to install and maintain. The hydraulic motor, like the other hydraulic components, is housed in the cabinet on the torque arm. With all the hydraulics in one place, there's no need for long piping or control lines to a conventional hydraulic power unit. The motor attaches to the drive shaft by means of internal splines or a shrink-disc coupling.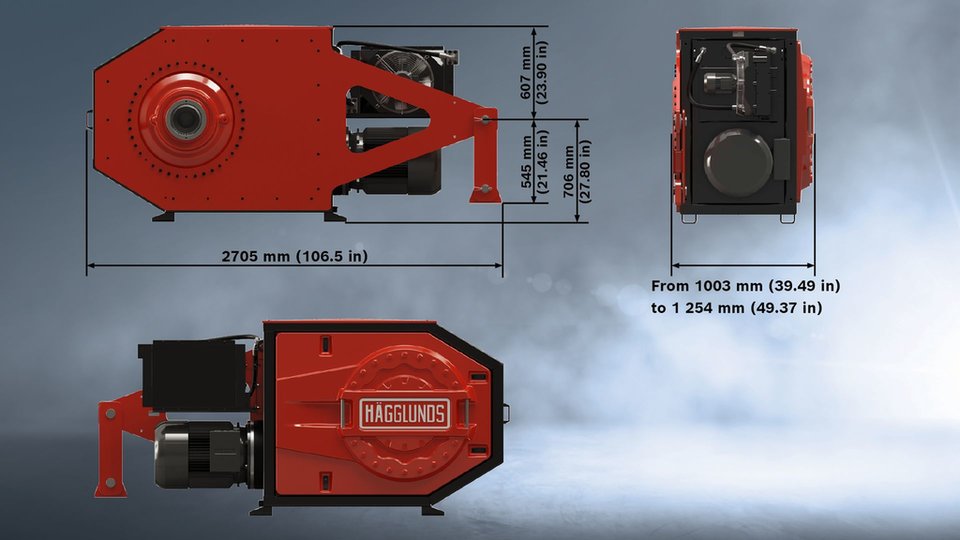 A Hägglunds Fusion drive system is suitable for lower power ranges, where its low cost of ownership creates an attractive alternative to electromechanical drives. As with all Hägglunds solutions, it provides maximum torque from zero speed and automatically limits load peaks. Moreover, it can start, stop and reverse as often as needed, without the risk of damage. All this can bring new productivity to apron feeders, belt feeders, belt conveyors and infeed conveyors.

Each Hägglunds Fusion drive system is functiontested before delivery, and the modular design provides future flexibility. Added to the easy installation and high uptime, this ensures an ideal solution when the demands are greater than the space.
FEATURES
• Plug-and-play drive solution
• Self-contained drive system
• Easy installation
• No foundation needed
• Extremely compact design – small footprint
• Fully function-tested before delivery
TECHNICAL FEATURES
• Both shrink disc and spline hydraulic motor coupling
• Basic and advanced control functionality
• Sealed off hydraulic area
• Flexible installation depending on torque arm position
FEATURES
Plug-and-play drive solution
Self-contained drive system
Easy installation
No foundation needed
Extremely compact design – small footprint
Fully function-tested before delivery
TECHNICAL FEATURES
Both shrink disc and spline hydraulic motor coupling
Basic and advanced control functionality
Sealed off hydraulic area
Flexible installation depending on torque arm position