Sponsored by Dieci Australia
Leading the way in rotational technology
Designed and created in the same Italian region as Ferrari, Dieci rotating telehandlers are equally synonymous with quality as their on-road counterparts.
T
hroughout its more than 50 years in business, Dieci has focused on constantly researching innovative technologies in agricultural, industrial and construction sectors to produce machines that are innovative, operator focused and expertly designed. This quality focus is backed by providing excellent after-sales support and service.
Dieci Australia locally designs, customises and manufactures attachments and machine options to ensure each telehandler is perfect for the specific application while, complying with Australian standards. Thanks to a wide range of attachments available, and a reliable service partner (AWD Group), we are able to work with our customers to produce tailor-made machines to suit any requirement.
Versatile and powerful, Dieci rotating telehandlers can complete tasks traditionally done by telehandlers, elevating work platforms (EWPs) and cranes as a single vehicle.
The Pegasus family is a benchmark for sectors such as construction, quarries, mines and emergency, and for operators seeking maximum reliability and efficiency, combined with unparalleled safety control.
Further characterised by extreme flexibility and robustness, these vehicles outperform many conventional telehandlers in terms of load capacity, reach and the choice of either 360° continuous or non-continuous 400° rotation.
Ranging from 3.8 tonne to 6.0 tonne, and with a maximum lift height of 25 metres, these vehicles can cover an operating area of up to 2,122 square metres and are easily maintainable thanks to the use of durable components and cutting-edge materials.
Three engine size choices guarantee optimised output and efficiency with high torque to ensure maximum performance. Full electronic engine control allows limited fuel consumption and reduced emissions.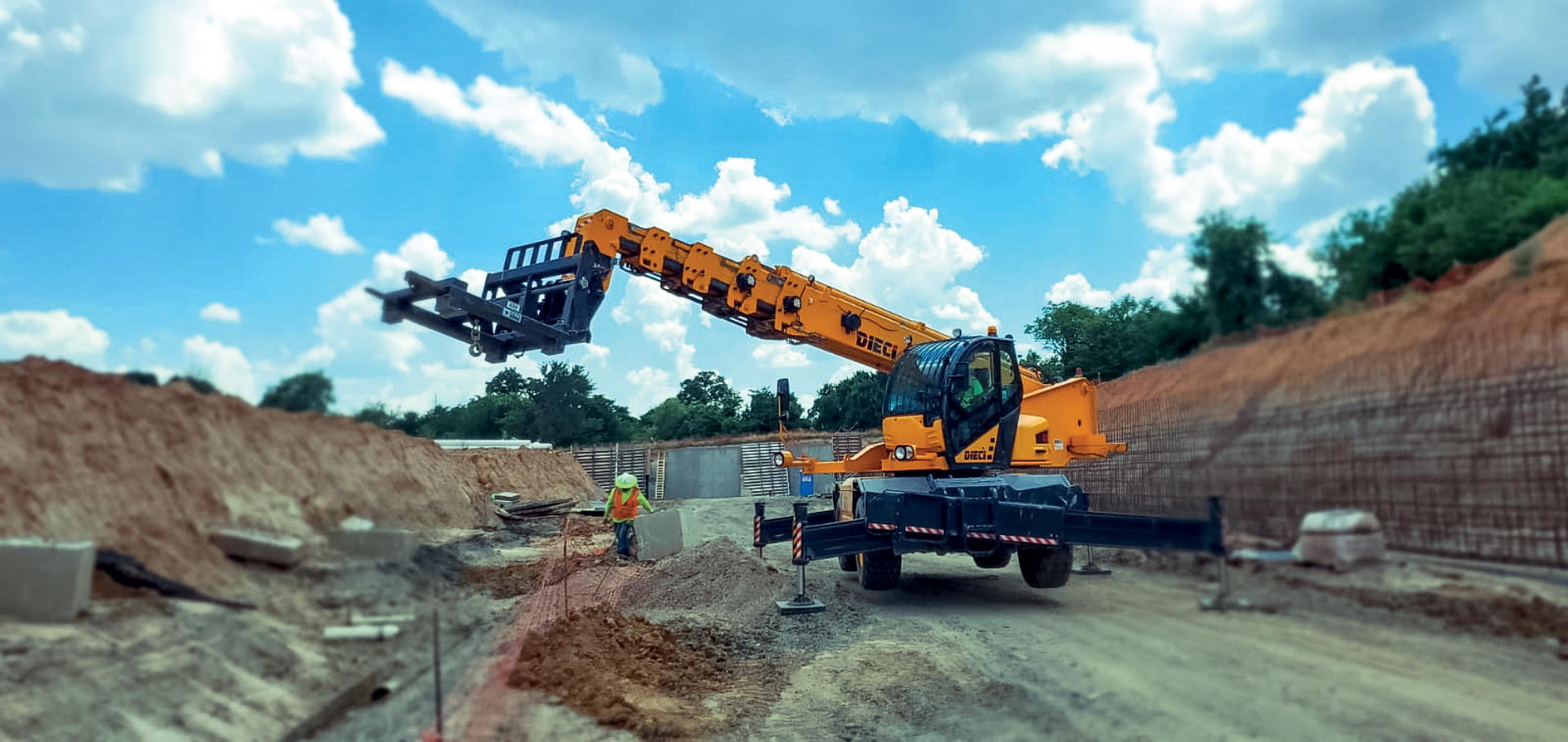 //Dieci rotating telehandlers can complete tasks traditionally done by telehandlers, elevating work platforms (EWPs) and cranes as a single vehicle
Access to the engine is made easy with the optimal arrangement of components that make maintenance quick and convenient. Radiators are straight forward and fast to clean, and air filters can be reached without any tools, The interventions required for the change of hydraulic oil are also minimal, as they are only necessary every 2,000 hours of operation.
Our customers are able to diversify their return on investments through multiple attachment solutions. Lifting hooks, excavation and aggregate buckets, grippers for cylinders, pipes and tyres, centering handlers, and passenger baskets are just some of the accessories specifically designed for operation in tunnels and mines.
When equipped with a man basket, a telehandler can act as an aerial platform, also guaranteeing greater stability, load capacity, and work platform dimensions that can reach up to 6 metres in height.
The Pegasus' accurate and sensitive capacitive joystick with deadman sensor enables the turret rotation speed to be adjusted, while the automatic reversal system control makes it possible to travel with a 180° rotated turret for easy navigation inside narrow working areas.

These vehicles are designed to travel and lift with maximum stability and safety on level ground and off-road. An excellent self-levelling system, adaptive loading software and anti-crash system, eliminate the risks caused by difficult ground conditions.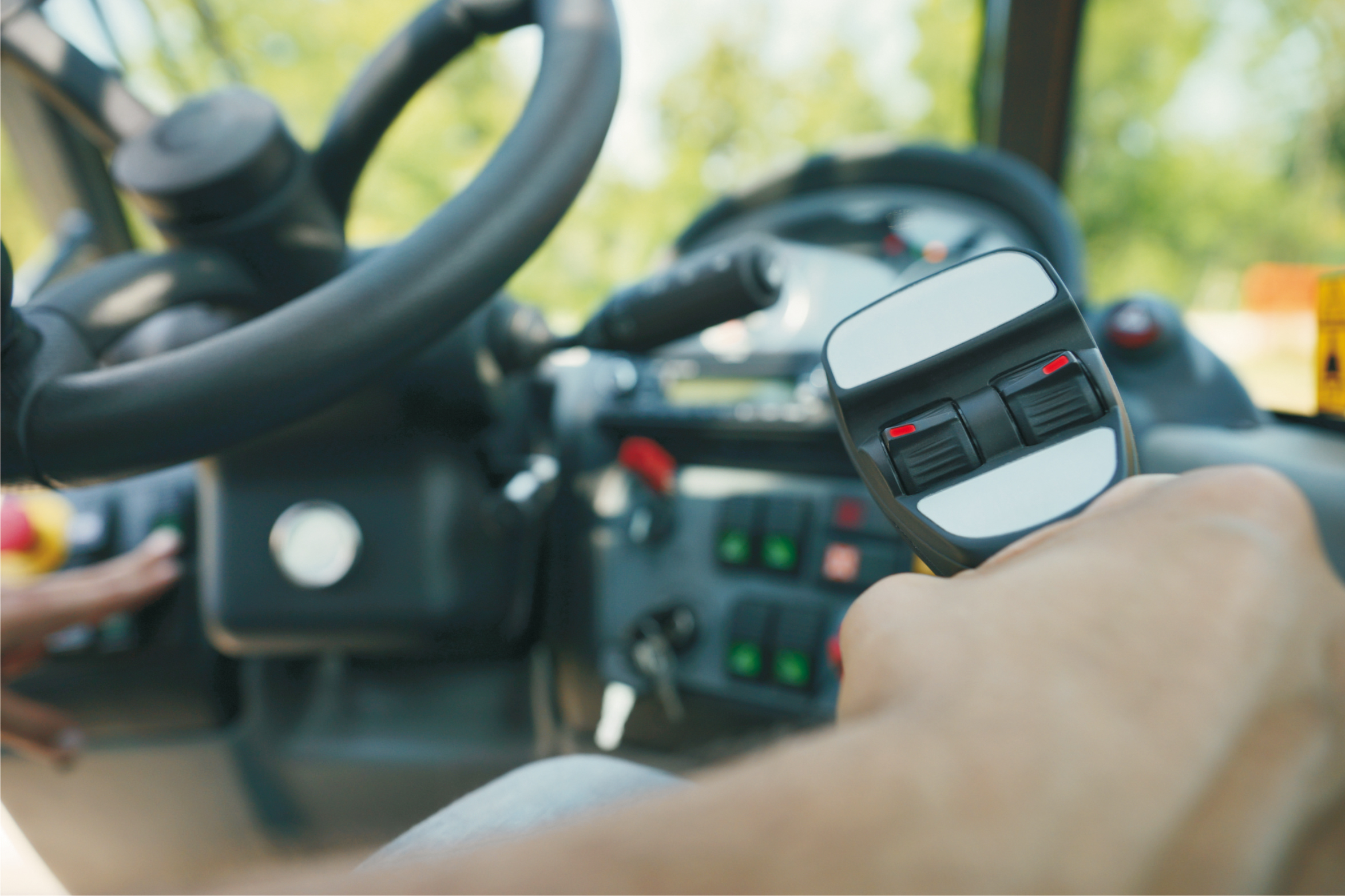 //Spacious cabin with luxurious air seats and powerful integrated air conditioning for complete operator comfort
Safety is a major priority at Dieci Australia, with more money invested in load charts and design verifications for the complete range of machines than most companies in Australia. They have an independent, external engineer signs off on every new machine or attachment that comes out, including attachments that they have developed themselves.
To further guarantee safety, an enhanced soft motion system is equipped to make all boom movements easy to control, reducing speed on approaching physical limits, or in pre-alarm conditions. Oscillation of the rear axle is automatically locked when the boom is raised, and the turret is rotated at more than 5°.
Each telehandler comes with a ROPS - FOPS approved cab with a roomy interior, luxurious air seats and powerful integrated air conditioning. These cabs are designed to significantly improve the working conditions and comfort of the operator.
Dieci rotating telehandlers are available across Australia through the Dieci Australia dealer network. For more information, contact Dieci Australia
Contact information