Sponsored by Miller Technology
Designing and fabricating solutions for you since 1979
Miller Technology prides itself as being an industry leader in performance standards with its diesel and battery electric vehicles. We are committed to producing a wide variety of high-quality vehicles for customers and offer post purchase support to ensure quality and a seamless experience.
Over the past 43 years, Miller Technology has continuously proven itself to be a leading manufacturer of light duty vehicles within the mining industry. More recently, Miller has also become the highest producing manufacturer of battery electric vehicles in the mining industry and adjacent sectors.
We are steadfast in our quest to design and produce innovative, reliable, and quality mining vehicles for the mining sector. We offer specialist applications built from our base Toyota Land Cruisers for the following mining vehicles with a wide variety of options, globally available to our customers:
Aerial boom trucks,
ANFO loaders,
Explosive carriers,
Mechanics trucks,
Personnel carriers,
Scissor lifts and many more.
With its wide breadth of expertise, Miller is also able to offer additional specialized applications tailored to the customer's unique needs.
We also offer a BEV (battery electric vehicle) version of these Land Cruisers, which can be built with any of the configurations highlighted.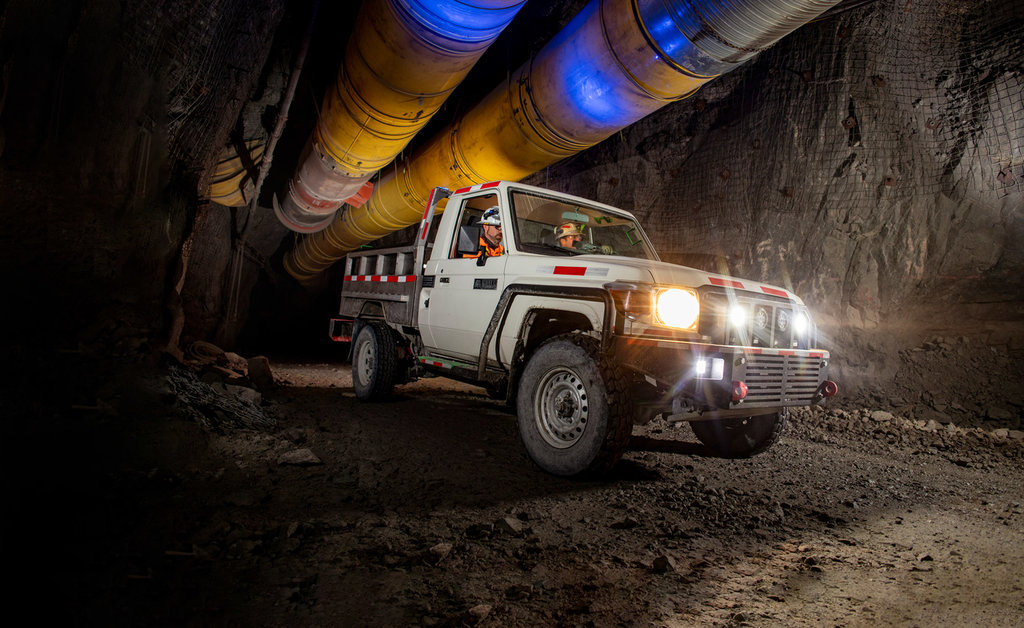 Miller Technology's BEV Land Cruiser
Miller Technology is the leading manufacturer of BEV's within the mining sector and related industries. This is partially possible due to our revolutionary Ionic Drive technology which has changed how our BEV's are built. Our Ionic Drive technology is tailored specifically to our vehicles and was developed directly in house which results in numerous advantages to our customers.
Vertically integrated, which means all software, harnesses, parts and etc. were designed in house.
Troubleshooting time for the vehicles is significantly decreased since no third-party assistance is required.
Ability to manufacture parts for our Ionic Drive vehicles in house, which decreases downtime for vehicles that require parts.
With our new light duty flagship BEV, the Relay, we are introducing a new standard for electric mining vehicles. Our industry leading numbers with the Relay are unprecedented and are paving the way for what our mining vehicles will be capable of in the future. With only an 18-minute charge time, the Relay has the capability of reaching a 94% charge from a flat battery. This means the Relay's recharge rate is over 500% faster than that of competitors. With a 94% charge, the Relay is able to complete an average 10-hour mining shift. In addition, the Relay is also equipped with our regenerative braking technology which further extends the 10-hour range to a 12-hour range in a mine with suitable topology. Therefore, the Relay is able to provide a 12-hour range in a mine with only an 18-minute charge, which is unparalleled compared to any other BEV's within the industry. We also offer BEV Land Cruisers, which come with multiple configurations for less rigorous environments where the Relay's capabilities aren't required.
Miller Technology's Relay
We have also expanded our Ionic Drive technology into other vehicles, including our latest electric grader. This project has been one of our main focuses over the past few years and has been integrated with the same drivetrain used in the Relay. One of the main advantages of streamlining our Ionic Drive drivetrain into our electric grader is that they utilize the same parts. Consequently, our customers require a lower parts inventory and can stock common parts that are usable on each vehicle separately.
Moving forward, Miller intends to continue this trend with other electric vehicles, which would mean that a single parts inventory would be possible for multiple vehicles in a mine, resulting in lower repair downtimes for vehicles, quicker shipping times in the supply chain, as well as less training required for mechanics on site.

Miller Technology's Electric Grader