Sponsored by Dieci Australia
Dieci – more than just telehandlers
Did you know that Dieci also manufactures a broad range of dumpers and truck mixers?
W
ith the needs of construction sites constantly changing and a large focus on reducing management costs and improving vehicle productivity, Dieci has invested in delivering a range of dumpers/tippers and truck mixers that match the evolving industry requests of their customers.
//Dieci Australia locally designs, customises and manufactures attachments and machine options to ensure each telehandler is perfect for the specific application while, complying with Australian standards.
Designed with the same quality design as their telehandlers, Dieci dumpers and mixers are versatile and manoeuvrable with robust construction and industry standard components.
Built with the Dieci PX off-road chassis, these machines have proven their tough off-road capabilities against Australia's harshest environments.
Hard-working and reliable, Dieci dumpers and mixers are ideal for handling materials on construction sites or in mining or industrial environments.

Dieci dumpers have a much smaller footprint than standard trucks, with a turning circle unparalleled by any other machine in its class. whilst still having a large payload capacity, given how compact they are. This makes them ideal for worksites that have limited space or where larger vehicles are impractical.

With a maximum capacity of up to 12,000 kg and load volume of up to 7.0 m3 on the DP7000 model and an impressive 8000 kg 5.3 m3 (heaped) on the DP4200 model, Dieci dumpers are supported by a hydraulic system that allows the dump body to tip automatically.

Dieci Australia offers a variety of mixer sizes to suit all types of applications, including the F7000, with a capacity of up to five cubic metres, to the midrange L4700. These vehicles are further categorised by their manoeuvrability, compactness and agility, along with the high thickness of steel used for the mixing drum, which guarantees dimensional stability and a long life.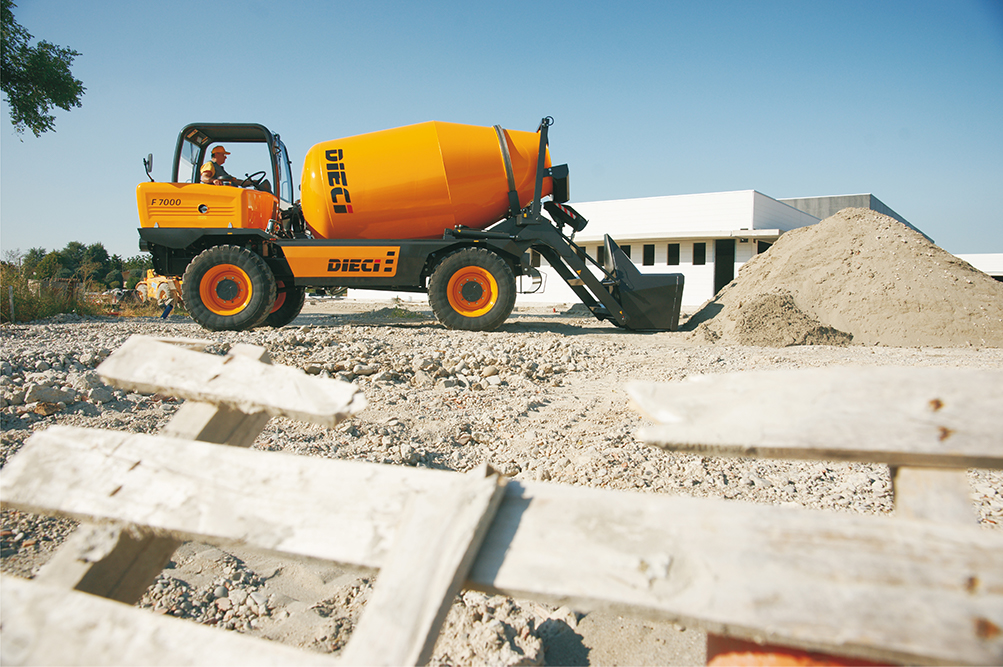 //Dieci Australia also offers a range of truck mixers and dumpers, perfectly suited to work in mining applications

With the mixers' ability to self-measure and load, the need for remote concrete batching plants is no longer required. Due to the proven design of the spiral blades, ingredients can be mixed to an extremely high degree of precision while being poured into the drum, creating a perfectly homogeneous result every time.
All models have a fully enclosed ROPS – FOPS rated cab with air conditioning. Many localised custom options are also available to ensure maximum productivity, safety and site compliance.
With 4WD, and 3 steering options - 4WD, crab and front steering, Dieci dumpers and mixers can manoeuvre around the tightest of worksites.
Ease-of-use and driver safety are essential factors for every vehicle produced by Dieci, to which the company has over the years built a solid reputation for reliability and expertise among companies in the construction, agricultural and mining sectors.

Popular Models
DP 4200 Dumper Key Features:
Engine: FTP
Maximum Capacity: 8,500 kg
Width: 2,350 mm
Height: 3,010 mm
Dumper Body Capacity: 5.3 m³ (Heaped)
Total Weight: 5,000 kg
DP 7000 Dumper Key Features:
Engine: FTP
Maximum Capacity: 12,000 kg
Width: 2,350 mm
Height: 3,090 mm
Dumper Body Capacity: 7.5 m³ (Heaped)
Total Weight: 5,000 kg
F700 Mixer Key Features
Engine: FPT
Concrete Yield: 5.0m3
Width: 2,370 mm
Height: 3,075 mm
Water tank capacity: 850 L
Total Weight: 7400 kg

Dieci dumpers and mixers are in stock and available across Australia through the Dieci Australia dealer network. For more information, contact Dieci Australia
Contact information