Sponsored by NHP Electrical Engineering Products
NHP - Enabling the Connected Enterprise
As a leading supplier of industrial and safety products, nothing is more important to us than helping you get the job done.
W
ith more than 50 years of electrical and engineering industry excellence and over 20 branches across Australia and New Zealand, it is NHP's local people and footprint that helps us to understand your specific project needs, no matter how big or small.
As the exclusive distributor for Rockwell Automation throughout the South Pacific region, NHP has been assisting customers to achieve better visibility into processes, data and analytics. Through our SMART digital devices, we have helped thousands of customers on their journey to digitally transforming their operations by assisting them to enable the Connected Enterprise.
Three things define our business: independence, service and advancement. NHP remains independent in order to provide multiple brands and maximum choice for Australasian industrial conditions. We pride ourselves on going the extra mile to support our customers with technical expertise and after sales support.
While we go to market with over 15,000 stocked items, we are much more than a product supplier. Together with our extensive network of global partners, we offer choice in product, choice in technology, choice in service, choice in support and ultimately choice in how you deal with us - whether that be in person or online, where and when you need us.
When it comes to finding a local partner with a global network for your next project, choosing NHP will unlock a world of expertise across electrical and automation products, systems and solutions.
NHP Services
The NHP Service Team – offering so much more than quality electrical and automation products
In conjunction with our major supply line partners, NHP offers our customers services and training solutions, leveraging industry and technology-specific expertise, to maximise operational investments, improve your business and meet your everyday needs.
Technical training
With over 500 technical training courses, seminars, workshops and webinars held annually for the Australian and New Zealand markets, NHP can help to improve your knowledge in the areas of Automation and Process Control, Hazardous Area, Safety Standards, Drives, Vibration, PLC Software, Enclosures, Comptuterised Maintenance Management Systems and much more.
On-site support
NHP, backed by Rockwell Automation, offers a range of on-site field service solutions to suit a wide range of needs. Whether your need is for installation and commissioning, migration, emergency breakdown or lifecycle services, NHP has engineers and technicians placed in strategic locations throughout Australia and New Zealand to respond to your needs.
Repair and remanufacture
Are you confident that your spare parts will operate correctly when needed? NHP takes pride in our repair and remanufacture capabilities. Our repair technicians or supply partners will repair or remanufacture your equipment, using replacement parts that meet or exceed the original design specifications.
Simple, flexible and worry free service agreements
NHP offers a range of tailor made service agreements, from spare parts management, on-site and phone support, repairs and preventative maintenance.
If you have any enquiries relating to NHP Services or would like to schedule in a service, please send an email to nhpservice@nhp.com.au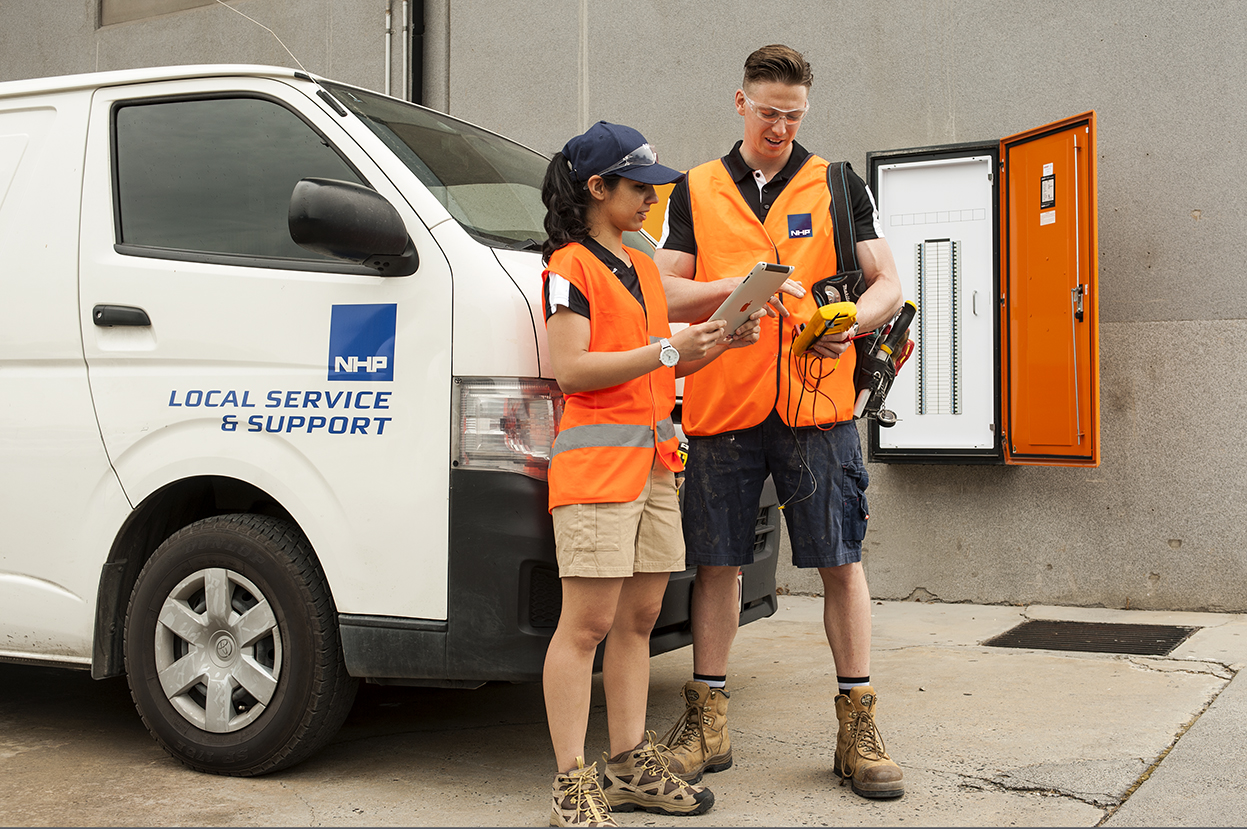 The journey to SMART Manufacturing - Modernising systems to enable the Connected Enterprise
As operations move to 'smart' manufacturing, everyone from operators and technicians to corporate executives are using smart capabilities to gain new efficiencies, improve product quality and make operations more responsive. Industrial operators are modernising aspects of their processes and plants, converging Information Technology (IT) and Operations Technology (OT) functions to be more productive in an increasingly competitive global environment. Together, NHP and Rockwell Automation achieve this through The Connected Enterprise.
As a result, operations are becoming faster, more innovative, and more reliant on integrated machinery and equipment to increase throughput and production flexibility. While working to enable The Connected Enterprise and with downtime costs on the rise, manufacturers have to figure out how to get the most out of their aging infrastructure. They are challenged with finding support for ongoing maintenance needs, greater complexity in spare parts management and an increased risk of losing vital expertise.
Working with NHP and Rockwell Automation will help you stay ahead of maintenance issues, so you can minimise the risk of downtime as you modernise.
Click below to access a whitepaper which will investigate:
why we need to modernise and why the time to do it is now
what needs to be done and how?
who needs to take action?
Introducing Fiix - a better way to plan, track and optimise maintenance
Fiix is a cloud-based computerised maintenance management system (CMMS) that helps operations teams schedule, organise and track equipment maintenance, connect to business systems and make data-driven decisions.
Fiix is the perfect solution for equipment-intensive, production-oriented customers who want to get off pen and paper and onto software to run their maintenance operation. Fiix's CMMS helps teams improve equipment performance and ultimately reduce costs, increase productivity and provide a safer working environment.
Managing your assets shouldn't be guesswork. Fiix's asset management module lets you easily see and manage all equipment information in one place - everything from repair history and cost, to hierarchy, parts consumption and more.
How can Fiix can help you stay on top of your maintenance?
Create, complete and track work orders quickly and efficiently with Fiix's AI-powered work order software
Easily organise, track and optimise asset performance
Take control of your storeroom with pain-free inventory management
Get actionable maintenance insights on demand, with an advanced reporting and analytics function
Manage maintenance from anywhere at any time with Fiix's mobile CMMS app.

NHP has partnered with Fiix in Australia and New Zealand and has a team of Account Representatives who specialise in Fiix CMMS.
These Fiix product experts will take the time to:
walk you through the platform, demonstrating how simple it is to use
explain the benefits that you'll realise within your specific business environment
assist you in setting up your Fiix platform from start to finish, with ongoing after-sales support.
Contact information