Sponsored by Minerals Council of Australia
When mining is strong, Australians win
Appreciation of the effect of changing regulations enables mine operators to proactively assess and respond to their relative exposure. A proactive response enables the operator to retain control of change processes in advance of a regulatory direction enforcing the change, the resource demand and the timeframe.
By way of example, Aspect Environmental looks at the requirements of the NSW Mining Amendment (Standard Conditions of Mining Leases – Rehabilitation) Regulation 2020 and how operators can respond and retain process control.
A
ustralian mining is a global leader in providing the essential elements of modern life while growing the nation's economy and sustaining regional communities.
Combined with its social contribution and responsible environmental management, mining plays a critical role in the modern world.
MCA leads advocacy on mining issues
The Minerals Council of Australia (MCA) is the leading advocate for Australia's minerals industry, a strong and effective voice at the national and international level as well as through its divisions in the Northern Territory and Victoria.
Earlier this year, the MCA launched Advantage Australia, outling the issues where the MCA advocates leading policy solutions to government, partners, stakeholders and the community and promotes best practice with its member companies.
The following three examples demonstrates how the MCA works to create jobs, give back to communities and contributes to investment.
Mining's economic contribution
Australia's world-class minerals industry is a major contributor to investment, exports and government revenues.


The resources sector generated $270 billion of export revenue in 2020 and accounted for 62 per cent of Australia's total export earnings. This included $115.8 billion from iron ore, $43.8 billion from coal and $27.1 billion from gold.


The mining industry accounted for 10.4 per cent of Australia's GDP in 2019-20, which made it the largest sector in the Australian economy.


Mining has also been the largest contributor to Australia's economic growth over the last decade.


The broader mining and mining equipment, technology and services (METS) sector accounted for 12 per cent of Australia's GDP in 2019-20 in both direct and indirect contributions.


The mining industry is a large contributor to government revenues, paying $230 billion in taxes and royalties over the last decade.


In 2020 the resources industry directly employed 242,963 people, including 103,567 in the metal ore sector, 52,001 in the coal sector and 50,703 in the exploration and mining services sector.


In 2020 workers in the resources industry had the highest wages in Australia with average earnings of $143,022. This is 55 per cent above the national average.


When workers in the minerals industry's supply chains are included, mining supports 1.1 million jobs across Australia (11 per cent of total jobs).

Skills and workforce
Australia's mining industry is contributing to the national task of a jobs-led post-COVID economic recovery.
The sector has a strong and continued focus on skills and apprenticeships, opportunities for indigenous people and greater workforce diversity, and delivering broader value through taxes and royalties that support infrastructure and services across Australia.
Flexible learning specialist training and stronger collaboration between industry and education providers will generate more highly skilled, highly paid jobs across regional Australia.
Investing in our people, skills and innovation is critical in delivering a more globally competitive minerals sector that delivers fulfilling careers in highly paid, highly skilled jobs.
This includes cutting-edge roles in innovative tech-driven fields such as data scientists and mechatronic engineers, as well as new opportunities for the existing workforce to upskill and take on new roles.
More than 1000 apprenticeships will be created in partnership with the Australian Government through the Mining Skills Organisation Pilot, contributing to almost 5000 new positions over the next few years, mostly in regional Australia.
As the nation rebounds from the COVID-19 pandemic which has hit the job prospects of young Australians hard, the minerals industry is supporting regional economies in their time of need.
To find out more about a career in mining, visit minerals.org.au/careers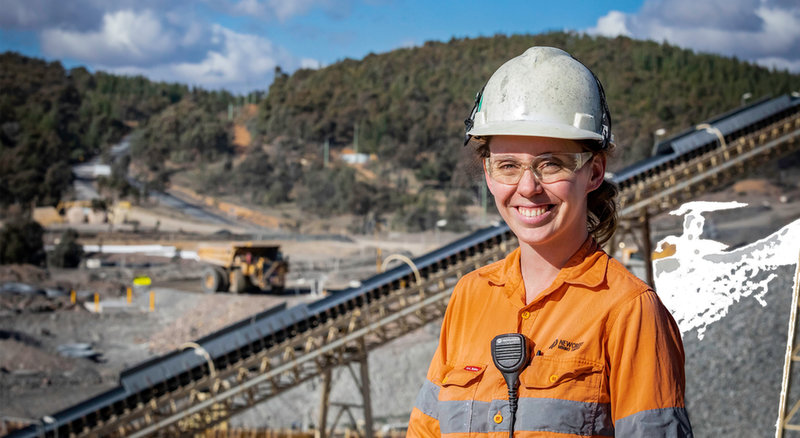 Towards Sustainable Mining
Mining must earn and maintain the trust of regional communities to operate. This requires respectful and ongoing engagement, enduring community benefits and fair, transparent practices.
Tthe industry has stepped up to enhance community, investor, customer trust and confidence with the introduction of the Towards Sustainable Mining (TSM) system.
TSM will support mining companies in measuring, demonstrating and communicating site-level safety, sustainability and environmental, social and governance performance.
Industry stakeholders – including First Nations partners, local communities and groups, investors and customers – will now have additional assurance and visibility on the sector's site-level sustainability performance across a range of important practical measures.
It's all about accountability, transparency and credibility.
For more information visit minerals.org.au/towards-sustainable-mining
Trade and investment
Trade, investment and economic co-operation maximise opportunities for Australia's minerals industry to boost national income, generate government revenue and create high value jobs.
The MCA promotes strategies to maintain existing trade relationships as well as looking for new markets.
It supports foreign investment and domestic policy and regulatory settings that make Australia a competitive destination for investment.
It encourages Australia to work with all nations to promote multilateral trade arrangements, support economic integration, counter protectionism and maintain a global rules-based order through the World Trade Organisation.
The MCA promotes the role of free trade agreements in expanding export markets and strengthening investment relationships with South East Asia, India, the United Kingdom and Europe.
For more information, visit minerals.org.au/trade-and-investment
Contact information