- ECONOMIC IMPACT -
The World Trade Organization has revised the world real GDP growth forecast for 2022 down to 2.8% from its earlier projection of 4.1%.
The World Bank forecasts that the conflict in Ukraine will cause its GDP to contract by around 45%, while Russia's GDP will fall by more than 10% in 2022.
There have now been 481 confirmed cases of Covid-19 around the world, and more than six million deaths.
The US leads the world in confirmed cases, with more than 79 million, and has reported more than 970,000 deaths.
GDP growth forecast around the world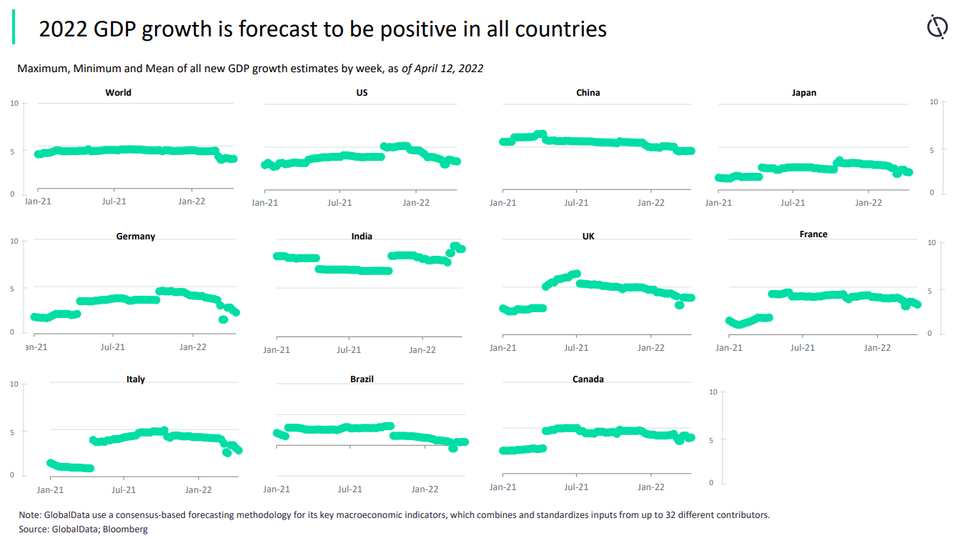 - SECTOR IMPACT: MINING -
SHORT-TERM MITIGATION STRATEGIES
Over the next three years, miners can aid in recovery from the Covid-19 pandemic by rescheduling debt and addressing financing issues, consolidating market position in growth commodities and acquiring assets to enhance operational economies of scale.
Companies could also consider divesting assets in weaker commodities, and making better use of downtime to train workforces and upgrade assets.
LONG-TERM MITIGATION STRATEGIES
Over a period of the next three to five years, mining companies can ensure that liquidity is sufficient to weather the storm in the future, should the sector be similarly disrupted in the long-term.
Miners could also benefit from a greater focus on autonomous materials movement, such as autonomous trucks and the automation of repetitive tasks to reduce the number of workers on sites.