Strategic systems and processes prove key to supporting manufacturing technologies
T
hroughout 2020 and 2021, global manufacturing supply chains have been significantly challenged, creating delays in many industries including the mining and resource sector. As the engine room of the Australian economy, Australian manufacturing had been challenged by the government and those that rely on it to innovate and support this crucial sector to the economy, and to help the country manufacture its way into the future.
One Australian manufacturer has significantly re-evaluated the way it works, investing in revised systems and processes backed up by state-of-the-art technology to ensure the machinery they brought into the business could deliver on its promise of shorter customer lead times.
Geographe, a family run business founded in 1968, specialises in innovation, engineering and manufacturing for the mining and resources industry.
In FY19/20, Geographe had run at an average 90% DIFOT (Delivered In Full On Time) for its contracted customers and was already investing in technologies to ensure this continued as demand for its products increased.
Geographe had been asking its customers what was important to them so they could plan for the future. The input they received allowed them to start building on their existing infrastructure and commissioning a world class manufacturing facility which now includes:
A Climate-Controlled Inspection Room - separated from operations by process automation ensuring product quality is consistently maintained to the highest of standards
A Deep Cryogenic Treatment Tank – the only one of its kind in Western Australia
An IPSEN Twin Lane Continuous Gas Carburising Furnace - the largest of its type in the Southern Hemisphere
An OKUMA Multus U5000, Twin Spindle, Twin Turret machining centre, complete with a fully automated robotic cell allowing for 24/7 continuous operation – a world first combination pairing
A DMG Mori (Taiyo Koki) Vertical Grinding Machine, complete with a fully automated robotic cell also allowing for 24/7 continuous operation - the only one of its kind in the world at the time of publication
FANUC Robotic arms to help load these machine cells
DEMATIC Automated Guided Vehicles (AGV's) set up to serve these machines and Geographe's inspection room
You do not rise to the level of your goals. You fall to the level of your systems.
- James Clear - NY best-selling author of the book Atomic Habits
As Covid 19 became an emerging challenge to every country, it became apparent with a spike in customer demand not only from Australian clients, but from mining clients around the globe impacted by supply chain challenges, that this newly commissioned technology would rapidly need systems and effective processes to help support this increased demand.
Geographe CEO, Sam Hyder commented:
"We were implementing the technology; we had the highly skilled tradespeople and we could now see the forecast for demand. This was our opportunity to upskill our people further and change the way we work for the benefit of our customers, and for our business. The arrival of Covid 19 challenged us to expect more from our staff and our assets, so we raised the level of both our manufacturing processes and our systems to deliver on that challenge."
To help ensure a successful delivery of these new technology units, Geographe chose to focus on and roll out 5S first. 5S is a system for organising spaces so work can be more efficient, effective, and safe. This system focuses on putting everything where it belongs, keeping the workplace clean which makes it easier for people to do their jobs without wasting time or risking injury.
Originating from Japan, 5S can be translated as Sort, Set in order, Shine, Standardise & Sustain.
This process was pioneered by the Toyota Motor Company and implemented within the Geographe repair workshop before being rolled out at their main Western Australian manufacturing plant.
"The results have been outstanding." said Rodney Fox, Geographe Plant Operations Manager.

"We've seen a full transformation of the manufacturing facility, combining automation to typical manual machines. Incorporating LEAN and 5S systems into the workplace along with our investment in technologies has seen our production output increase and our customer lead times decrease."
The introduction of 5S and LEAN system process has allowed the Geographe team to learn new manufacturing techniques and add automation solutions in a structured, methodical way.
Geographe has combined these systems and technologies with Robotic Process Automation, alongside a successful implementation of the SAP S/4HANA cloud-based ERP system, the first company to do so in Australia. S/4HANA now forms the backbone of its system operations allowing the team to make real time data driven decisions from anywhere in the world.
The culmination of these solutions has led to Geographe placing an order for a second DMG Mori (Taiyo Koki) Vertical Grinding Machine to compliment the world's first one running at its Bunbury based operation.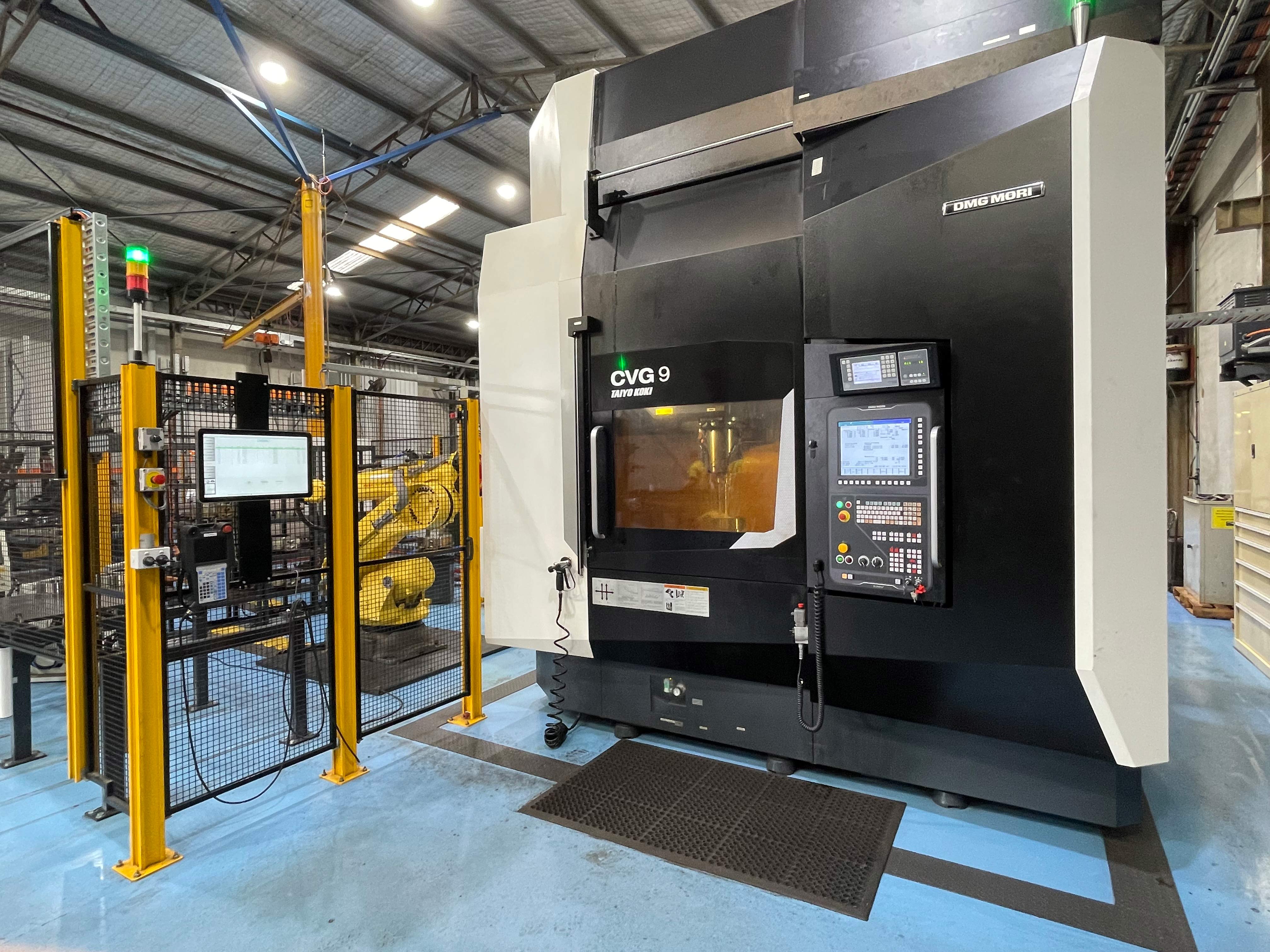 "We are building a world class manufacturing facility here in Western Australia." said Geoff Mutton, Geographe Plant Innovation Manager.
"By fostering a great staff culture of innovative people, combined with supply partner collaborations with DMG Mori and OKUMA Australia, we are implementing solutions to deliver even higher quality products at the right time for our customers."
Rather than fall to the level of its systems, Geographe had chosen to raise that level. Creating both efficiency through technology, effectiveness through 5S & LEAN system processes and supported by their upgraded SAP ERP platform, Geographe have taken this combination plus the learnings from the challenges faced during the pandemic and are now harnessing these collectively to continue delivering on its commitments to their mining customer base.

Contact information