Sponsored by Aspect Environmental
Easy ESG - For the Board and Shareholders
Appreciation of the effect of changing regulations enables mine operators to proactively assess and respond to their relative exposure. A proactive response enables the operator to retain control of change processes in advance of a regulatory direction enforcing the change, the resource demand and the timeframe.
By way of example, Aspect Environmental looks at the requirements of the NSW Mining Amendment (Standard Conditions of Mining Leases – Rehabilitation) Regulation 2020 and how operators can respond and retain process control.
S
takeholder expectations continue to evolve for Environmental, Social and Governance (ESG) reporting. Organisations are expected to tangibly demonstrate their commitment towards sustainability and to proactively manage their operational and financial strategies accordingly. Our team has prepared a series of discussion papers to enhance understanding of ESG value to the mining sector.
Due to perceived complexity, almost 1/3 (30%) of Australian companies believe that they are underperforming in their ESG reporting commitments.
ESG reporting is tailored to disclose how organisations have managed their ESG risks to investors and stakeholders and demonstrate their ethical performance against each of these elements.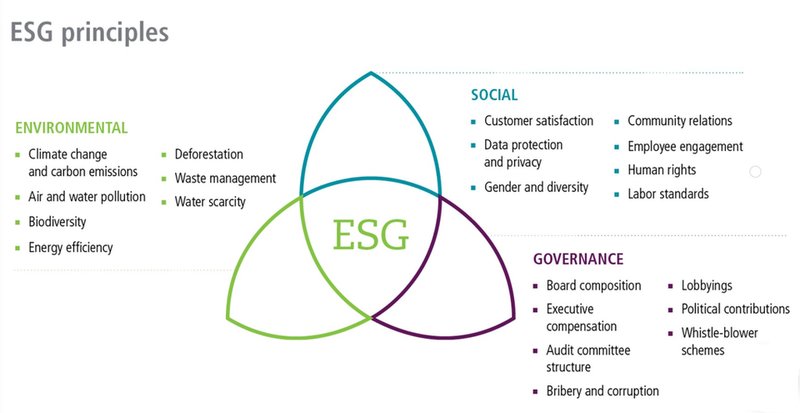 //Figure 1: ESG principles (source: http://www.jhinvestments.com)
An ESG report that aligns closely with organisational operation and financial strategies can have a positive impact on the value of that company, not only from investor's perspective but from regulators and the communities they operate within. An aligned ESG program reduces operational risk and risk/incident exposure – thereby providing enhanced value to investors and stakeholders.
Whilst in Australia there are no specific legal requirements for companies to report on sustainability, there are certain obligations to report both financial and non-financial information. Obligations under the ASX Listing Rules, sections of the Corporations Act 2001 and the G100 Guide include requirements for discussion and analysis of key financial and non-financial, social and environmental performance indicators. Sustainability reporting places additional value on intangible assets such as human resources, customer and supplier relationships and innovations.
Further, it facilitates a consistent and accepted approach to risk management and mitigation profiles to assist stakeholders to make decisions.
Organisations who have significant interests in or are involved with infrastructure projects can adopt the Infrastructure Sustainability (IS) Rating Scheme to reduce the complexity of ESG reporting and provide recognised, measurable outcomes.
What is the IS Rating Scheme?
The Infrastructure Sustainability Council (ISC) is Australia and Aotearoa New Zealand's member-based body that advocates sustainable performance by building sustainability into each stage of the infrastructure lifecycle. The IS Rating Scheme evaluates economic, environmental, social and management performance across the planning, design, construction and operational stages of infrastructure development.
//Figure 2: ISC Rating Scheme (Source: https://www.iscouncil.org/)
The IS Rating Scheme's four themes (governance, economic, environmental and social) are divided into sub-categories, and each sub-category is rated against a specific aspect of sustainability performance. This may relate to a mitigation or improvement initiative, or a process that supports achievement of sustainable outcomes.
With core ESG elements aligning with IS Rating Scheme credits, organisations are provided a simple and efficient way to report their performance against relevant sustainability criteria.
Benefits to Receiving the IS Rating
Achievement of IS ratings for infrastructure translate to public acknowledgement including local and international market recognition as a sustainability leader.

//Figure 3: Benefits of the IS rating scheme (Source: https://www.iscouncil.org/)
Sustainable corporate performance has been shown to correlate strongly with financial performance. Stock prices of companies with high sustainability or ESG ratings tend to be less volatile. Social awareness of a company's sustainability performance is becoming increasingly available to the wider public, who provide some pressure to companies to focus on, manage and be accountable for environmental, social and governance sustainability.
Social awareness, stakeholder engagement and management of climate change impacts have become forefront of the global business and political spectrum.
Asset Types addressed by the IS Rating Scheme
The IS Rating Scheme is applicable to a wide range of Infrastructure asset types.
//Figure 4: Asset types subject to the ISC Rating Scheme (Source: https://www.iscouncil.org/)
Each IS Rating will be tailored to each different asset type to incorporate their individual sustainability criteria.
Mining Applicability and Where To?
The ISC framework is applicable to infrastructure asset components associated with mining developments, design and operations. It facilitates the ability for mining organisations to proactively demonstrate their commitment to sustainable efficacy in terms of environmental, social, economic and management elements.
Adding the IS framework does not change ESG reporting, but enhances the sustainability reporting capabilities. Future papers will focus on application of the framework to mining operations and alignment to global sustainability metric frameworks. Our end goal is to clearly and simply identify how an organisation's value can be increased in the eyes of regulators, the community and investors.
Contact information