- ECONOMIC IMPACT -
Latest update: 20 October
Australian GDP is expected to grow by around 5.5% by the end of the year, while the rate of inflation is predicted to increase by just over 2%.

Australian unemployment is set to fall by the end of 2021, with the nationwide unemployment rate estimated to reach 5.98, down from 6.70 in 2020.
Australians have access to just four of the 15 Covid-19 vaccines profiled by GlobalData, including the Pfizer/BioNTech, Moderna and AstraZeneca vaccines.
Just under two-thirds of Australians have received at least one Covid-19 vaccine, which ranks Australia 12th in the world in terms of citizens who have been vaccinated at least once.
Impact of Covid-19 on equity indices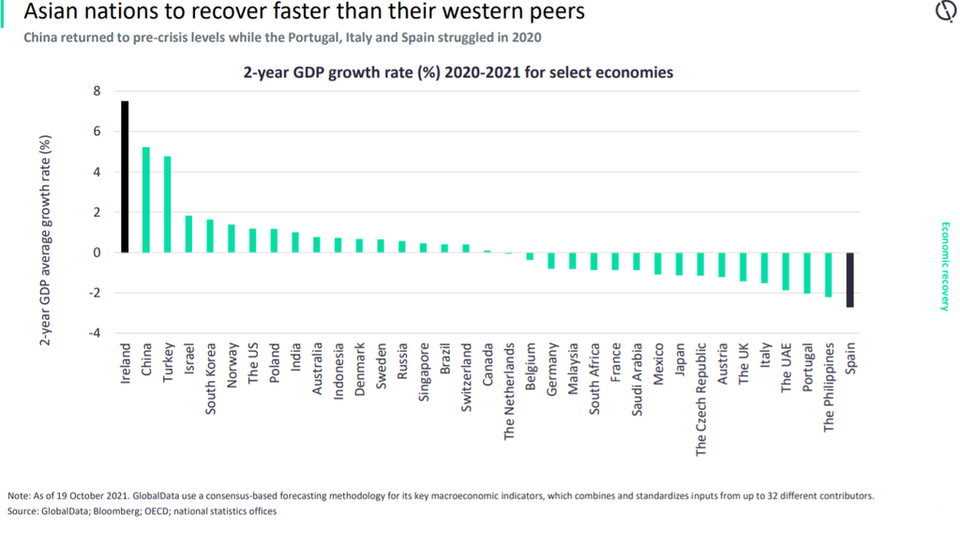 - SECTOR IMPACT: MINING -
Latest update: 3 November
PROSPECTING AND EXPLORATION
In the short- and medium-term, continued travel restrictions will hinder explorers, whilst investor sentiment will impact capital raising. In the long-term, however, rising prices and the need to meet rising future demand for battery commodities and critical minerals will support exploration activity.
EXTRACTION AND PROCESSING
In the short-term, miners are increasingly meeting production guidance unless non-Covid-19-related impacts have led to reduced output. Beyond this, improvements to emergency response plans and investments in worker health. Increased investment in technology and potentially an increase in automation.
MINE DEVELOPMENT
With commodity prices improving and easing restrictions, capex is on the rise, with developments constrained mainly by the ability to source the required workforce and avoid Covid-19 cases on site, which analysts consider neither inherently nor positive nor negative. In the long-term, recovery in commodity demand and prices will spur an increase in mine development activity to meet future demand requirements.
MARKETING
Recovery in China and public sector investments have supported rising commodity demand in 2021 for industrial production and infrastructure construction. This is also the only sector predicted to see positive growth in both the short- and long-term, with rising demand from construction and renewables sectors, driving growth for commodities to return to pre-Covid expectations.