GenieGrips® are high quality, durable, steel reinforced rubber Mats, Caps and Cushions for forklift tynes that provide safe, secure and stable movement of loads. We understand the importance of forklift safety in the workplace.
To help minimise the risk of forklift loads slipping off tynes or becoming unstable during transport, our team of specialists developed GenieGrips® Mats, Caps and Cushions. We know firsthand that using GenieGrips® provides a safe, secure and efficient way to move forklift loads, minimising the risk of damage to your product and injury to your people.
GenieGrips® Products are designed for all industry sectors, forklifts wholesalers, aftermarket sales, and any other business involving materials handling. They offer unbeatable performance and exceptional longevity.
GenieGrips® Mats have been specifically designed for exceptional grip and load stability. They are constructed from a carefully selected rubber compound that is incredibly strong, non-marking and oil resistant.
GenieGrips® Mats can withstand temperatures of up to 110˚c, with a patterned anti-slip surface that prevents sliding in the event of fast movement or a sudden stop.
Made in high visibility yellow easily visible for safety at night and during the day, using a secure lock-in hook mechanism that makes for quick and easy installation and removal.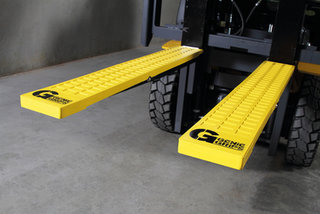 GenieGrips® Caps are constructed of bright, high-visibility yellow compound

rubber bonded to a reinforced steel frame, making them easy to see

during the day or night to ensuring safety at all times.
If you are moving products that can be being torn, punctured or damaged by

forklift tynes during transit, GenieGrips® Caps provide the perfect solution.
Purposely designed to prevent puncturing or tearing of

product they are easy to fit and remove.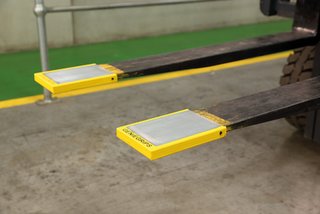 Forklift Carriage Cushions
GenieGrips® Cushions function as a bumper that magnetize to the forklift tyne carriage that eliminate friction and absorb impact of goods that may occur during lifting, loading and placing of loads.
They are extremely easy to fit, with powerful magnets securing them on the forklift tyne carriage.
GenieGrips® Cushions are specifically designed to be paired with our GenieGrips® Mats or GenieGrips® Caps to provide full forklift tyne protection!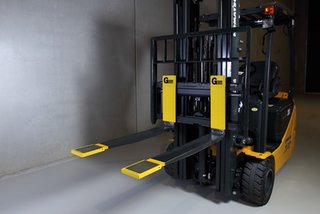 All products in the GenieGrips® range are manufactured to ISO 9001 standards, guaranteeing superb quality management. We also strive for continual improvement, ensuring you can rely on the quality of all products.
We use only the highest quality materials during construction, including anti-slip compound rubber that's oil resistant, non-marking, and heat safe up to 110 ˚C. GenieGrips® are also available overseas with an international distribution network covering a wide range of countries. It's our goal to keep the workplace safe, worldwide!
Forklift Attachments
GenieGrips® are ideal for the safe, stable and secure movement of metal and plastic products, oils, lubricants, IBCs, chemicals and food goods; operating in cold or frozen environments, protecting finished products and manoeuvring loads on steep, ramped, narrow, undulating or uneven surfaces.
GenieGrips® Mats, Caps and Cushions are ideal for frozen and refrigerated environments.
The products maintain their integrity to temperatures of -40°C (-40°F). Our clients in the food industry use GenieGrips® Mats, Caps and Cushions to move plastic palletised loads in cold storage because the patented rubber mats ensure that the frozen pallets do not shift or slip off the tynes during transport. In Canada our customers use GenieGrips® Mats, Caps and Cushions to stabilise loads and stop pallets shifting or slipping off tynes during the loading or unloading of loads in the extreme winter conditions.
Forklift Protection
GenieGrips® are ideal for preventing punctures, tearing or damage to merchandise during lifting and moving.
GenieGrips® Mats and Caps cover the tip of each tyne, providing a soft surface that won't puncture or tear products as they're lifted. They are ideal for transporting IBCs and prevent both puncture to the IBC and stop the IBC from sliding off bare metal tynes in sudden stops.
Forklift Anti Slip
When transporting products by forklift over undulating and uneven ground they can become unstable and slip or fall off the tynes. This can result in costly rework, damage to product and people.
GenieGrips® are ideal for preventing products slipping off the tynes when transporting over uneven surfaces.
Forklift Accessories
When transporting metal or plastic goods, a good grip is critically important; bare metal on metal tynes can be incredibly unstable with loads slipping or falling off tynes causing potential damage to product or people.
GenieGrips® are ideal for moving metal and plastic forklift loads, from IBCs to silages, to galvanized and fabricated metal parts. The patented product offers an unbeatable grip that promotes safety and ensures damage-free goods.
Australian Made
GenieGrips® is an Australian owned family business, dedicated to providing effective forklift safety products to Australia and the world.
We understand that safety in the workplace is of the utmost importance, particularly when a forklift is involved. That's why our tyne specialists have designed a range of safety products to prevent the risk of damage and injury occurring within the workplace.
From anti-slip mats that fit onto forklift tynes to prevent accidents, right through to tyne caps that are applied to tyne tips to minimise damage, we provide solutions that are effective, affordable, and innovative.
Forklift Safety Products
When you buy a product from GenieGrips®, you can be assured you're buying an Australian product that's been both designed and manufactured in the country, supporting our local industry and protecting local jobs.
By manufacturing within Australia, we're also able to oversee the process closely and have more control over the final product, ensuring the very best quality.
As a local family owned business, we also understand the intricacies of workplace safety in this country, allowing us to provide adequate solutions to businesses.