Sponsored by Blundstone Australia
The Hidden Realties: Why Safety Boot Design Needs To Be More Than Just About Safety
Appreciation of the effect of changing regulations enables mine operators to proactively assess and respond to their relative exposure. A proactive response enables the operator to retain control of change processes in advance of a regulatory direction enforcing the change, the resource demand and the timeframe.
By way of example, Aspect Environmental looks at the requirements of the NSW Mining Amendment (Standard Conditions of Mining Leases – Rehabilitation) Regulation 2020 and how operators can respond and retain process control.
M
ining is a physical occupation with most workers spending a significant part of each day on their feet, so comfort features such as cushioning, weight and fit should all be considered important factors when choosing the right work boot. Research has shown that variations in work boot design have a huge impact on fundamental tasks such as walking­-with instances of lower limb injuries and workplace fatigue widespread in occupations that require safety footwear.
"Boot design can alter the way the foot moves while walking, affecting the way the ground reaction forces are distributed throughout the lower limbs. It is crucial that the workers' boots meet the demands placed on their lower limbs while walking and when performing other working tasks," says Adrian Blandford, Blundstone's Global Work and Safety Range Manager. "Otherwise, the risk of these workers experiencing a lower limb injury is increased, whether it is an acute injury, such as a sprain or strain due to slipping or tripping, or a chronic injury, such as Plantar fasciitis due to prolonged periods wearing incorrectly fitted boots." he continues.
In underground coal mining, workers spend an average of eight hours walking per shift, and around 700 serious lower limb injuries are reported annually. Of these serious lower limb injuries, ankle injuries alone contribute to a median workers compensation cost of approximately $5,800 and 4.4 weeks off work.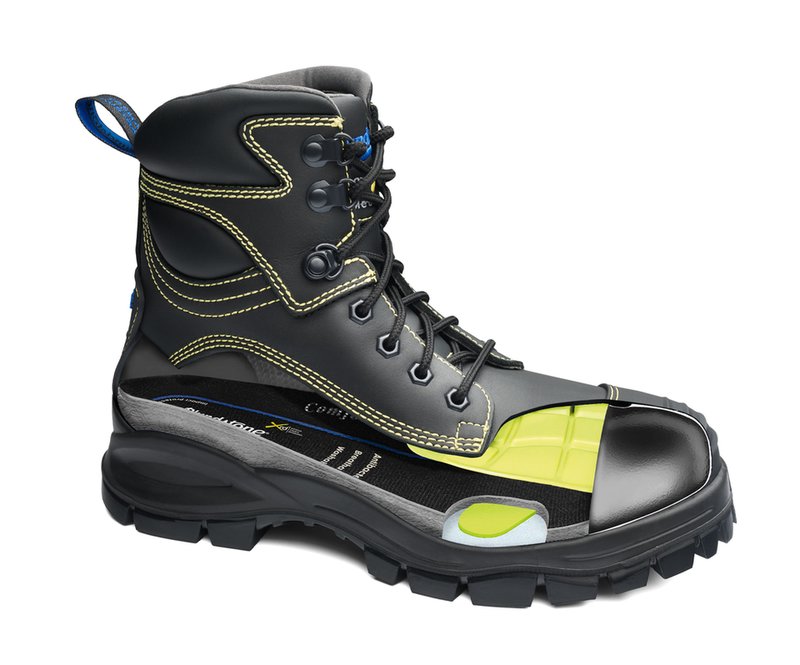 // Featuring a metatarsal guard and Kevlar stitching, the Blundstone #994 is the ultimate choice for above ground miners
Whilst safety footwear is defined as a boot design that incorporates protective features to safeguard the wearer from injuries that arise through accidents, the statistics also prove that many foot injuries are related to incorrect footwear. The National Safety Council also discovered that as many as 120,000 work-related foot injuries occur each year, and according to the Bureau of Labour Statistics, three-quarters of those injuries occurred because workers were wearing the incorrect footwear. So many of these problems can be prevented with the right work boot.
With over 150 years' experience, one of the world's most recognisable footwear brands, Blundstone, continues to make the toughest, no nonsense footwear that is reliable and fit for purpose. Investing heavily in research to access the best and latest technologies available, Blundstone's safety styles are built to protect, with features that provide optimum protection against impact and penetration, plus resistance to cuts, chemicals, heat, electrical hazards, rolling forces, and other foreign stimulus, as well as providing unmatched comfort.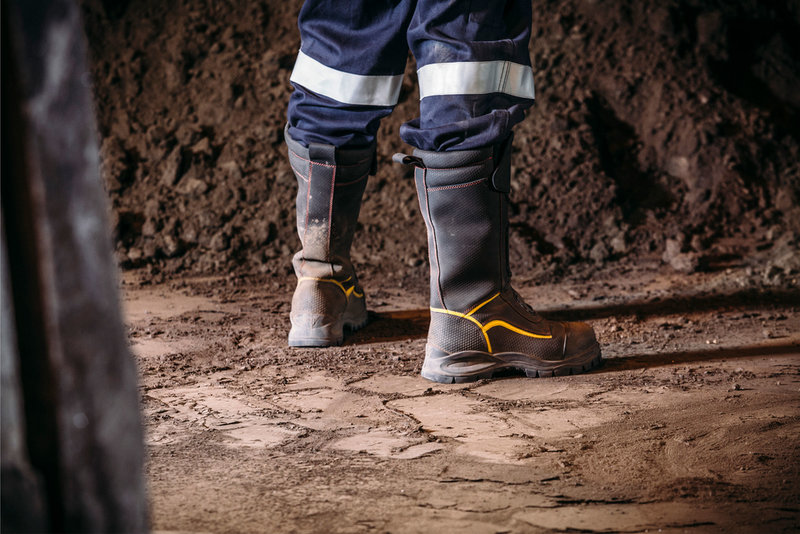 // Blundstone's award-winning #980 underground mining boot
"With decades of technology innovation, premium design and quality, the brand is committed to providing products that help workers on the toughest of jobs, especially when on their feet all day. We pride ourselves on having an extensive range that's fit for any occupation, with each style maximised to keep you safe without compromising on comfort." says Blandford. Blundstone's #994 work boot is an instant game changer. Packed with a range of comfort and safety features including black platinum, water-resistant leather and a rubber outsole designed to specifically increase slip resistance in varied environments. It is ideal for overall user comfort and capability within the mining and heavy industries.
"It's ergonomic fit, flexibility, comfort and adjustability with key design elements such as a metatarsal guard, a penetration resistant insole, a steel toe cap and Kevlar stitching, make it the ultimate boot for those working within extreme industries such as mining." continues Blandford.
Utilising XRD® Extreme Impact Protection in a moulded metatarsal pad enables ultimate protection without adding uncomfortable bulk and weight to the boot, whilst steel toe caps provide maximum shielding from impact, cuts, penetration and rolling forces such as forklifts or heavy moving machinery. This also allows greater flexibility across the top of the boot when squatting, kneeling and driving, a feature not usually found in metatarsal protection footwear. Tested at an energy level of at least 200 joules, and against compression when tested at a compression load of at least 15kN, steel is the safety toe cap material available in constructed footwear.
"In ensuring we provide the highest quality designs our customers know and love, this boot is the ideal fit for those who are not just looking for ultimate safety, but that legendary Blundstone comfort and protection too."
All Blundstone safety footwear complies to the Australian Safety Standard AS 2210.3:2019.
Workplace environments and risk factors vary enormously, and OH&S risk assessments should be consulted before choosing footwear protection.
Contact information