Sponsored by Hexagon Mining
Hexagon: one partner
​​​​​​​ For the life of your mine
Appreciation of the effect of changing regulations enables mine operators to proactively assess and respond to their relative exposure. A proactive response enables the operator to retain control of change processes in advance of a regulatory direction enforcing the change, the resource demand and the timeframe.
By way of example, Aspect Environmental looks at the requirements of the NSW Mining Amendment (Standard Conditions of Mining Leases – Rehabilitation) Regulation 2020 and how operators can respond and retain process control.
M
ines face enormous challenges, from volatile fuel and commodity prices to increasing pressure to be safer and more sustainable to unrelenting scrutiny by authorities, shareholders and the public. A unified digital strategy is essential to support business decision-making.
How is Hexagon uniquely positioned to help?
As a global leader in sensor, software and autonomous solutions, Hexagon is uniquely positioned to help mines accelerate their digital transformation. We can empower customers with technology, service and support that integrates data and processes while connecting people and processes.
We enable a reality where people, processes and workflows are always connected; where the value of productivity, safety and sustainability is always maximized; where mines continually improve to become one holistic, situationally aware, self-learning autonomous connected ecosystem.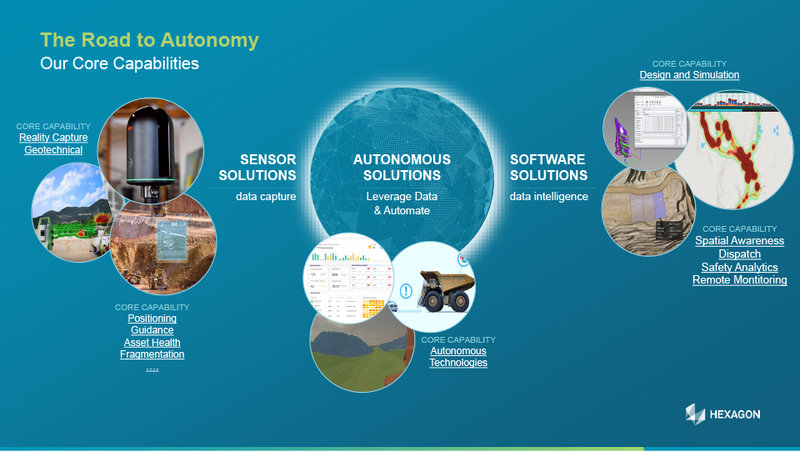 Hexagon's Core Capabilities
Autonomously connecting ecosystems for mining
Autonomously Connected Ecosystems (ACE) are much more than familiar technologies, such as autonomous haulage or autonomous drills. So how does ACE underpin a unified digital strategy for data-driven business decisions?
Hexagon's core capabilities in sensor, software and autonomous technologies provide a unique point of leverage – the convergence of the physical and digital worlds. This far outweighs the value of a continuous flow of information, feedback loop, or even a digital twin.
We aim to deliver a smart digital reality - a digital replica of a complete physical world, where all associated things, places and processes are machine-readable and subject to the power of algorithms.
Imagine having seamless digital access to information about the physical world; information about what happened or is happening right now on a mine site – accessible from anywhere. The information enables autonomous decision-making capabilities such as dynamic planning based on the current face and operational performance variables.
Connecting mining operational data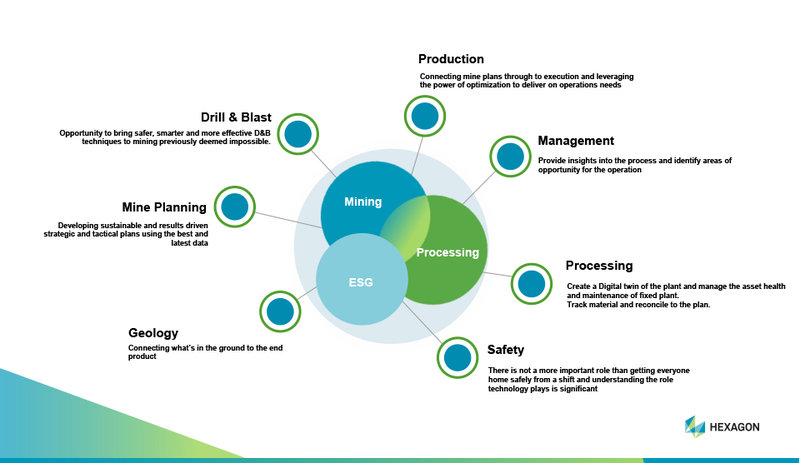 Connecting mining operational data
Comprising some of the most typical solutions in the industry today, a unified digital strategy provides operations with all the variables they need to manage a mine.
In the event of a near-miss or a metal-on-metal collision, one of the field investigation's starting points is to determine if the location was a problem intersection. Historical context is invaluable. Have there been several near-misses over a certain time period?
For additional context and understanding, fleet management systems are often analysed for information as to whether trucks were loaded or even overloaded. The system can reveal the travelling speed leading up to the incident.
Machine health information will reveal mechanical faults that could have caused alerts, such as non-responsive brake alarms.
Was the operator paying attention? Were they fatigued or distracted by a mobile device? An operator alertness system will provide definitive answers.
Vibration sensors can inform us about the environmental conditions, revealing when the road was last watered or graded.
Not only can we investigate an incident holistically, but more importantly, technology empowers us to be proactive on safety and productivity. Technology is the core enabler to ensure information is served to the right people at the right time. We support and enable common technologies, such as messaging, to help supervisors better manage operations.
The next step is to enable smart decision-making and ultimately achieve autonomous decision-making.
Achieving the digital 'Nirvana' of the Live Mine
A fully connected mine sets the foundations for a digital twin. We will go a step further by ensuring the digital terrain model is dynamically updated based on sensor information from the field.
By connecting and overlaying the digital terrain with scheduling parameters and geological models, you can autonomously schedule pits with less human interaction. This is the start to adding learnings to the process with options that autonomously execute the selected plan based on parameters outlined.
We will always need to improve how technology solutions help make decisions on the edge, out in the field to keep automated vehicles operating efficiently. The ability to make assisted decisions is core to more proactive decision-making.
We are enabling customers to achieve the ultimate goal of a live mine where information can be accessed from anywhere in the world, so every solution autonomously connects and executes in the pit. That's the value of a unified digital strategy for data-driven business decisions.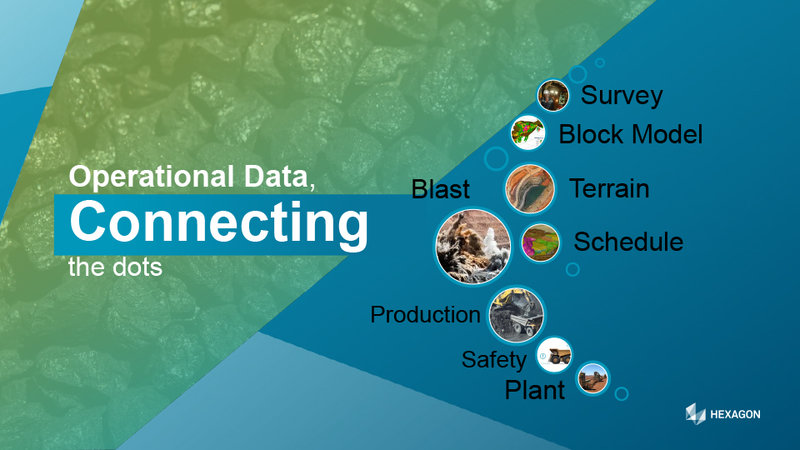 Mining industry opportunities presented by the creating Autonomously Connected Ecosystems (ACE)
About Hexagon
Hexagon is a global leader in sensor, software and autonomous solutions. We are putting data to work to boost efficiency, productivity, and quality across industrial, manufacturing, infrastructure, safety, and mobility applications. Our technologies are shaping urban and production ecosystems to become increasingly connected and autonomous — ensuring a scalable, sustainable future. Hexagon's Mining division solves surface and underground mine challenges with proven technologies for planning, operations and safety.
Contact information