Sponsored by Dieci Australia
Why you should choose Dieci for your mining application
Appreciation of the effect of changing regulations enables mine operators to proactively assess and respond to their relative exposure. A proactive response enables the operator to retain control of change processes in advance of a regulatory direction enforcing the change, the resource demand and the timeframe.
By way of example, Aspect Environmental looks at the requirements of the NSW Mining Amendment (Standard Conditions of Mining Leases – Rehabilitation) Regulation 2020 and how operators can respond and retain process control.
T
hroughout its more than 50 years in business, Dieci has focused on constantly researching innovative technologies in agricultural, industrial and construction sectors to produce machines that are innovative, operator focused and expertly designed. This quality focus is backed by providing excellent after-sales support and service.
Dieci's extensive range of telehandlers are known for their quality Italian design and manufacturing which have been tailored to perfectly suit the Australian market. There are over 140 models and 20 product lines produced in Dieci's ultra-modern headquarters, situated in the same region of Italy as Ducati, Ferrari and Maserati.
Telehandlers offer a cost saving solution and efficient way to move materials by improving fleet management maintenance and decreasing the number of machines needed on the jobsite. Thanks to the telescopic boom, it is possible to reach greater heights and distances and perform various jobs all while using the same vehicle.
What needs to be covered in the risk assessment?
Dieci Australia locally designs, customises and manufactures attachments and machine options to ensure each telehandler is perfect for the specific application while, complying with Australian standards. Thanks to a wide range of attachments available, and a reliable service partner (AWD), we are able to work with our customers to produce tailor-made machines to suit any requirement.
Our customers are able to diversify their return on investments through multiple attachment solutions. Lifting hooks, excavation and aggregate buckets, grippers for cylinders, pipes and tyres, centering handlers, and passenger baskets are just some of the accessories specifically designed for operation in tunnels and mines.
Compared to forklift trucks, these machines have greater visibility and can handle loads in even the tightest spaces. From the compact Apollo to the heavy-duty Hercules, the Dieci range features vehicles from 2.5 to 21 tonne with lift heights from 6 to 10 metres.
Available in the rotating boom range is the 4 to 6 tonne Pegasus. With either continuous (360°) or non-continuous (400°) rotation, these telehandlers can be fitted with a variety of accessories, making them suitable for many tasks. The Pegasus family can safely and easily reach tall heights, lift heavy loads and, thanks to the rotation system, can work on multiple points without having to be repositioned.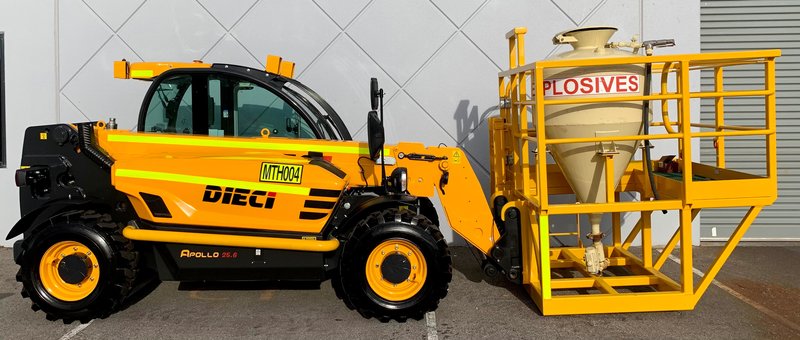 Performance Evaluation
To meet the unique and demanding requirements presented by Australian conditions, Dieci Australia also extends their product offering to industry specific models for Cotton, Poultry, Piggery and Hay, as well as a range of EWP models. We also offer a range of truck mixers and dumpers, perfectly suited to work in mining applications.
Characterised as the most powerful Italian hydrostatic truck mixer, Dieci mixers are unique for their strength and manageability. A variety of mixer sizes to suit all types of applications are available including the F7000, with a capacity of up to five cubic metres, to the midrange L4700 and L3500. Dimensional stability and a long life are guaranteed due to the high thickness of steel used for the mixing drum.
Dieci's dumpers are also very versatile, lightweight, and easy to handle. Each model has specific characteristics, especially designed for every work requirement. Central articulated steering provides a tight turning radius, so that it can easily move onsite.
When it comes to maintenance, Dieci vehicles excel due to the use of durable components and cutting-edge materials. With more than half a century of experience in the telehandler sector, the company is consistently finding ways to simplify the serviceability of their vehicles.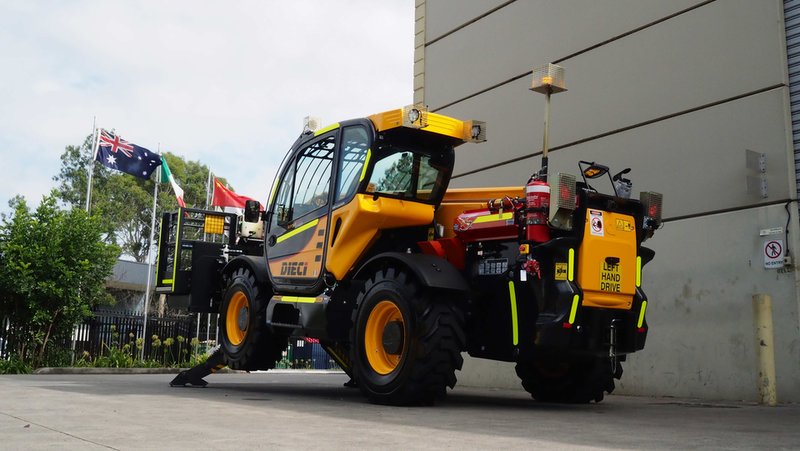 Business Response
Access to the engine is made easy with the optimal arrangement of components that make maintenance quick and convenient. Radiators are straight forward and fast to clean, and air filters can be reached without any tools, The interventions required for the change of hydraulic oil are also minimal, as they are only necessary every 2,000 hours of operation.
Each telehandler comes with a ROPS - FOPS approved cab with a roomy interior, luxurious air seats, LED lights, powerful integrated air conditioning and heating, and complete 360° views. Dieci cabs are designed to significantly improve the working conditions and comfort of the operator.
Safety is a major priority at Dieci Australia, with more money invested in load charts and design verifications for the complete range of machines than most companies in Australia. We have an independent, external engineer signs off on every new machine or attachment that comes out, including attachments that we developed ourselves.

Contact information