Navigating net zero
Appreciation of the effect of changing regulations enables mine operators to proactively assess and respond to their relative exposure. A proactive response enables the operator to retain control of change processes in advance of a regulatory direction enforcing the change, the resource demand and the timeframe.
By way of example, Aspect Environmental looks at the requirements of the NSW Mining Amendment (Standard Conditions of Mining Leases – Rehabilitation) Regulation 2020 and how operators can respond and retain process control.
W
orley delivers more than consulting, engineering, procurement and construction services: we are delivering a more sustainable world.

Every day, our global team helps our mining customers get one step closer to solving our planet's complex challenges. We navigate the journey together to net-zero greenhouse gas emissions. And we keep pace with digital transformation.

Our work today ensures we have a tomorrow. One in which we can all thrive.
Mining is at a turning point
The world is rapidly embracing decarbonisation and committing to net-zero targets. In early 2020, analysis by UK think tank, the Energy and Climate Intelligence Unit (ECIU) found that 49% of the world's annual GDP comes from nations, regions and cities with an actual or intended net-zero target.

The energy transition can be profitable for mining companies. But unlike other major transitions, materials must be extracted and processed sustainably, using less energy and water while lowering emissions, costs and safety risk.

In the last 18 months some of the world's top miners have committed to reducing their emissions to net-zero by 2050. These targets will, in no uncertain terms, transform the DNA of the industry, and operators will need to come up with new approaches to make low-emission solutions work technically, commercially and reliably.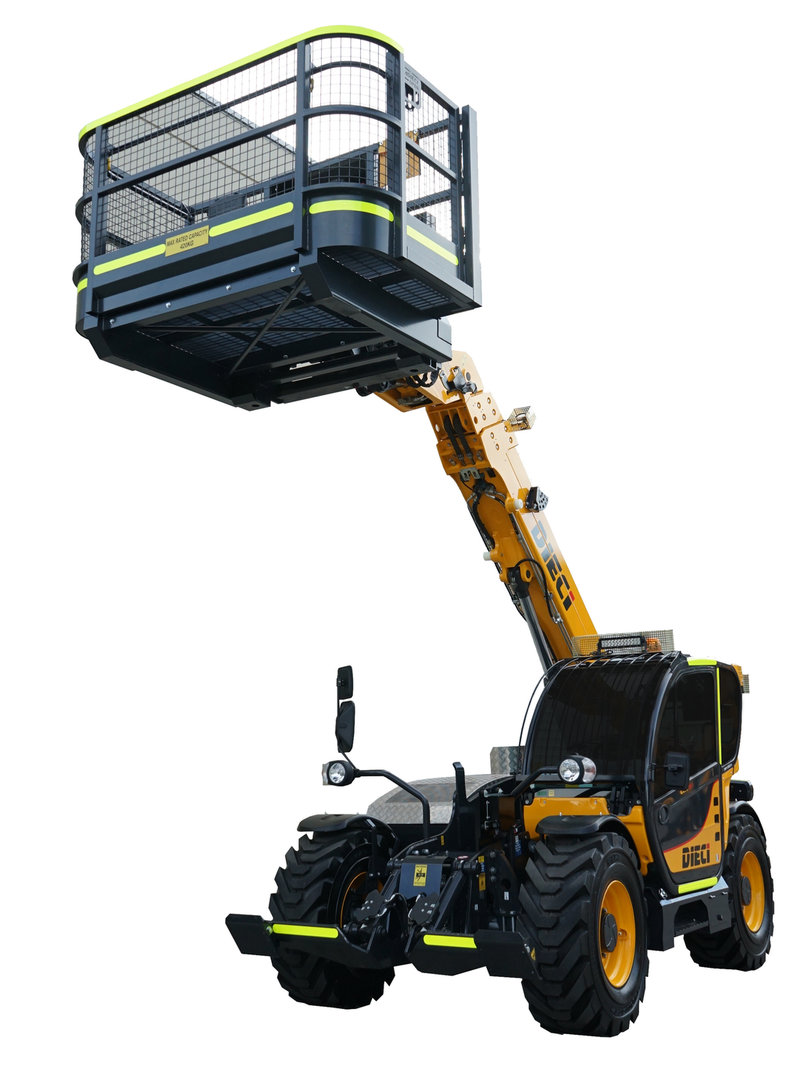 AWD specialises in custom engineering our customers' machines to suit the specialised needs of the Australian Mining industry
Transforming to meet the changing needs of our customers
In 2019, WorleyParsons and Jacobs Engineering Group's energy, chemicals and resources business came together to form Worley. This strengthened our mining, minerals and metals offering by combining experience across shaft development and underground mining with concentrator and mass materials handling systems.

With 5,000 professionals working across 12 principal mining, minerals and metals offices, we have the scale, experience and capability to deliver projects to schedule and cost across the entire mining life cycle.

Our mining centres of excellence have established ways to streamline processes and breathe life into the strategy of our customers' businesses, with our locally available technical expertise complemented by our Global Integrated Delivery model.

We're open to non-traditional commercial models where we align to our customers' key success criteria and offer forward-thinking, cost-saving solutions through smart technology and digitalisation.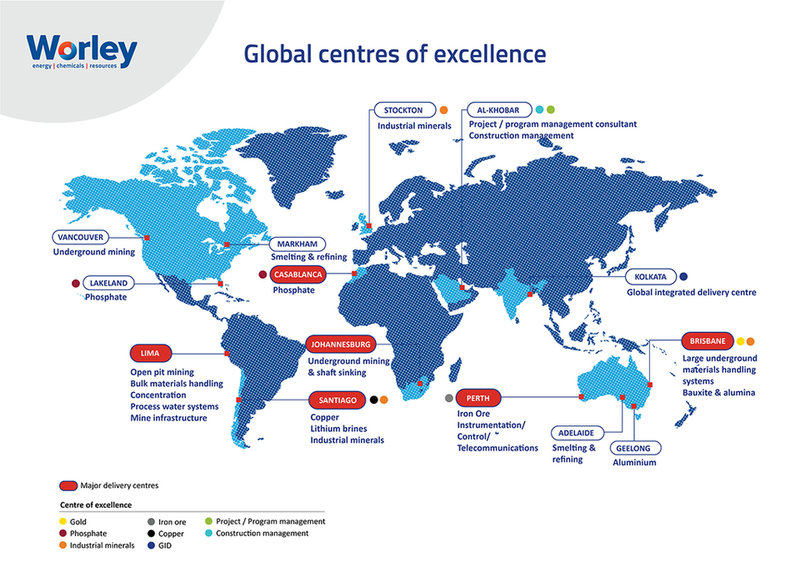 Delivering innovative solutions across the full project life cycle, from mine to port
We help our customers navigate the uncertain world of decarbonisation, alternative energy options, water stewardship and sustainability. And we use digital tools to automate and innovate current processes to improve productivity and economic performance.
In an Australian iron ore project, our technological analysis unlocked an extra 1000 hours per annum of run time from a customer's plant at no extra capital cost. We've also delivered some of the world's largest iron ore projects. Using our expertise in materials handling, train load-out and port to ship transfer, we've helped move close to a billion tonnes of iron ore from mine to port.
"Through digital technologies, such as predictive maintenance and data science, we help our customers solve bottlenecking issues and select the most reliable renewable energy solutions." said Nick Bell Global Sector Lead, Mining, Minerals and Metals for Worley.
As the EPCM contractor for the DeBeers Venetia Underground project, we're implementing new technologies not yet seen in South Africa. We're using our experience from 30 major mine shaft developments to work with the sinking contractor during the pre-sink and slow sink to help improve development rates in a hard ore and increase site safety by removing people from the workface.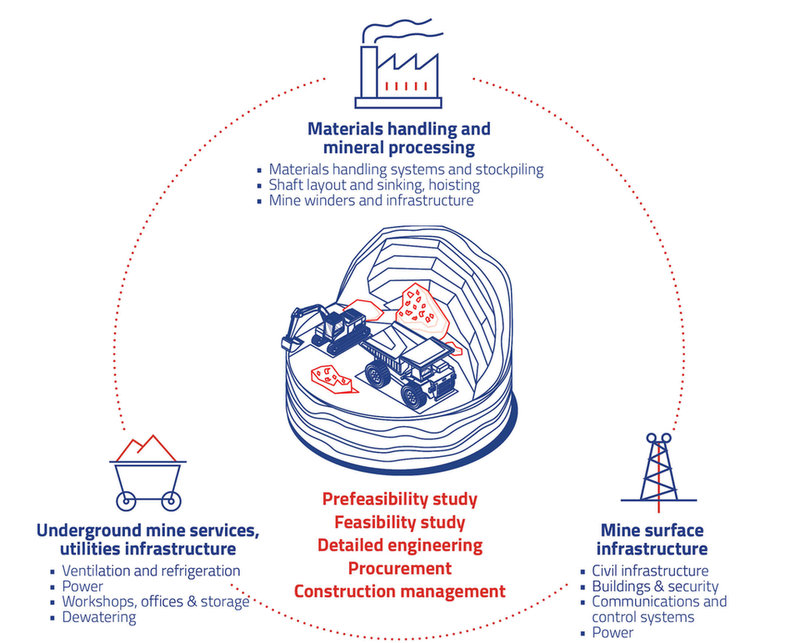 Our mobile hydraulic hose and fitting repair van is available 24 hours, 7 days a week.
In a time when the industry needs new thinking
We combine our mining experience with our expertise across digital, sustainability and new energy to help our customers find the most economic solutions to navigate to net-zero across the entire life of an asset.
"We understand how all the pieces fit together to bring greater sustainability to processing facilities, open-cast and underground operations. From renewable energy, distributed energy systems and hydrogen to battery power and digital technologies." said Bell.
To date, we've completed more than 2,250 energy transition projects across the world. We helped develop a hybrid renewable microgrid at Gold Fields' Agnew gold mine – the largest microgrid in Australia. This included 18 MW wind, 4 MW solar, 13 MW/4 MWh battery and 21 MW gas/diesel. The microgrid has the capacity to provide the mine with up to 85% renewable energy.
We can't predict everything about the future, but our solutions are supporting our customers in a sector that's changing by the day.
It's an incredible time to be in mining.
Contact information