Sponsored by: ZS Zylinder-Service
Rapid speed cylinder - High forces, high speed with low power consumption
When hydraulic cylinders need to move sections at low forces but high speed, other sections with high forces but low speed, it is usually necessary to either install two separate pumps or one pump that is suitable for high volume and high power at the same time. Rapid speed cylinders can greatly reduce needed installed power.
A lot of applications require a hydraulic cylinder to move a long distance, but only need to apply high forces at a short section of its stroke. Typical examples would be scrap presses – a lot of loose material is pushed together by one moving cylinder, at the beginning with hardly any load. Only towards the end of the stroke when the material must be really compressed, needed force rises much higher.
Installing a large hydraulic pump that is capable of the desired speed as well as the needed pressure at the end of the stroke would result in a large pump/motor combination, high power consumption and high costs for the whole hydraulic power station.
More than half of the country's coal mines are managed by pro-Russian separatist militia.

Credit: DmyTo/Shutterstock.
Why are ceramic and urethane linings so important for steel piping in mines?
Typical solutions to achieve the beginning of the stroke with high speed and low forces and the end of the stroke with low speed and high force are to equip the hydraulic power station either with a large variable displacement pump capable of high pressure as well as high speed (high flow rate), or use two separate pumps for low-pressure, high speed and for high pressure, low speed movement.
An alternative solution is the use of Rapid Speed Cylinders.
Basically these cylinders are a combination of one large cylinder for high forces with an integrated smaller cylinder to cover the high speed, low force section of the stroke.
The smaller cylinder, when supplied the same volume flow and pressure, will move faster according to the ratio of effective piston areas. At the same time the resulting force will be lower by the same factor.
A special check valve will be used to fill the large piston volume with oil – no hydraulic pressure is needed here.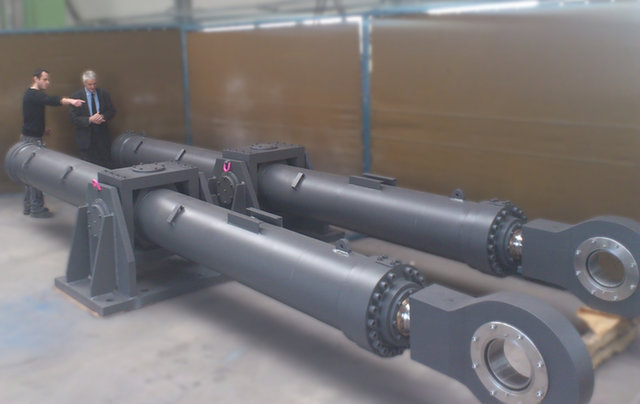 Klappbrueckenzylinder-5000mm-wk
When the cylinder's stroke reaches the position where larger forces are needed, the control system will switch over to filling the large piston volume with pressurized oil, thus creating much larger force at lower speed.
This way the same hydraulic pump and motor combination can be used for both sections of the stroke.
Depending on the exact application, reducing the complexity of the power station by installing a special rapid speed cylinder can reduce overall machine costs and rated power of the machine.
Experts at ZS will gladly advice any customer on the most sensible possibilities, best ratios of high-speed piston diameter to main piston diameter and design possibilities.
More than half of the country's coal mines are managed by pro-Russian separatist militia. Credit: DmyTo/Shutterstock.
Eero Knuutila is Head of Service Development at Helsinki Airport.
Image courtesy: Helsinki Airport