- ECONOMIC IMPACT -
Latest update: 22 November 2021
The UK leads GlobalData's table of "top economies" with 4,832,068 tests completed per million people, ahead of France and the US.
China's real GDP growth rate slowed down to 4.9% in Q3 2021 as compared to 7.9% growth recorded in the previous quarter, according to the National Bureau of Statistics.
Close to 12 million new cases have been reported between 28 September and 25 October.
Almost five million deaths were recorded in the month to 25 October.
Impact of Covid-19 on government finances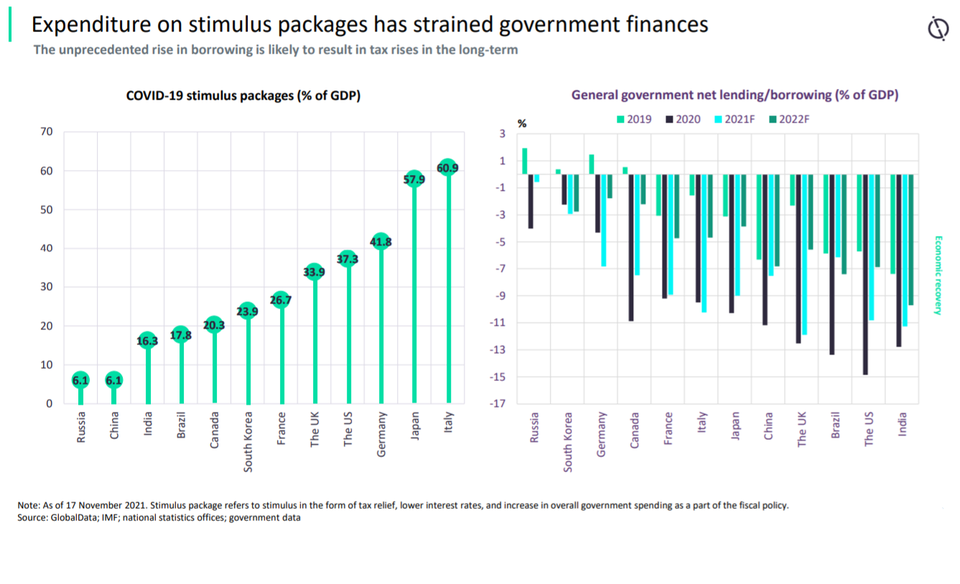 - SECTOR IMPACT: MINING -
Latest update: 3 December 2021
BASE METALS
After passing $10,000/t in October the copper price declined marginally to finish November on $9,605/tonne. A drop in inventories has helped copper prices, which have been under pressure due to declining demand in China, with the country's power supply crisis leading to factories being closed, thereby impacting demand. On average the copper price wasS$9,766/tonne in November, up by just 0.1% against the October average.
IRON ORE
The global iron ore price has fallen steeply on steel production curbs by China as the country has looked to reduce pollution and power use. At the end of November, it was $94.97/tonne, with stocks continuing to climb, reaching 152.5 million tonnes.
PALLADIUM & PLATINUM
After reaching a six-year high of $1,325/troy oz in February, the price of platinum fell to a low of $930/troy oz in September, before recovering to average $1,106/oz on 16 November. However, a steep fall over the remainder of the month resulted in the average platinum price in November being only 1.8% higher than in October.
COAL
Rising demand as the northern hemisphere entered the winter months coupled with increasing natural gas prices and supply constraints, led to a surge in thermal coal prices in September and October. After peaking at $269.50/t on 5 October, an intervention by the Chinese Government, ordering its major miners to cut prices and increase output, led to the thermal coal price dropping to $140.90/tonne in early November, before it recovered slightly to end the month at $152/tonne.
PRECIOUS METALS
The gold price has fluctuated around the $1,800/oz mark for the last few months, with an increase in November due to rising inflation followed by a dip, related to the spread of the latest Covid-19 variant towards the end of the month. The World Gold Council expects physical demand for gold to grow, with rising demand for gold jewellery as well as bar and coin demand, exceeding that seen in 2020, but still below the level of demand level in 2019.